Christian Jormin Trio – See the Unseen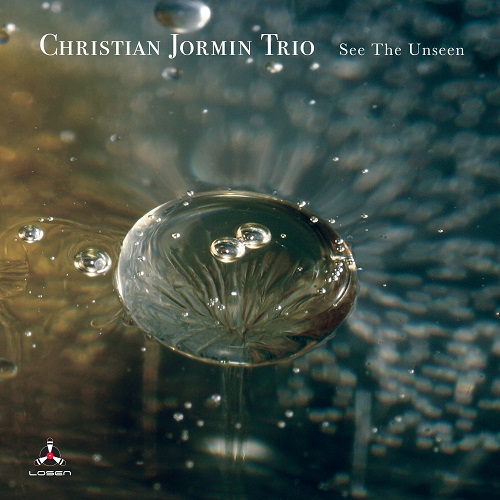 C
Losen Records
Beginnen wir die Besprechung mit einem O-Ton des Bandleaders: "This record consists of my own compositions, most of them newly written specifically for the trio. The music was recorded during two days at the inspirational venue of Concert Hall Sjöströmsalen at Artisten in Gothenburg, Sweden.  After playing together for many years in various constellations with bass player Magnus Bergström, we met drummer Adam Ross and the trio was formed.We collectively felt a special musical chemistry eventually leading to a strong urge of recording an album. This particular recording session was made in the middle of the pandemic lockdown, during a period where tinged by isolation, "hold your distance" was the prevailing mantra. However – seen from a musical point of view, a distance that needed to be bridged.In musical nearness, with the ears open at wide end, aiming for complete presence of perception, reacting to each others ideas whether they be of rhythmic or melodic kind. Through spontaneous interaction, approaching the music with playful minds in a humble form of communication, free from fear. Dependent on the character of a composition, sometimes navigating through neat passages, at other times creating more freely, by intuition. Thus creating music in the moment by opening up instead of closing down.The album is named after one of the tunes "See the Unseen" and points to the ability of understanding things which are outside of normal human perception, symbolizing the possibilities of inner growth and expansion of mankind. I hope you enjoy the music."
Der in Schweden geborene Christian Jormin ist als Pianist, Drummer und Komponist bekannt, der sich nicht allein mit Jazz, sondern auch mit Volks- und Weltmusik befasst hat. Abseits des eigenen Trios ist Jormin auch beim Eva Kruse Quintet und mit dem Anders & Christian Jormin Duo zu hören. Kurzzeitig war er außerdem Drummer im Bobo Stenson Trio. Was nunmehr vorliegt, ist erst sein zweites Trio-Album nach seiner ersten Veröffentlichung im Jahr 2004! Für das aktuelle Album hat er sich die Begleitung des Bassisten Magnus Bergström und des Drummers Adam Ross gesichert. Alle Kompositionen des Albums, ob "Mola Mola", "See the Unseen" und "Sibilance" oder "Pantanal" und schließlich "In a Distance" stammen von Jormin.
Einem sich entwickelnden Malstrom gleicht der Klangfluss in dem ersten Albumstück namens "Mola Mola". Da hört man ein Gurgeln, dumpf und tief, ein gutturales Röhren, ein kristallines Fließen des Klangs. Vor dem geistigen Auge sieht man in die Strömung eines Flusses, erlebt die Gezeiten des Meeres, vernimmt die Brandung, die an Felsklippen schlägt. Das Stück ist dramatisch inszeniert. Dabei stehen der Pianist und nachgeordnet der Bassist im Fokus des Hörspiels, das aber nichtim Crescendo endet.  Eher getragen und mit Pathos kommt "See the Unseen" daher. Christian Jormin ist dabei vor allem im Diskant zu hören. Er ist von einem steten Fluss des Klangs umgeben. Bildlich könnte man von einer feinen Fontäne sprechen, die unablässig Wasser emporschießen lässt und fein zerstäubt. Das Stück steuert auch dank des akzentuierten und forschen Schlagzeugers in der Mitte auf einen kurzen Höhepunkt zu, ehe es am Bassisten ist, zupfend das Thema aufzugreifen und sich auf ein Duett mit dem Pianisten einzulassen.
Die Eröffnung von "Sibilance" liegt in den Händen von Jormin und Bergström. Klangliche Weichzeichnungen dringen ans Ohr des Hörers. Schaut man sich die deutsche Übersetzung – Zischen, Zischlaut – an und lässt das Klangbild wirken, so ergeben sich keine Entsprechungen. Man muss beim Zuhören eher an romantische Landschaftsbilder denken, die nicht nur Caspar David Friedrich, sondern auch Johan Christian Dahl gemalt hat. Man sieht stetig sich ergießende Kaskaden, durchnässte Moore mit schmalen Rinnsalen, schnell fließende Gebirgsbäche und ländliche Idylle, vor allem sobald Bergström seinen Tieftöner mit dem Bogen streicht. Nicht nur bei diesem Stück meint man, Jormin präsentiere epische Erzählungen. Das gilt auch für "Swan of Snow". Eine gewisse Theatralik ist Teil der Klangbilder des Trios um Christian Jormin. Ihm gelingt es, energiegeladen seine Kompositionen zu präsentieren. Da gibt es keine schlierigen Klang-Aquarellierungen, sondern wuchtig aufgetragene Farbkleckse des Klangs. Expressionistisch ist der Duktus durch und durch. Dabei sind auch leise Töne und Sequenzen nicht ausgeschlossen, aber das Ungestüme und die "Naturgewalt" scheinen schon die Dominanz zu besitzen. Nachfolgend durchqueren wir musikalisch das "Pantanal". Abschließend steht "In a Distance" auf dem Programm, wird die Weite musikalisch beschworen, schweift der Blick in die Ferne, getragen von dem Zusammengehen zwischen dem Besenspiel des Drummers und den feinen kaskadierenden Tastensetzungen.
© ferdinand dupuis-panther

Infos