Chris Potter Quartet - Got the Keys to the Kingdom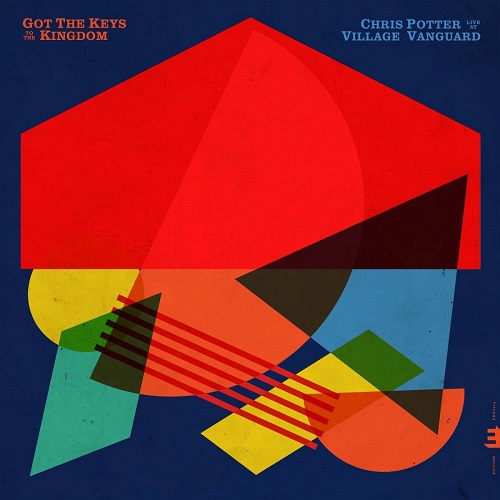 C
Edition Records
Live at the Village Vanguard
Chris Potter heeft zich de afgelopen jaren zonder twijfel opgeworpe'n als een van de grootste saxofonisten in actie. Zijn talrijke opnames behoren zonder uitzondering tot het beste wat de jazz de afgelopen twintig jaar heeft voortgebracht. "Got the Keys of the Kingdom" vormt daarop geen uitzondering: dit album is gewoonweg fantastisch. Het is het derde album van de saxofonist, opgenomen in de beroemde New Yorkse club; de eerste twee waren voornamelijk gewijd aan zijn eigen composities, dit album is uitsluitend gewijd aan standards of minder bekende thema's. "Blood Count" is een van die standards waaraan bijna iedere muzikant een eigen versie heeft gebracht die als essentieel kan worden omschreven, zoals die van Stan Getz bijvoorbeeld.
"Klactoveedsedstene" is een Charlie Parker thema dat hij in 1947 opnam en dat daarna relatief weinig gespeeld werd (versies door Harold Land, Anthony Braxton,...). Chris Potter start het nummer met een vijf minuten durende uitbarsting van energie voordat Marcus Gilmore mag soleren. Ook in het openingsnummer "You Gotta Move" houdt Potter de toonhoogte op stratosferische hoogte, met Taborn en Gilmore in even briljante solo's op dit bluesy thema. "Nozabi Na", uit de Braziliaanse folklore, krijgt sterke Afrikaanse tinten.
Bij de intro van "Olha Maria" horen we de enige solo van Scott Colley, gevolgd door een rustgevende melodie die zich na vier minuten ontplooit. "Blood Count", geschreven door Billy Strayhorn aan zijn ziekenhuisbed, opent met een droevige en lyrische solo van Craig Taborn, waarna Potter op een bijna contemplatieve manier afsluit. Met elk album laat Chris Potter zich meer en meer gelden als de belangrijkste saxofonist van de laatste twintig jaar. Omringd als hij hier is, voorspel ik dat 'Got the Keys to Kingdom' een van de belangrijkste platen van het jaar wordt.
Noteer alvast volgende datum : op 30 juli 2023 staat Chris Potter met zijn trio (met Scott Colley en Nasheet Waits) op Dinant Jazz. Niet te missen !

© Jean-Pierre Goffin (vrije vertaling : Jos Demol)
Een samenwerking JazzMania / Jazz'halo





Musici:
Chris Potter - tenorsax
Craig Taborn - piano
Scott Colley - bass
Marcus Gilmore - drums

BANDCAMP