Chris Joris Home Project feat. Naima & Yassin Joris Vol.2 - During The Dreamtime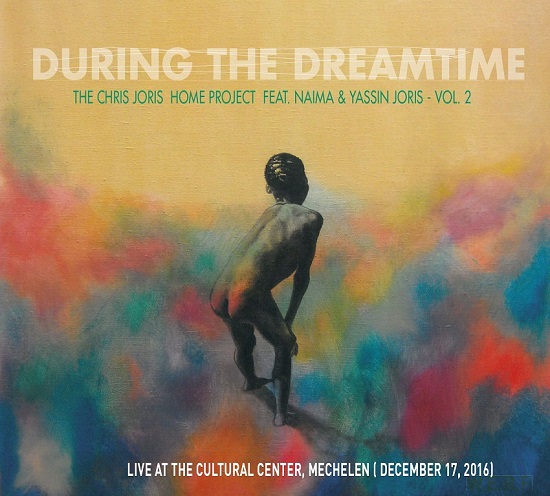 C
Bihogo 01 (2017)
Dit album, During The Dreamtime of Home Project vol.2, is de gedeeltelijke live-registratie van het releaseconcert in het cc Mechelen op 17 december 2016 van het Chris Joris Home Project waarvan de studio-opname verscheen als Home And Old Stories (W.E.R.F. 2016).
Het concert werd opgenomen door Danny Van Roosendael en Chris Joris maakte een fijne selectie van 10 nummers, waarvan de helft bekend van het eerste Home-album. De vijf andere nummers betekenen niet alleen een geweldige bonus, ze vormen een prachtige eenheid en een vervolmaking van het Home Project. Naima en Yassin brachten elk een nieuw eigen nummer, respectievelijk The Fall en During The Dreamtime. Naima zong nieuw een doorleefde, originele versie van Desterro (Miro Casabella) en zoals het publiek verwachtte (en heel enthousiast onthaalde) Joni Mitchell's Both Sides Now wat ze met haar prachtig, fijngevoelig stemtimbre tot een hartroerende versie optilt.
Chris Joris kent zijn Monk en wou in dit concert de 100-jarige graag eer aandoen met Little Rootie Tootie. Hij tekent verder voor eigen sprankelend vuurwerk zoals in het percussief gedreven Pumpkin Rose en Ayiti met telkens een subliem solerende Bart Borremans op sax, Free Desmyter op piano en bij Ayiti nog de congas van Christophe Millet en Yassin op gitaar. Chris Joris zet Riana Mei in met likembé, Lara Rosseel valt in op bas, terwijl Sjarel van den Bergh er heel subtiel harmonicaklanken in verweeft. Die harmonica keert nog even terug in African Delta waarin van den Bergh wild duelleert met Chris Joris alsof je in de savanne verkeert.
Met Tuesday Night Stomp zijn we opnieuw op bekend Chris Joris terrein met vintage swingende jazz waar Monk en Coltrane dwars om de hoek loeren.
Chris Joris stippelt als integer en authentiek muzikant een parcours uit, waarbij harmonie, ritme en timing essentiële ingrediënten zijn. Die vallen nu ook mooi in de plooi bij zijn Home Project. During The Dreamtime is een toegankelijk, open-minded en emotioneel indringend 'in het moment' album, waar je intens van (na)geniet.
© Bernard Lefèvre – 10 januari 2018

Musici:
Naima Joris (zang, gitaar, sopraansax, percussie)
Yassin Joris (gitaar, zang, effecten)
Bart Borremans (tenorsax)
Saskia Joris (backing vocals op During The Dreamtime)
Free Desmyter (piano, keys)
Lara Rosseel (contrabas)
Christophe Millet (congas)
Chris Joris (drums, djembe, likembé, berimbau)
Sjarel van den Bergh (harmonica op Riana Mei en African Delta)