Charlier / Sourisse / Winsberg - Tales from Michael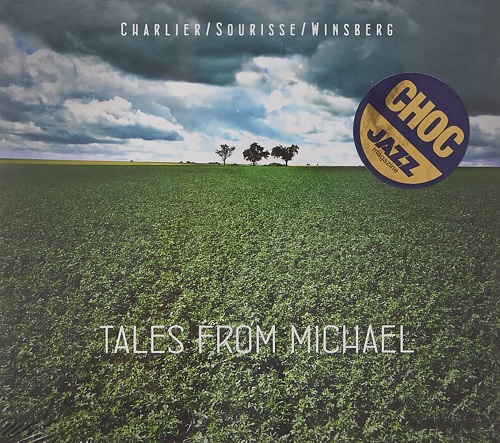 C
Gemini Records
André Charlier, le batteur natif de Verviers, et Benoît Sourisse, le claviériste français, se connaissent depuis trente ans.
La Belgique pouvait les découvrir ensemble dès 1989, au sein du sextet de Guy Cabay (vib), avec Phil Abraham au trombone (Jazz au Château d'Oupeye). Pour cette paire franco-belge, une rencontre déterminante a été celle de Didier Lockwood (entre autres, album Round about silence) dont ils ont rejoint le Centre des Musiques à Dammarie Les Lys en 2000. Dès 1994, ils fondent le groupe In Folio (albums In Folio et Papier musique).
Très rapidement, sous le nom Charlier-Sourisse, ils multiplient les enregistrements: Gemini, avec Jerry Bergonzi (sax), Stéphane Guillaume (sax) et Olivier Ker Ourio (harmonica); Eleven Blues; Heritage; Imaginarium, avec Alex Spiagin, trompettiste d'origine russe qui a fait partie des Jazz Messengers mis aussi Stéphane Guillaume et Fabrice Alleman (cl) ou Multiquarium (Big Band en 2016).
Pour ce Tales from Michael, hommage rendu à Michael Brecker disparu en 2007, ils accueillent Louis Winsberg, le fondateur du groupe de fusion Sixun mais aussi amateur de flamenco avec Jaleo (For Paco en 2016).



Un trio aux sonorités très électriques et sans saxophone: mais faut-il rappeler que Michael Brecker a été un des premiers à populariser l'EWI (Electronic Wind Instrument) qu'il a utilisé, par exemple, sur le thème Peep, troisième plage de l'album.
Au répertoire, 5 compositions du saxophoniste, 4 du claviériste Don Grolnick qui fit partie du groupe Steps Ahead et une composition coécrite avec Mike Manieri, le vibraphoniste de Steps Ahead.
Des thèmes très jazz fusion au tempo fiévreux (Talking to myself, Straphangin', Madame Toulouse ou Oops et Safari aux senteurs africaines, deux thèmes repris à l'album Modern Times) mais aussi des ballades avec un style d'orgue qui rappelle Jimmy Smith (Peep, The cost of living) ou avec un Fender Rhodes très lyrique (Never alone).
Enfin, pour clore l'album, The four sleepers, de l'album Hearts and Numbers, splendide ballade jouée à la guitare acoustique, sur fond de percussions et d'orgue discret.
© Claude Loxhay