Charlie Haden Liberation Music Orchestra - Time/Life ( Songs For The Whales And Other Beings)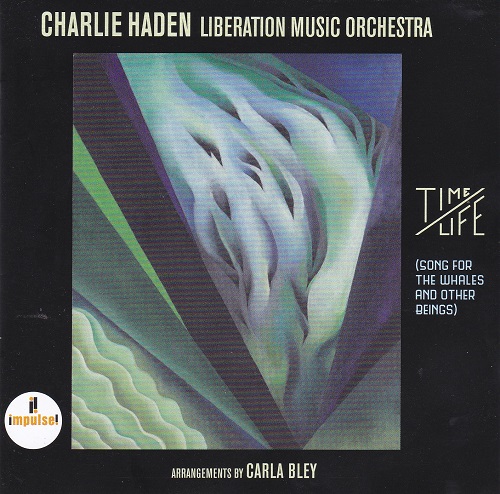 C
Impulse!/Universal
Après le magnifique  "Tokyo Adagio" enregistré en public avec le pianiste Gonzalo Rubalcaba, voici un deuxième album posthume pour deux titres seulement, mais qui nous intéressent au plus haut point, puisqu'ils ont été enregistrés au « Jazz Middelheim » en 2011 par le Liberation Music Orchestra.
Trois autres titres avec le même line-up ont été enregistrés à New-York quelques mois après la mort de Charlie Haden, Steve Swallow se substituant au maître à la basse électrique cette fois.
Enregistrés au Park Den Brandt, « Blue in Green » (Miles Davis) et « Song for the Whales » (Charlie Haden)  mettent en évidence le son ample et profond de la contrebasse de Haden et le lyrisme des saxophonistes ténor Chris Cheek et Tony Malaby.
« Time/Life »  s'étire sur près de 15 minutes dans des climats éthérés sur les solos de Steve Cardenas à la guitare et de Matt Wilson à la batterie, et complètement recueillis jusque dans les derniers accords du morceau composé par Carla Bley quelques jours après la mort du contrebassiste. « Silent Spring », aussi de Carla Bley,  est tout aussi vibrant d'émotion jusqu'à l'envol de la trompette de Michael Rodriguez avant l'apaisement final. « Utviklingssang » est une ancienne composition de Carla Bley imaginée comme une folk song norvégienne, en fait chant de protestation contre la construction d'un barrage en Laponie. Pièce modale maintes fois interprétée par la pianiste dans différents formats, elle résonne ici comme un rappel des combats de Charlie Haden.
Sur « Song For The Whales », comme le chant d'une baleine, la contrebasse de Haden  semble provenir du fin fond des océans, avant que ne se développe un thème qui fait irrésistiblement penser à « Lonely Woman », une impression que le rythme pulsé par Matt Wilson rappelle aussi comme  le jeu de Billy Higgins.
Superbe disque-hommage qui synthétise l'esthétique musicale et philosophique du contrebassiste/compositeur/militant, être humain tout simplement.
Jean-Pierre Goffin