Charles Lloyd & The Marvels - Tone Poem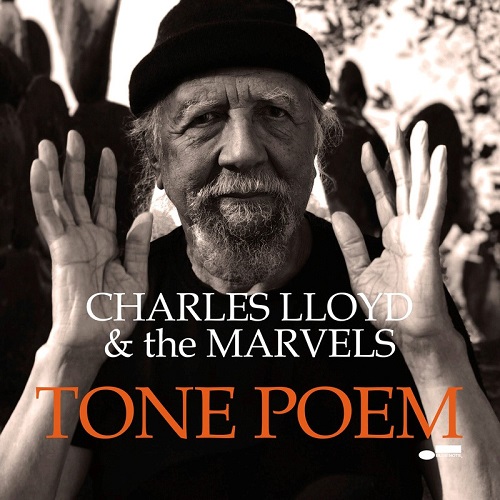 C
Blue Note / Universal
Depuis des années, Charles Lloyd privilégiait les formations avec pianiste et pas n'importe lesquels : de Keith Jarrett à Jason Moran en passant par Geri Allen ou Gerald Clayton, seul les guitaristes John Abercombie et Julian Lage s'étaient faufilés entre les claviers. Avec « The Marvels », le saxophoniste a invité deux guitaristes, Bill Frisell et Greg Leisz (steel guitar), ce qui a considérablement modifié le son du groupe.
Après « I Long to See You » et « Vanished Gardens », voici le troisième album de cette formation « Tone Poem ».
Trois compositions du saxophoniste dont deux nouvelles, je pense, « Tone Poem » et « Dismal Swamp » (à la flûte), plus « Prayer » et une reprise « Lady Gabor » de Gabor Szabo, ajoutez-y un choix de thèmes tous aussi séduisants les uns que les autres : une paire de compositions d'Ornette Coleman d'abord où les deux guitaristes s'en donnent à cœur joie « Peace » et « Ramblin' » avant une tendre pause sur « Anthem », vision lyrique du thème de Leonard Cohen – un poème sans paroles qui nous fait remarquer que cette fois Charles Lloyd n'a pas fait appel à des voix (Lucinda Williams sur « Vanished Gardens », Norah Jones et Willie Nelson sur « I Long to See You »).
Puis une autre vision de « Monk's Mood » que le saxophoniste avait déjà introduit sur l'album précédent et qui ici parait à la fois plus lent et plus lumineux.  « Lady Gabor », avec Lloyd ici aussi à la flûte, laisse après quatre minutes le champ libre aux deux guitaristes. Une ballade cubaine « Ay Amor » avec ses accents tropicaux à la guitare, complète le tableau d'un album où les « Marvels » semblent en pleine maturité.
Une nouvelle perle à ajouter à la discographie de Lloyd qui de plus en plus fait figure de poète du saxophone tant ce qu'il sort de son ténor sonne profondément humain, « Prayer », moment d'introspection final, en est l'intense reflet.
© Jean-Pierre Goffin

Line-up:
Charles Lloyd: tenor saxophone
Bill Frisell: guitar
Reuben Rogers: bass
Eric Harland: drums
Greg Leisz: steel guitar