Cezariusz Gadzina - Atom String Quartet: The Fifth Element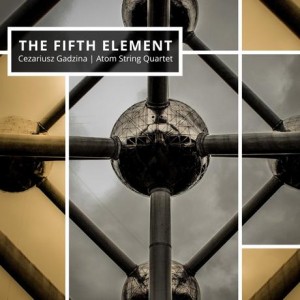 C
TAK Records
La production d'albums jazz devient pléthorique et pas toujours originale. Voici un album qui tranche par rapport une certaine morosité. Et d'abord un projet à conseiller aux amateurs de jazz qui disent ne pas aimer les cordes et proclament qu'un String Quartet ne peut pas "swinguer".
Ce Fifth Element signe la rencontre entre le saxophoniste d'origine polonaise Cesariusz Gadzina et l'Atom String Quartet de Varsovie. Un point commun entre ces cinq musiciens, c'est leur formation au Frederic Chopin Academy of Music de Varsovie.
Après ses études classiques de saxophone en Pologne puis au Lemmensinstituut van Leuven, Gadzina a gagné Bruxelles pour étudier le saxophone jazz au Conservatoire, dans la classe de John Ruocco. Une double formation qui lui a permis de mener une double carrière: d'une part, la musique classique (soliste du Brussels Chamber Orchestra - Ricercar, entre autres) ou contemporaine (Ictus, Blindman Saxophone Quartet) et, d'autre part, le jazz. Il a ainsi fondé la formation Saxafabra (album Werf de 2007, avec 4 saxophones, un tuba et 4 percussionnistes,  et projet Mosty, au Jazz Brugge de 2010, avec Luc Mishalle et Michel Massot) et a enregistré en trio (Double Heart avec Piet Verbist et Marek Patrman) ou en quartet (Light in Sight, avec Eve Beuvens). Il a aussi été le directeur artistique de l'European Saxophone Ensemble, de 2008 à 2011 (avant de céder la place à Guillaume Orti), une formation qui rassemblait douze saxophonistes (3 sopranos, 3 altos, 3 ténors, 2 barytons, 1 sax basse) provenant de différents pays européens puis du Belgian Saxophone Ensemble imaginé selon le même schéma.
Réunissant Dawid Lubowicz (vl), Mateusz Smoczynski (vl), Michal Zaborski (alto) et Krzysztof Lenczowski (cello), l'Atom String Quartet est l'un des rares ensembles à cordes à jouer du jazz, tout en interprétant ses propres compositions inspirées des musiques traditionnelles polonaises, irlandaises ou espagnoles. L'Atom a ainsi pu collaborer avec Bobby Mc Ferrin, Paolo Fresu, le contrebassiste Lars Danielsson ou la vocaliste polonaise Ursula Dudziak et enregistrer les albums Fade In en 2011 et Places en 2012.
Le répertoire de The Fifth Element est constitué de 11 compositions originales: 7 de Gadzina (dont IR Blues et Daily Sax de l'album Saxafabra, Daraja de Light in Sight), une de Lenczowski (The Fifth Element) et trois courtes compositions-improvisations collectives plus aventureuses (Metamorphoses of leaves, Evocation of roots, Fragility of flowers).
Si l'Atom String Quartet "swingue", c'est notamment dû à l'approche des instruments à cordes: pizzicati du violoncelle qui tisse une ligne de basse (Droa, Daraja), effets de percussion sur le corps de l'instrument (Droa, Daily Sax), pizzicati des violons (Streams, IR Blues) et magnifiques envolées des violons en parfaite osmose avec le saxophone alto (Droa, Streams, Krzesany, Daily Sax) ou soprano (Daraja, The Fifth Element, Lost in white, IR Blues).
Les mélodies, de celles qui restent longtemps dans l'oreille, sont splendides, certaines allègres (Droa, Daraja, IR Blues, Daily Sax), d'autres plus mélancoliques (Streams, Lost in white), le rythme peut aussi devenir endiablé comme sur Krzesany, un thème visiblement influencé par la musique traditionnelle polonaise et, cela, toujours avec une parfaite harmonie entre les cinq instrumentistes.
Un vrai coup de coeur.

Claude Loxhay