Caroll Vanwelden Sings Shakespeare Sonnets 3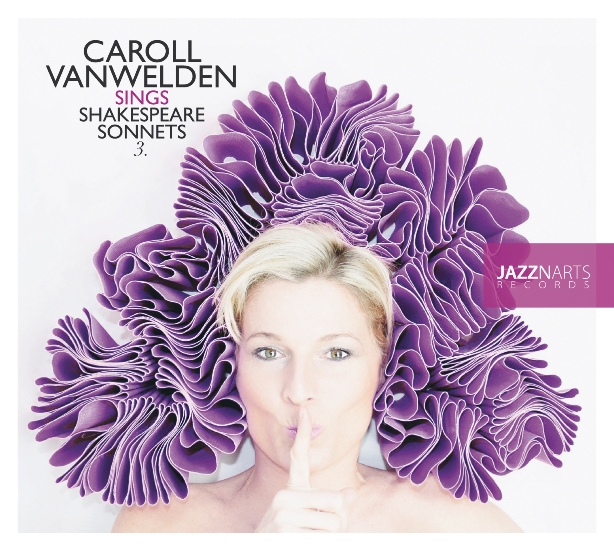 C
JAZZNARTS Records
J'avoue que je n'avais pas encore entendu d'album de Caroll Vanwelden, pourtant elle a, à son actif, une discographie importante: voilà une belle découverte.


Née en 1971, Caroll Vanwelden a d'abord étudié le piano classique puis s'est passionnée pour le chant et le jazz, prenant d'abord des cours particuliers avec l'Américaine Judy Niemack mais aussi avec David Linx. Elle s'inscrit ensuite au Conservatoire de Gand puis au London Guildhall of Music, des études qu'elle termine en 1998. Après avoir participé à différents projets, dont une tournée en Chine, elle enregistre, en 2006, son premier album, Colours, avec différents invités, comme le pianiste Mike Roelofs ou le trompettiste Sam Vloemans.
Très attirée par les standards et les grands classiques, elle enregistre ensuite, en 2009, Cheek to Cheek, 13 classiques, de Gershwin (Our love is here to stay) à Irving Berlin (Cheek to Cheek), avec le guitariste Dirk van der Linden.
En 2011, elle s'installe en Allemagne et enregistre, deux ans plus tard, Don't Explain Songs at the '40s, des classiques de Lush Life à Speak low, avec des musiciens allemands, le pianiste Daniel Prandl, le contrebassiste Thomas Stabenow et le guitariste B. Sperrfecter.
Tout en gardant une passion pour la musique brésilienne, enregistrant notamment Portrait of Brazil, avec le guitariste Hans Van Oost, elle affirmera son talent de compositrice en mettant en musique les Sonnets de Shakespeare pour le label Jazz'nArts. Le premier album, Sings Shakespeare Sonnets, sort en 2012, avec Thomas Siffling (tp), Mini Schulz (cb) et Markus Faller (dm), puis, en 2014, Sings Shakespeare Sonnets 2, cette fois avec Rodrigo Villalon à la batterie.
Pour le troisième volet de ces Sonnets de Shakespeare, elle retrouve Thomas Siffling et Mini Schulz, mais, cette fois, c'est Jens Düppe qui est à la batterie, soit trois musiciens expérimentés.
Après ses études à Mannheim et à Stuttgart avec le trompettiste Claus Stötter, Thomas Siffling a fait partie du Youth Jazz Orchestra dirigé par Peter Herbolzheimer et a enregistré plusieurs albums qui illustrent sa pureté de sonorité, comme Ballads avec Daniel Prandl ou Songs avec le guitariste Claus Boesser-Ferrari.
Mini Schulz a étudié la contrebasse à Stuttgart mais aussi à New York, sous la férule de Niels Henning Ørsted Pedersen et Ron Carter, il fait notamment partie du groupe Salta Cello, avec Wolfgang Schindler au violoncelle et Peter Schindler au piano.
Quant à Jens Düppe, il est bien connu du public belge en tant que membre du quartet du vibraphoniste Pascal Schumacher (albums Silbergrau et Bang my can) mais il dirige aussi un quartet avec le trompettiste Frederik Köster.
Shakespeare a écrit 154 sonnets, formés de trois quatrains et un distique, Caroll Vanwelden en reprend ici 16, choisis entre le n°1 et le 138, qu'elle a mis en musique avec beaucoup d'intelligence et de sensibilité, des textes qui traitent d'amour (n°130), du désir, de la jalousie, de la vieillesse (n°60) et de la mort (n° 66 ou 71) et pour lesquels elle prend l'incipit comme titre.
Le tout pour un résultat résolument jazz, que ce soit dans le timbre et les inflexions de la voix ou le dialogue entre le piano de la chanteuse, la trompette, la contrebasse jouée tantôt en pizzicato, tantôt à l'archet,  et la batterie.



A l'exception de Like as the waves interprété en solo et Say that thou didst forsake me chanté en duo avec la contrebasse, la plupart des plages sont construites selon le même schéma: entre l'interprétation du sonnet et sa reprise en final, s'intercale un solo de Thomas Siffling, à la trompette bouchée pour les tempos soutenus (Shall I compare thee, That time of year, In the old age), au bugle à la sonorité ouatée pour les ballades (What's in the brain, To me fair friend, When in disgrace with fortune). Parfois le rythme s'accélère au fil du temps (From fairest creatures, Alas,'tis true), à d'autres moments le texte est précédé d'une forme de scat (Some say thy fault is youth, Tired ith all these). Caroll Vanwelden a aussi l'art de faire varier les intros:  piano (No longer mourn for me) ou contrebasse (Alas,'tis true, Say that thou didst forsake me). Elle offre aussi des espaces de solo à chacun. Autant de preuves de son intelligence d'écriture.
Un projet original et parfaitement abouti.
Claude Loxhay