AuB – Tom Barford & Alex Hitchcock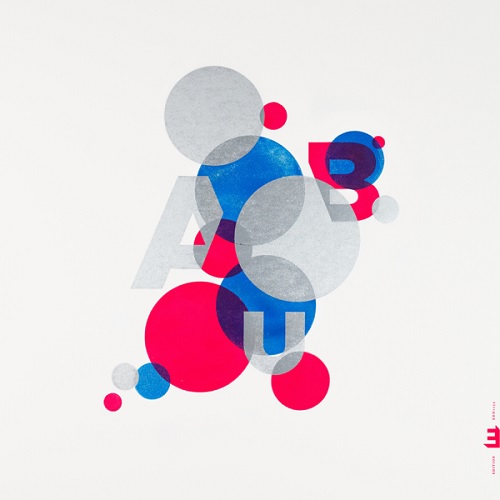 A
Edition
Debuut van een jong Brits kwartet met twee tenorsaxofonisten in de frontlinie.
Voor alle duidelijkheid, de groepsnaam kozen deze twee Britten niet om extra beleefd over te komen bij Nederlandstaligen. Met AuB (uit te spreken als ORB) verwijzen ze naar de wiskundige term venndiagram en het begrip deelverzamelingen met hun onderliggende relaties. Een conceptuele basis die de saxofonisten doortrekken naar hun composities. Concreet betekende dit dat ze elk van hun kant een aantal basisideeën bij elkaar zochten en die dan met zijn vieren uitwerkten. Jazz in groepsverband dus om het kortweg te definiëren. De overige muzikanten die meewerkten aan het project zijn bassist Fergus Ireland en drummer James Maddren.
Het album van het jaar of "much ado about nothing"? AuB creëert hier veertig minuten degelijke hedendaagse jazz boordevol groovy stukken met sterke bop inslag waarbij de twee saxofonisten samen of individueel het heilige vuur continu aanwakkeren. Gelukkig zijn de heren flexibel en wordt er tijdig overgeschakeld naar andere snelheden zoals in 'Calvados'. Een wervelend begin zoals je enthousiast een Vieux Calvados Lemorton (Réserve Domfrontais) zou openen. Geleidelijk aan echter besef je dat er met mate gesavoureerd moet worden. De vier milderen navenant hun tempo. 'Rufio' is een ander spel met verschillende scenario's waarbij ze van een film noir, inclusief helse achtervolgingen, uiteindelijk in sciencefiction nevelen belanden. Heel ingenieus gedaan. Nog meer ontwrichtende situaties vinden we in 'Dual Reality' met een intro à la Philip Glass.
De twee tenoren, Hitchcock en Barford, zorgen zo uiteindelijk toch voor een beklijvend album mede dankzij de aangepaste ondersteuning van hun drummer en hun bassist. Mooie gelegenheid om 'Twin Tenors' van Michael Brecker en Bob Mintzer nog eens te beluisteren.
© Georges Tonla Briquet



Bezetting:
Tom Barford: tenorsaxofoon
Alex Hitchcock: tenorsaxofoon
Fergus Ireland: bas
James Maddren: drums