Atipico 4 - Next Planet on the way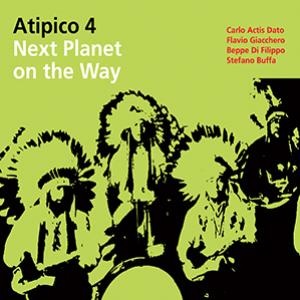 A
Setola di Maiale
Carlo Actis Dato est un des musiciens européens le plus prolixe: depuis 1977 et son premier disque au sein du quartet Art Studio avec le guitariste Claudio Lodati, le saxophoniste/clarinettiste a plus de 90 disques à son actif.
Des albums en solo (enregistré notamment au Japon), en duo (entre autres avec le guitariste Enzo Rocco), en trio (Atipico trio), en quartet avec le saxophoniste Piero Ponzo, en quintet (Actis Band), en nonet (Actis Furioso), mais aussi au sein du Sud Ensemble de Pino Minafra ou de l'Italian Instabile Orchestra.
L'Atipico a d'abord été un trio d'anches: premier album Where the reeds dare en 1990, avec Piero Ponzo et Sandro Cerino, puis Gone with the Wind en 96, avec Sandro Cerino et Stefano Corradi,  Allegro con brio en 2004, avec Piero Ponzo et Beppe Di Filippo et, en 2010, Eqqueqqua, avec Beppe Di Filippo et Davide Tilotta.
Voici donc le cinquième album, gravé ici en quartet, toujours avec Beppe Di Filippo (as, ss, cl) qui a fait partie du quartet de Carlo et du septet d'Enrico Fazio et avec deux élèves de Carlo: Stefano Buffa (cl, ts) et Flavio Giacchero (bcl, ss, coremuse), un musicien diplômé en ethnomusicologie et fervent de musique traditionnelle.
Au menu, 16 nouvelles compositions de Carlo, soit plus de 60 minutes d'une musique vivante qui respire la joie de vivre et se nourrit d'une palette sonore très large: tous les saxophones, clarinette et clarinette basse, plus, pour la première fois la cornemuse de Giacchero.
A la différence des premiers albums, pas de mention de qui joue quoi: difficile donc de préciser l'instrument de chacun selon les plages.



La clarinette basse de Carlo est souvent mise en avant (Dietro la siepe, Belfagor, Petra avecle baryton en contrechant et beau solo sur Mare ignoto), parfois c'est le baryton qui introduit le thème ou l'alto qui mène la danse (Printemps à Sète). Quant aux thèmes Costa Sud ou Snow in Koyasan, ils offrent de larges espaces à la cornemuse, avec le soprano en contrechant et, sur la deuxième partie de Belfagor, Giacchero prend un beau solo de cornemuse.
Par rapport aux albums précédents, la palette sonore s'est encore élargie mais le rythme reste toujours aussi dansant et primesautier.
Une musique qui reflète toute la vitalité méditerranéenne.
© Claude Loxhay


Musiciens:

Carlo Actis Dato (tenor sax/baritone sax/bass clarinet/compositions)
Flavio Giacchero (bass clarinet/soprano sax/bagpipes)
Beppe Di Filippo (alto sax/soprano sax/clarinet)
Stefano Buffa (clarinet/ tenor sax)