ASTA - Passers of time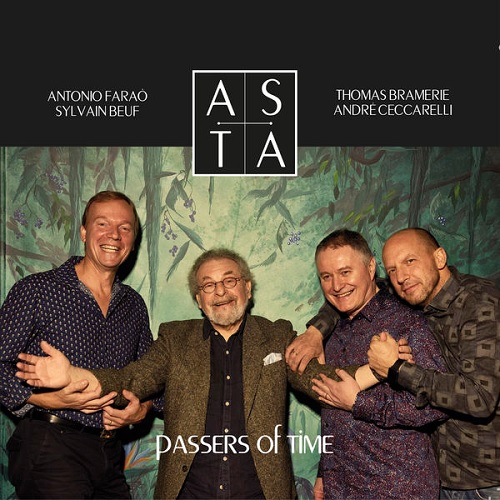 A
Bonsaï / L'Autre Distribution
ASTA, un quartet dont le nom est formé de l'acronyme des prénoms des musiciens qui le composent: André Ceccarelli, Sylvain Beuf, Thomas Bramerie, Antonio Faraò.
En 1997, l'album West Side Story était sorti au nom d'André Ceccarelli Quartet, suivi d'un Live Sunside Session en 2008. Plus de vingt ans après le premier album de cette aventure commune, Dédé a décidé d'opter pour l'acronyme ASTA: "C'est vraiment un groupe, c'est plus le André Ceccarelli Quartet." (A.Ceccarelli) et Sylvain Beuf enchaîne: "C'est comme les membres d'une famille qui se retrouvent après un long voyage. Pour moi, c'est tout simplement le meilleur quartet dans lequel j'ai eu le plaisir de jouer."
C'est là évidemment la réunion de quatre figures de premier plan de la scène française.
André Ceccarelli a joué avec tout le gratin du jazz international: Tom Harrell, Rhoda Scott, Enrico Pieranunzi, Kenny Wheeler, Enrico Rava, René Urtreger. Fidèle en amitié, il a aussi enregistré avec David Linx (Le Coq et la pendule, ANougaro, Rock my boat et 7000 Miles). Ce qui explique que David soit invité sur Passers of time dont il a écrit le texte et qu'il interprète en spoken words sur une musique d'André Ceccarelli et Bernard Arcadio.
Sylvain Beuf est un des saxophonistes vedettes outre-Quiévrain: il a enregistré Impro Primo avec Bojan Z, Soul Notes avec Manuel Rocheman, Plénitude avec Manu Codjia, Triple Entente avec le guitariste Michel Perez et nombre d'albums en trio, comme Another building en compagnie de Diego Imbert et Franck Agulhon.
L'Italien Antonio Faraò a enregistré avec nombre de musiciens américains comme Joe Lovano, Bob Berg, Chris Potter ou Jack DeJohnette. Il a enregistré Takes on Pasolini avec Miroslav Vitous et Daniel Humair, Open doors avec Didier Lockwood ou Borderlines, en trio avec J.J. Avenel et D. Humair.
Thomas Bramerie est un des contrebassistes français les plus sollicités: Mulgrew Miller, Alain Jean-Marie, Jean-Michel Pilc, Stéphane Belmondo (Love for Chet) ou Eric Legnini (The Vox, Six strings Under).
Tous sont de vrais "passers of time".



Au répertoire, une belle alternance entre tempo énergique, galvanisé par le drive infaillible de Dédé (Two places, Early time, 4433) et ballades très mélodiques (Ballade pour Valérie, Les rues se retrouvent).
D'un saxophone ténor à la sonorité tranchante (Two Places, Last one, Mr Henri) ou de velours (Ballade pour Valérie), Sylvain passe à un soprnao incisif (Early time, M Theory, Improvisation for ASTA).
Chacun est mis en valeur, avec de beaux solos de piano (Two Places, Early time), de contrebasse (Ballade for Valérie et longue intro de Improvisation for ASTA) ou ce soprano énergique de Early time.
Une belle équipe de passionnés: quatre vrais passeurs de temps.
© Claude Loxhay