Areia - Stories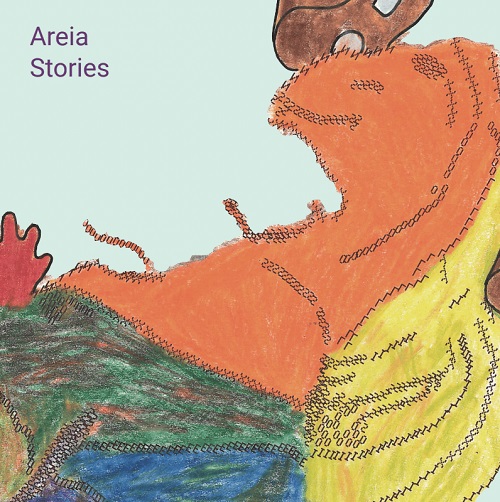 A
Jazzfuel
Much as I love bass and drums, it's refreshing to hear a quartet which features neither. Guitarist Siebren Smink and his group produce beautifully intimate and hushed sounds on their new album "Stories", the line up being trumpet, tenor sax, acoustic piano and electric guitar.
All compositions are by Smink and he achieves a great balance between written and improvised elements.
Compositions evolve gradually: mysterious, restless and always taking left turns. Rather than "soloing" the impression is of conversations between instruments. I love the way "The Deaf Man One" opens with guitar arpeggios using the different tone colours of each string, pitch bending wind instruments and snowdrop piano; then evokes foghorns until after 5 minutes it breaks into accented big band style phrases, then swerves into free improvisation. "Roman Numerals - Roman Rruins" develops slowly over 9 minutes with acrobatic trumpet work and expressionist piano which reminded me of Keith Tippett.
The wind playing is beautifully in tune, which makes it all the more telling when they do bend notes. Electric guitar and piano work together with chiming overlaps and plenty of tonal contrast. It helps that the recording feels natural, with no signs of artificial reverb or compression. The music is cerebral, sometimes lyrical, sometimes edgy - ambitious but never over-worked. Interesting sleeve notes pinpoint inspirations for each track (meeting a climate activist, visiting the Resistance Museum in Lisbon, hearing gossip) but to be honest you'd never guess from the music, which is proudly abstract. There are no grooves and nobody feels the need to inject riffs or a distinct "bassline".
Harmony and melodies have a European feel; I have to agree with the sleeve note that "Early influences such as Pat Metheny, who led Smink to study jazz, are only lightly detectable" but there is a kinship with Anthony Braxton which Smink acknowledges.
I loved the rhythmic freedom and spontaneity of this album, chamber jazz where four instruments interact as equal partners and the listener feels right in the middle of the action.

© Stephen Godsall




Musicians:
Adrián Moncada | piano
Antonio Moreno Glazkov | trumpet
Hristo Goleminov | tenor saxophone
Siebren Smink | guitar
Sound Engineer: Ido Zilberman
Mixing: Ido Zilberman
Mastering: Wessel Oltheten
Artwork: Hagar Cohen
Recorded late December 2021 in Amsterdam
Released March 8, 2023