Aquaserge – The Possibility Of A New Work For Aquaserge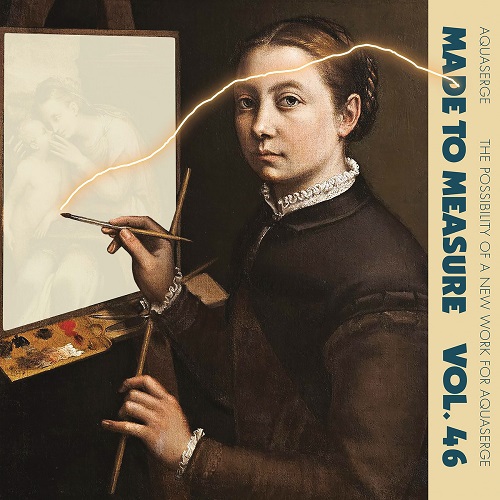 A
Made To Measure
Een volgend hoofdstuk in de actualisering van het legendarische Brusselse Made To Measure (Crammed), nu met nieuw werk van Aquaserge dat voor de gelegenheid uitgebreid werd tot een nonet.
Made To Measure had indertijd duidelijk de vinger aan de pols van de toen overheersende avant-garde. We spreken over het begin van de jaren tachtig. Dat ze vier decennia later nog een even significante rol zouden spelen, hadden waarschijnlijk weinigen vermoed. Met 'The Possibility Of A New Work For Aquaserge' wordt het belang van Made To Measure bevestigd. Meteen staat ook Aquaserge terug volop in de actualiteit. Niet dat de groep die in 2008 een eerste visitekaartje afleverde met de EP 'Tahiti Coco', van het toneel verdween, integendeel.
Naar analogie met de hele visie van het label, worden eigen nummers aangevuld met werken van hedendaagse componisten, in casu Edgard Varèse en Morton Feldman. Het betreft stukken uit de soundtrack van de theatervoorstelling 'The Possibility Of A New Work For Aquaserge – Perdu Dans Un étuiDe Guitare'.
Zoals te verwachten is dit wederom een eclectisch luisterspel. Opener 'Un grand Sommeil Noir' is een gedicht van Paul Verlaine met muziek van Varèse. Een vermenging die leidt tot fluisterende electrop met onverwachte verschuivingen. Alsof het gaat om een verloren parel uit de eighties toen Tuxedomoon en Les Tueurs de la lune de miel hoge toppen scheerden. '1768°C (à Edgard Varèse)' klinkt dan weer als een verloren track uit de discografie van Allez Allez met fluit en tribal drums die de omkaderende krijtlijnen uittekenen. Ook hier duiken die bruuske wendingen op.
'Hommage à Giacinto Scelsi' is een eerbetoon aan de theorie die de Italiaanse componist (en dichter) had over atmosferische klankencombinaties. Concreet gaat het om een aaneenschakeling van mathematische frequenties uitgewerkt rond hoofdzakelijk hogere toonhoogten. Helemaal met een hoek af is 'Comme Des Carrés De Feldman', een kubistische improvisatie volkomen in de geest van Frank Zappa, Flat Earth Society en Spike Jones & His City Slickers.
Totaal tegenovergesteld zijn de ijle geluidsgolven van 'Nuit Terrestre (à György Ligeti)' waarin het hele instrumentarium samensmelt tot een uniform zwevend weefsel. Het daaropvolgende 'Nuit Altérée (à György Ligeti)' is wat heviger ingekleurd met tubular bells, drums en een imminente ondertoon. Er zijn tevens nog twee korte interludiums waarbij een gedicht van Rilke ('Only') gezongen wordt op muziek van Morton Feldman. De tweede versie zou zo uit het repertoire van Anohni geplukt kunnen zijn.
Aquaserge creëert een persoonlijk gevoel van verwondering door het samensmelten van uiteenlopende perspectieven en muzikale stromingen. Hoe overtuigend dit alles live weerklinkt, kan u zelf vaststellen op 27 november in de Hallen van Schaarbeek. Een concert in het kader van Ars Musica.
© Georges Tonla Briquet
Tags: Schönberg, 80's avant-garde, Debussy, John Cage, Pierre Henry, Sofonisba Anguissola, dadaïsme






Live
27.11.2021, Hallen van Schaarbeek (Brussel)

http://www.crammed.be/index.php?id=37&rel_id=523
https://aquaserge.bandcamp.com/album/the-possibility-of-a-new-work-for-aquaserge