Antoine Pierre Urbex Electric - Suspended, live at Flagey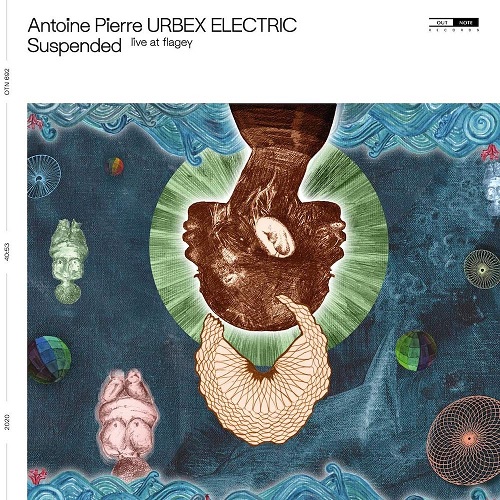 A
Outhere
Après avoir été le batteur de nombreuses formations, du quartet de Philip Catherine à Taxi Wars, Antoine Pierre a eu envie de créer son propre groupe et de jouer ses propres compositions.
Ainsi est né Urbex, d'abord sous la forme d'un octet à trois souffleurs: Jean-Paul Estiévenart, Toine Thys et Steven Delannoye. En 2018, deux ans après le premier album sorti chez Igloo, sortait Sketches of nowhere, autour du quintet de base, réunissant, autour de sa batterie, Jean-Paul Estiévenart (tp), Bram De Looze (p et claviers), Bert Cools (elg) et Félix Zurstrassen (elb), mais avec, selon les plages, une série d'invités parmi lesquels le flûtiste Magic Malik et le saxophoniste alto néerlandais Ben van Gelder, un musicien qui a débarqué à New York à 17 ans et a ainsi croisé Lee Konitz, David Binney, Mark Turner, Ambrose Akinmusire ou Jason Moran.
Dans la foulée de cet album, va naître un troisième projet: rendre hommage à Miles Davis et, particulièrement à l'album Bitches Brew de 1970, disque qui amorçait la période électrique du trompettiste. Un projet qui va se concrétiser par un concert à Flagey durant le mois de janvier et cet album live enregistré le jour même, avec pour titre Suspended. Un titre qui trouve son origine dans une interview de Miles accordée au magazine Down Beat. Miles y défendait l'idée de compositions ouvertes qui laissent une large place à l'improvisation: "When it's open, you can suspend it".
Pour l'occasion, pas de reprises de Miles mais une série de compositions originales. Neuf compositions certes inspirées par Miles mais qui portent la  griffe du batteur et s'enchaînent l'une à l'autre. Pour cet Urbex Electric,  Antoine Pierre a réuni une équipe de neuf musiciens, qui s'articule autour de binômes fonctionnant comme en miroir. Deux souffleurs: Jean-Paul Estiévenart et Ben van Gelder. Deux pianistes: Bram De Looze au piano et Jozef Dumoulin au Fender Rhodes et effets électronique, comme lors du concert donné au Brosella en 2019. Deux guitaristes: Bert Cools et ses effets électroniques ainsi que le Néerlandais Reinier Baas, qui a étudié au Conservatoire d'Amsterdam puis à la Manhattan School of Music et qui a enregistré Mokum, en duo avec Ben van Gelder puis Smash Hits avec le Metropole Orchestra, Enfin une base rythmique à trois: Félix Zurstrassen à la basse électrique, Antoine à la batterie et Fred Malempré aux percussions.
Au total, une musique ouverte, en suspension entre écriture et improvisations nées d'interactions entre les binômes. Des nappes sonores électriques, volontiers hypnotiques qui marient guitares et Fender Rhodes (Feather) dont émerge la sonorité fluide et limpide de la trompette d'Estiévenart: trompette vibrante (Steam, Obsession) ou trompette bouchée (Feather). L'alto, à la sonorité suave, répond, en miroir, à la trompette (Steam, Obsession, You Nod But Ain't).
Steam comme Obsession proposent de belles mélodies, d'autres compositions sont plus abstraites (Abstract: Peace, Abstract: Tide).
Parfois, c'est la basse inflexible de Félix Zurstrassen qui introduit le thème (Obsession) parfois c'est la guitare (Abstract: Tide). Le Fender Rhodes de Jozef Dumoulin est omniprésent (Obsession).
Les thèmes s'enchaînent: You Nod But You Ain't débouche sur un long solo de batterie (Drums Take Over) qui se prolonge avec Sound Barrier, sorte d'apogée pour les instruments électriques et leurs effets électroniques.
Un projet parfaitement abouti qui, contrairement à ce qu'on pourrait penser, ne s'adresse pas au seul public amateur de fusion mais dont la subtilité d'écriture est un parfait reflet du jazz contemporain.
© Claude Loxhay