Ant Law / Alex Hitchcock - Same Moon in the Same World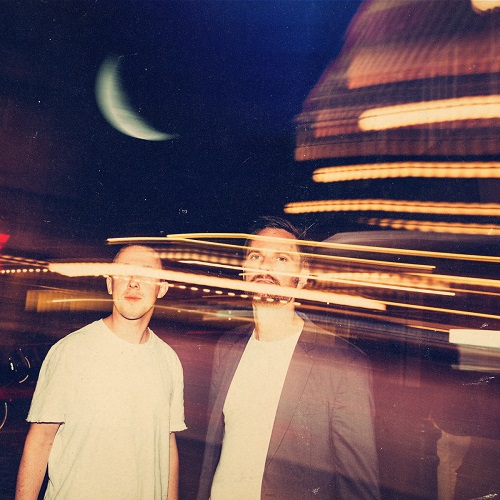 A
OiM Outside in Music
« Le Soleil brille pour tout le monde » est une expression commune qui aurait des origines latines. « Same Moon in the Same World » est le titre de l'album du guitariste Ant Law et du saxophoniste Alex Hitchcock, titre qu'ils ont repris d'un texte de l'auteur japonais Haruki Murakami extrait de son roman « Sputnik Sweetheart ».
Que ce soit solaire ou lunaire, l'image a été reprise à de multiples reprises lors de la période de confinement et ce disque est un nouvel exemple de ce que beaucoup de musiciens ont réalisés pendant cette période, à savoir des albums solos ou des collaborations à distance. C'est ce dernier mode d'expression qu'ont choisi les deux initiateurs de ce projet., le guitariste Ant Law et le saxophoniste-ténor Alex Hitchcock, ce dernier étant familier de ce genre de formation hybride, avec son groupe à combinaison variable « Dream Band ».
Guitariste à la réputation grandissante hors UK, Ant Law est membre du quartet de Tim Garland avec Jason Rebello et Asaf Sirkis, ce dernier s'ajoutant au bassiste Matt Ridley dans le trio du guitariste « Art of Rhythm Trio ». Le Londonien Alex Hitchcock a quant à lui fait ses débuts sur le label espagnol Fresh Sound New Talent avant d'enregistrer en quintet pour Edition Records avec son groupe « AuB » décrit par le magazine Jazzwise comme un « Band prêt à provoquer un cataclysme dans le son du Royaume Uni. »
Huit compositions partagées entre les deux leaders et une de John Coltrane forment la trame de cet album enregistré à distance entre octobre 2020 et septembre 2021. Quatre batteurs invités se partagent équitablement les huit compositions originales : Eric Harland, Jeff Ballard, Kendrick Scott et Sun-Mi Hong; Linda May Han Oh et Ben Williams sont à la basse, Shai Maestro intervient sur deux titres, le vibraphoniste Joel Ross sur trois et Tim Garland à la clarinette basse sur deux.
On imagine la complexité d'une telle production, mais le résultat est plutôt bluffant, vivant et même passionnant (on se souvient que l'album de Gilad Hekselman « Far Star » réalisé dans les mêmes conditions avait tout autant séduit). On apprécie la variété de climats notamment dans le chef des batteurs, Eric Harland propulsant un titre comme « Haven't Meta Yet » avec force et invention sur les solos percutants de Hitchock d'abord puis de Law. Alors que Sun-Mi Hong se réserve des pièces plus douces et subtiles, dont « Vivid » où on surprend l'excellente bassiste Linda May Han Oh dans un bel exercice vocal, et une autre ballade « Don't Wait Too Long » laisse la place au chant de la clarinette basse de Garland. La composition de Coltrane « After the Rain » clôture ce très bel album avec un duo Law-Hitchcock.
Un album séduisant et deux musiciens à découvrir, si ce n'est déjà fait.

© Jean-Pierre Goffin
Une collaboration JazzMania / Jazz'halo



Musiciens:
Ant Law - guitars (electric/acoustic/8 string)
Alex Hitchcock - tenor saxophone
Joel Ross - vibraphone (6, 7, 8)
Shai Maestro - piano (3, 4)
Linda May Han Oh - bass (1, 6)
Jasper Høiby - bass (3)
Ben Williams - bass (5, 8)
Eric Harland - drums (1, 2)
Jeff Ballard - drums (3, 8)
Kendrick Scott - drums (4, 7)
Sun-Mi Hong - drums (5, 6)
Tim Garland - bass clarinet (6, 8)