Anne Niepold - Vita Brevis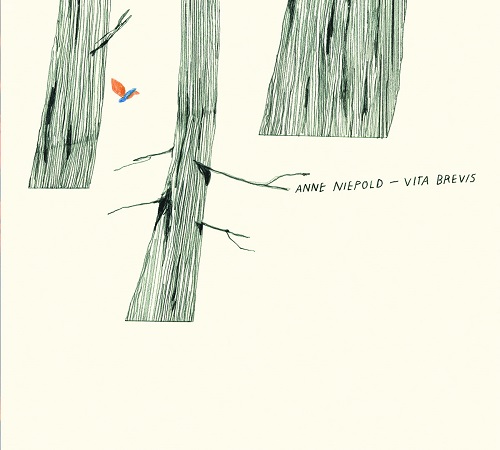 A
Eigen Beheer
Anne Niepold (37) studeerde compositie en jazz arrangement aan het Koninklijk Conservatorium van Brussel. Ze ontving in 2008 de Toots Thielemans Award met diatonische accordeon. Een al even atypisch jazzinstrument als Toots' mondharmonica en daar liet Toots zich dan ook bij de uitreiking zeer opgetogen over uit.
Met 'Musette is not dead' (2014) zette ze de bakens uit in het verzoenen van de musette met improvisatie en jazz waarbij ze de kern van het accordeon-bas-drums trio opentrok met blazers. Ze wist zich nog verder te ontwikkelen tot componiste en verovert nu ook de podia met het klassieke Alfama Kwartet.
In dit nieuwe album 'Vita Brevis' plooit ze terug op zichzelf, helemaal solo, en gedeeltelijk met haar vertrouwde trio met bassist Hendrik Vanattenhoven en drummer Etienne Plumer.
Ze covert virtuoze accordeonmuziek van Colombo/Murena ('Passion'), Di Duca ('Convoitise'), de van bij Brel bekende accordeonist Jean Corti ('Amazone'), de Mexicaanse componist Luis Demetrio ('¿Quién será?') naast eigen werk ('Noeud Explétif', 'Valse A Ea', 'Syncinésie', 'Vita Brevis', 'L'Dahu', 'Nyctalope' en sluit het album passend af met enkele jazzstandards: 'Somewhere Over The Rainbow' (waarop ze ook zingt) en 'Goodbye'.
Er klinkt een en al passie en vaart in de musettewalsen ('Passion', 'Amazone') wat gelijk uitnodigt tot de dans. Boeiend hoe ze solo variatie en spanning brengt in bijvoorbeeld 'Le 'Noeud Explétif' door stuwende wendingen.
De stemming zit er stevig in bij '¿Quién será?' dat aanzet tot meezingen. Mooi hoe ze 'Somewhere Over The Rainbow' naar hand zet en het zingend begeleidt. 
Anne Niepold straalt levenslust uit en vat dat samen in  'Ars Longa, Vita Brevis' of het leven is kort, de kunst voor eeuwig. Met 'Vita Brevis' nodigt Anne Niepold  je uit voor een kleurrijk muzikaal spectrum van accordeonklanken vol vuur en passie!
© Bernard Lefèvre




Musici:
Anne Niepold (diatonische accordeon)
Hendrik Vanattenhoven (contrabas)
Etienne Plumer (drums)