Angelika Niescier - Alexandre Hawkins - Soul in plain sight (cl)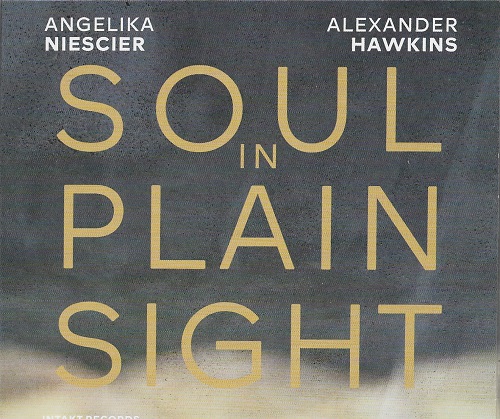 A
Intakt
Ce duo entre le pianiste anglais Alexander Hawkins et la saxophoniste d'origine polonaise Angelika Niescier est né d'une rencontre lors d'un Jazzfest à Berlin. Hawkins venait de jouer en duo avec le trompettiste Wadada Leo Smith et la saxophoniste avait présenté son New York Trio, avec Christopher Tordini à la contrebasse et Tyshawn Sorey à la batterie.


Tous deux sont animés d'une admiration réciproque et partagent la même passion pour le jazz d'avant-garde, pour Ornette Coleman et Cecil Taylor. Ils donnent plusieurs concerts en duo avant d'enregistrer cet album au Loft de Cologne.
Hawkins, à la fois pianiste, organiste et compositeur, mène une carrière féconde: il a fait partie du quartet d'Anthony Braxton, a joué avec Evan Parker, Han Bennink et le saxophoniste italien Roberto Ottaviano, avec qui il a enregistré plusieurs albums. Il a fondé le groupe Decoy, au sein duquel il joue de l'orgue, avec, en invité, Joe McPhee ("Spontaneous Combustion"), a formé un duo avec Evan Parker ("Leaps in Leicester") et avec Louis Moholo ("Keep your heart straight"). Pour Intakt, il a enregistré "Iron into the wind" en solo et "Togetherness Music" avec un ensemble de 16 musiciens.
Née en Pologne, Angelika Niescier a suivi sa formation de saxophoniste alto à Essen et s'est fixée à Cologne. Elle a formé le New York Five avec le trompettiste Ralph Alessi, a enregistré, a enregistré "Sublim III" avec le pianiste Florian Weber et formé un premier trio avec le batteur Gerald Cleaver, avec en invité Jonathan Finlayson, trompettiste de Steve Coleman.
A l'exception de Arhythm Songy du pianiste Richard Muhal Abrams, les deux compères ont composé les 11 autres titres: 'Un:Tamed', 'Nexus', 'Tar'ai' composés par la saxophoniste, 'As hemispheres at home' de Hawkins et les autres titres cosignés par les deux compères.
Une cascade de notes, en rafales du piano, un alto à la sonorité rauque ('Brawns and squabbles'), la plupart du temps toujours incisif ('Why didn't you') mais parfois plus paisible ('Another songy', 'Scops', 'Metamorphose einer Karelle'), avec des tendances parfois bruitistes. Un duo atypique et virevoltant comme sur 'Nexus' ou 'Scope'.
© Claude Loxhay