Angelica Niescier et Alexander Hawkins - Soul in Plain Sight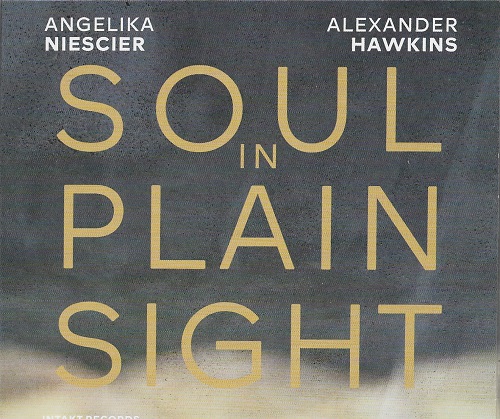 A
INTAKT Records/Outhere distribution
C'est au Festival de Jazz de Berlin que la saxophoniste polonaise installée en Allemagne depuis quarante ans, et le pianiste anglais se sont découverts pour la première fois : ce dernier se produisait en duo avec le trompettiste Wadada Leo Smith et la pianiste présentait le trio de son dernier album chez INTAKT avec le bassiste Christopher Tordini et le batteur Tyshawn Sorey (« The Berlin Concert »).
Deux instrumentistes faits pour se rencontrer, tous les deux nourris de la tradition du jazz et de ses aventures free du côté d'Ornette Coleman ou Cecil Taylor. Tous deux aussi férus de rencontres en duo, la pianiste a, par exemple, joué avec Julia Hülsmann qu'on a vu récemment au Gaume Jazz. « Brawls and Squabbles » - traduisez : « bagarres et querelles » - porte évidemment bien son nom, les deux musiciens semblant partir dans des voies différentes avant de se retrouver dans un quasi chaos, trois minutes virtuoses.
« Arhythm Songy » de Muhal Richard Abrams, la seule pièce qui ne soit pas du duo, se calerait volontiers dans l'univers d'Anthony Braxton. On trouve dans plusieurs pièces la sauvagerie musicale, le cri propre à la mouvance de la Great Black Music, les Albert Ayler ou Charles Gayle, la musique du duo s'installant plutôt dans une ligne de combat que dans une vision intellectuelle à l'européenne, avec une charge émotionnelle de tous les instants et une variation de nuances instinctive.
« Soul in Plain Sight » porte bien son nom, la « soul à vue » fait à la fois référence à la tradition et à la liberté d'improvisation, un disque qui se révèle passionnant.
© Jean-Pierre Goffin
Une collaboration JazzMania / Jazz'halo