Anemic Cinema – Anemic Cinema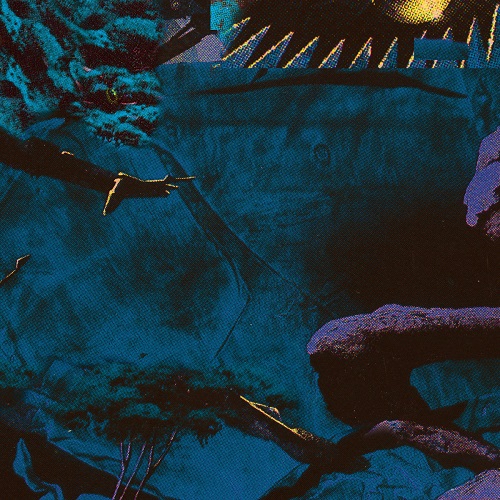 A
el NEGOCITO Records
Hij is de gitarist die het verschil maakt bij groepen als H A S T en Mòs Ensemble maar Artan Buleshkaj wilde nog net iets meer. Onder de naam Anemic Cinema laat hij in het gezelschap van saxofonisten Rob Banken en Steven Delannoye samen met drummer Matthias De Waele horen tot wat dit zoal kan leiden.
Artan Buleshkaj is duidelijk een veelzijdig gitarist. Zo duikt hij op bij onder meer Brain//Child, Mòs Ensemble (binnenkort nieuw werk), Madame Blavatsky, H A S T (van wie recent nog het overtuigende 'Ubi Sunt' verscheen) en in het gloednieuwe project van zijn vroegere comboleraar Pierre Vaiana ('Amuri & Spiranza'). Dat zijn composities voor Anemic Cinema gelaagd en ingenieus klinken, heeft niet alleen te maken met deze uiteenlopende activiteiten maar is ook deels te danken aan het analytisch denken dat Buleshkaj overhield aan zijn IT-verleden. Toch klinkt het werk van Anemic Cinema heel organisch. De doorgedreven jazzharmonieën zijn gekoppeld aan een rockdrive zonder het noodzakelijke buikgevoel te verwaarlozen.
Het zit allemaal verwerkt in de vijf nummers te horen op dit debuut. De verschuiving naar heavy metal en prog is daarbij tekenend. Stevige kost dus maar met subtiele links naar zijn andere stratosferen. Daartussen zit bovendien zijn voorliefde voor sciencefiction met als goeroe wetenschapper en schrijver Isaac Asimov. Dit aspect komt het sterkst naar voor in het 'Solenoid Creatures', een clash van saxen en gitaar gelardeerd met kosmische storingen en kubistische drumpartijen. Alsof Morphine als een feniks uit zijn as herrijst en een verbond aangaat met MDCIII. In 'Poète Maudit' (toeval of niet, Baudelaire de "poète maudit" bij uitstek werd honderd jaar geleden geboren) neemt het kwartet de tijd om hun sonische grammatica uiteen te zetten en er vervolgens mee aan de slag te gaan. 'Lattices' is een rustpunt als aanvulling van het achterliggende gedachtegoed waarmee ze goochelen. De kolkende energie van 'Enmity' is typisch Anemic Cinema en de perfecte soundtrack als opstap naar het BIFFF (Brussels International Fantastic Film Festival of Fantastic Film) dat doorgaat tijdens het paasverlof, zij het in digitale versie. 'Shrines And Effigies' is tenslotte nog eens een ingetogen en beknopte ontrafeling van de krachtlijnen die voorafgingen.
Vergeet de download en ga voor de vinyl met het buitengewone artwork van grafisch ontwerper Benoit Vangeel dat helemaal aansluit bij de psychedelica van de twee videoclips die tot nu toe verschenen. Anemic Cinema is op die manier een lust voor oog en oor in Technicolor en Sensurround. En nu maar hopen dat die concerten er zo snel mogelijk aankomen.
© Georges Tonla Briquet




Musici:
Artan Buleshkaj: baritongitaar
Rob Banken: altsaxofoon, klarinet
Steven Delannoye: tenorsaxofoon, basklarinet
Matthias De Waele: drums

www.artanb.com/anemic-cinema
www.elnegocitorecords.com