Andrew Oliver / David Horniblow - The Complete Morton Project (RA)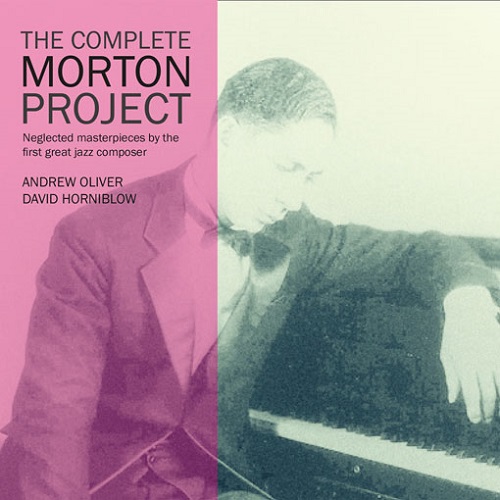 A
Lejazzetal Records
Neglected masterpieces by the first great jazz composer
Ik vraag me af hoe het is om muziek te componeren in een stijl die zojuist is ontstaan. Ferdinand Joseph LaMothe (1890 – 1941), beter bekend als Jerry Roll Morton, heeft het gedaan. In het begin van de vorige eeuw ontstond in New Orleans de jazz, een kruisbestuiving van ragtime, blues, folk en negrospirituals, een mix van Amerikaanse, Afro-Amerikaanse, Creoolse, Europeaanse, Caribische en Zuid-Amerikaanse invloeden.
Met The Complete Morton Project gaan we terug naar de ontstaansgeschiedenis van de jazz met twee musici die hun sporen hebben verdiend in dit genre. Horniblow kennen we o.a. van zijn samenwerking met Acker Bilk en Kenny Ball en zijn bijdragen aan de populaire tv-serie Mr. Selfridge. Oliver is een van de oprichters van de Portland Jazz Composers' Ensemble en de jaren '20 en '30 jazz en stompgroep, the Bridgetown Sextet.
Als de openingsmaten van het Shreveport Stomp klinken is meteen duidelijk dat de muziek uit de eerste decennia van de vorige eeuw nog steeds springlevend is. Horniblow en Oliver halen halsbrekende toeren uit op riet en klavier in een uptempo nummer dat prima kan dienen ter begeleiding van een doofstomme film. Het kenmerkende geluid van New Orleans is duidelijk aanwezig in de lange uithalen en het puntige pianospel in een nummer als Croc-O Dile Cradle. De bezwerende klanken van Horniblow voeren ons mee naar een reeds lang verloren wereld in het mysterieuze Gan Jam. 
Met Fingerbuster manoeuvreert het duo zich in allerlei bochten in een bijna onmogelijk hoog tempo, terwijl de klaagzang I Hate a Man Like You zich tergend langzaam naar het einde sleept. Het contrast kan niet groter zijn. En wat te denken van een een nummer met een enorme zeggingskracht zoals Jungle Blues? Het nummer is in de uitvoering van Horniblow en Oliver bijna een minuut langer dan de in 1927 door Morton en zijn Red Hot Peppers op plaat gezette klassieker en wat we missen is de klap op de bekkens door Baby Dodds, maar wat we wel horen is een nieuwe standaard die wordt gekenmerkt door dezelfde dynamiek als het origineel.
Het is opvallend hoe divers de tempo's, stijlen en stemmingswisselingen zijn die Morton bij elkaar heeft geschraapt om zich in dit nieuwe idioom te uiten. The Complete Morton Project is een uitgesproken album met werk van een uitgesproken componist. Al is het maar vanwege de uitvoering van zoveel ongekende, onberispelijk uitgevoerde klassiekers op een schijfje.
Al met al een prachtig project voor het Londense Lejazzetal label.
© Robin Arends

Musici:
Andrew Oliver- piano
David Horniblow- (bas-) klarinet

2019, Lejazzetal Records (www.lejazzetal.com)
Opgenomen op 24 september 2018 en gemixt in de Master Chord Studio, Londen.
Gemasterd door Minerva Pappi in Waudio, Helsinki.