Andreas Toftemark Quartet - A New York Flight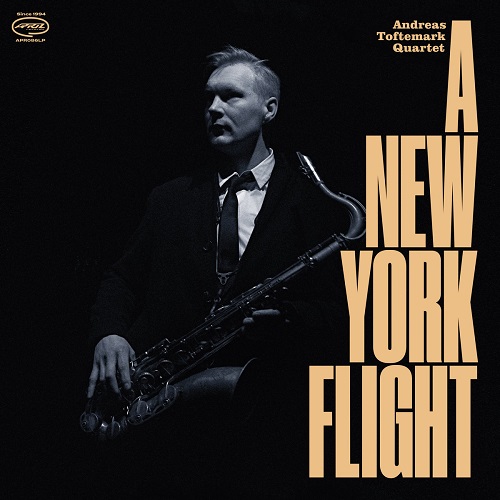 A
April Records
De Deense saxofonist Andreas Toftemark (30) besloot in 2020 na vijf jaar studies in New York naar Denemarken terug te keren door de gewijzigde omstandigheden in de Big Apple muziekscene onder invloed van de pandemie. Vóór New York verbleef hij nog drie jaar in Amsterdam.
In New York kreeg hij les van Joel Frahm, Ben Wendel, Sam Yahel en Eric Alexander. Hij speelde met internationale topmusici zoals Peter Bernstein, Rodney Green, Ethan Iverson en Paul Sikivie.
In dit debuutalbum brengt hij twee eigen composities in, 'A New York Flight' en '2223', die perfect aansluiten bij de vier klasse jazzstandards: 'Blue and Sentimental', 'Love Me or Leave Me', 'Autumn in New York', 'I'm a Fool to Want You'.
Je voelt de passie en de liefde voor de grote jazzmeesters in de melodische, swingende en warme saxofoonsound van Andreas Toftemark en de geïnspireerde ritmische drive van de jonge Deense medemuzikanten.
Pianist Calle Brickman (30) won de presticieuze Erik Moseholm Award en is net als drummer Andreas Svendsen betrokken bij de Deense Indie jazz band OTOOTO (gevormd in 2019 door trompettist Jonas Due) en het Björn Ingelstam Quartet.
De Deense bassist Felix Moseholm (23) is een achterneef van bassist Erik Moseholm. Deze laatste, overleden in 2012, herinneren we ons als jarenlang juryvoorzitter van de Jazz Hoeilaart International Contest was. Felix Moseholm volgde studies in New York en is o.a. bassist bij het Jorge Rossy Quartet.
Andreas Toftemark neemt met deze beloftevolle muzikanten uit de Deense jazzscene een hoge vlucht vol inspiratie uit de Big Apple en verfijnde accenten vanuit thuisstad Kopenhagen waar de opnames gebeurden in augustus/september 2020. Andreas Toftemark pikt fris en inventief de ware jazzspirit op, een perfect album voor het knusse clubgevoel.
© Bernard Lefèvre



Musici:
Andreas Toftemark (sax)
Felix Moseholm (bas)
Calle Brickman (piano)
Andreas Svendsen (drums)

https://andreastoftemark.com/about-1