Ambrose Akinmusire - On the Tender Spot of Every Calloused Moment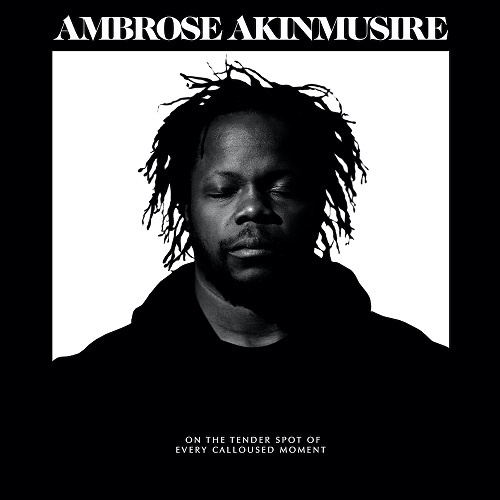 A
Blue Note/Universal
La découverte d'Ambrose Akinmusire, il y a tout juste dix ans au Gent Jazz, reste gravé dans la mémoire.
Avec Michel Portal, Bojan Z, Lionel Loueke, Bojan Z, Scott Colley et Nasheet Waits ( sur l'album Jack DeJohnette), le trompettiste a participé  à « Balaïdor » et son solo sur « Citrus Juice » d'Eddy Louiss en avait laissé plus d'un pantois. Idem peu de temps après aux côtés d'Eric Legnini et Joe Lovano, ou plus près de nous, au Mithra Jazz à Liège avec les partenaires de ce nouvel album complètement soufflant.
Il y a d'abord les hommages, à Roy Hargrove, récemment disparu – sublime moment de recueillement sur « Roy » -, puis « Mr Roscoe » pour Roscoe Mitchell de l'Art Ensemble of Chicago et dont Akinmusire est aujourd'hui le partenaire en quartet. 
« Tide of Hyacinth » ouvre l'album sur un doux souffle de trompette avant que ne surgissent piano, batterie, contrebasse dans un esprit libre et déstructuré rattrapé par le chant de Jesus Diaz qui évoque ses origines cubaines. « Yesss », comme une sourde mélopée envoute par les sonorités vaporeuses de Sam Harris au synthétiseur et « Cynical Sideliners » est une tendre mélodie qu'Ambrose Akinmusire développe au Fender Rhodes en duo  avec Geneviève Artadi, la chanteuse révélée par « Knower » avec Louis Cole.
Le solo de contrebasse de Harish Raghavan en introduction de « An Interlude » séduit par la profondeur de ses sonorités autant que le solo « orchestral » de Sam Harris au piano. Comme d'autres titres de l'album, « Reset (quiet victories & celebrated defeats) » et « Blues (we measure the heart with a Ffst ) » évoquent l'Histoire des Noirs américains avec véhémence ou retenue, tendresse ou colère. Et « Hooded Processions (read the names outloud) » par Ambrose Akinmusire seul au Fender Rhodes conclut l'album  de sonorités sombres, un chant quasi religieux méditatif et profond.
Un nouvel album jalon d'un des musiciens les plus importants de la nouvelle génération de la musique noire américaine.
© Jean-Pierre Goffin