Amaury Faye & Igor Gehenot - Amaury Faye & Igor Gehenot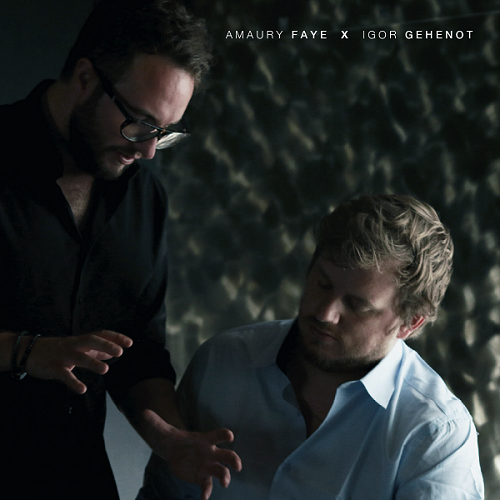 A
Hypnote Records
Het stond in de sterren geschreven dat ze elkaar ooit gingen ontmoeten : zowel bij de man uit Toulouse als deze uit Luik stellen we een zelfde techniek, zelfde snelheid, en zelfs een zelfde gevoel voor ritme en melodie vast.
Amaury Faye speelde al op zevenjarige leeftijd, Igor als veertienjarige. De ene ging naar Berklee College in Boston toen hij 24 werd, en werd er verkozen tot pianist van het jaar. In 2015 vestigde Amaury zich in Brussel, en vormde er zijn eigen trio met Louis Navarro (cb) en Théo Lanau (drs), waarmee hij « Cleanway », en vervolgens « Live in Brussels » opnam. Erna vervoegde hij het trio Vogue van de contrabassist van Italiaanse afkomst, Giuseppe Millaci (« Songbook » en « The Endless Way »). Hij nam ook « Buran » op, een solo album.
Toen hij 16 was speelde Igor Gehenot bij het Metropolitan quartet (met drummer Antoine Pierre). Daarna nam hij « Road Story » op en vervolgens « Motion » in trio met Teun Verbruggen. Met de Franse bugelspeler Axel Tassel vormde hij een quartet (albums « Delta » en « Cursiv »).
Pianoduo's komen maar zelden voor. Vermelden we de ontmoeting van Martial Solal en Jean Michel Pilc voor Radio France, of dat van Stéphane Oliva en François Raulin dat meerdere platen uitbracht, o.a. « Echoes of Spring » (je kan hierover het mooie artikel van onze vrienden van Citizen Jazz HIER lezen. https://jazzmania.be/francois-raulin-stephan-oliva/).
Op die duoplaat die Hypnote onder zijn vleugels nam staan drie composities van Igor, twee van Amaury, een van de Japanse componist Ryūichi Sakamoto, « Message in a Bottle » van Sting en twee Brasiliaanse melodieën (João Bosco, Chico Buarque). Een opeenvolging van tracks in een razend tempo, met bijna rag-referenties ("Magic Ball" van Igor, "Egberto" van Amaury), andere die de geest van Lennie Tristano oproepen ("Hudson River Park" van Amaury) of een wervelend ritme aannemen ("Message in a Bottle "), zeer melodieuze thema's ("Bibo no aozora" van Sakamoto, " Pare à pluie"), andere, impressionistische ("Trocando em miudos") en zeer ritmisch, met een zeer Braziliaans ("Incompatibilidade de genios" van João Bosco).
Zoals we in de liner notes lezen: "...een explosieve cocktail van energie en emotie".
Kortom, de ontmoeting van twee uitzonderlijke talenten.

© Claude Loxhay, 29 maart 2022 (vrije vertaling : Jos Demol)
Een samenwerking JazzMania / Jazz'halo