Aliéksey Vianna Quartet - Ancient Myths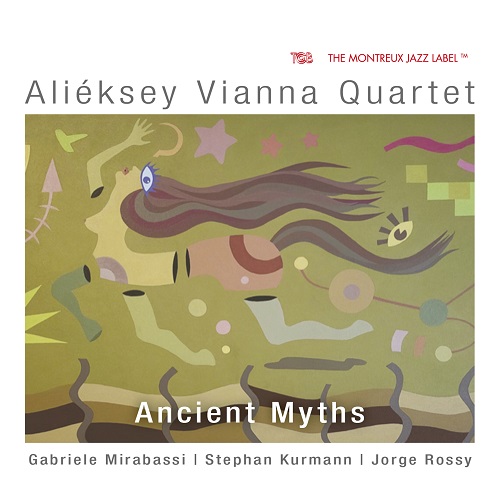 A
TCB The Montreux Jazz Label / Challenge Rec.
D'un trio composé du guitariste brésilien Aliéksey Vianna et du contrebassiste suisse Stephan Kurmann associés à différents batteurs dès 2009, le trio a évolué pour cet enregistrement en un quartet : en 2020, le clarinettiste Gabriele Mirabassi et le batteur/vibraphoniste Jorge Rossy se sont joints au groupe pour deux concerts, et c'est cet ensemble qui nous propose aujourd'hui « Ancient Myths », fruit de deux jours d'enregistrements au Jazzcampus à Bâle.
On ne présente plus Jorge Rossy, fidèle batteur de Brad Mehldau dans ses premiers trios ; non plus Gabriele Mirabassi qui reste dans nos mémoires ce fabuleux clarinettiste des formations de Rabih Abou Khalil, mais aussi des groupes de Michel Godard et Luciano Biondini, Richard Galliano, John Taylor et Steve Swallow, et bien d'autres.
A la lecture des titres de l'album, on voit que l'essentiel des compositions sont de guitaristes : Sergio Assad d'abord, le virtuose rendu célèbre par le duo avec son frère Odair, Ralph Towner, Pat Metheny (pour une composition co-écrite avec Lyle Mays) et Egberto gismonti, Vianna y ajoutant deux compostions personnelles dont l'une dédiée à Jorge Rossy.
« Champ » en ouverture est un hommage à Hermeto Pascoal, dont Champion était le surnom, une composition qui dans ses improvisations démontrent les qualités du clarinettiste au jeu intense. Jorge Rossy passe au vibraphone pour « Acis and Galatea » de Ralph Towner, compositeur qu'on retrouve plus loin avec « From A Dream », une chanson irrésistiblement chantante que Mirabassi décline subtilement à l'italienne, mélange de complexité rythmique et de simplicité mélodique.
Entre sophistication des rythmes brésiliens, joie de vivre méditerranéenne, improvisations libres sur un bel éventail de compositions, le quartet de Aliéksey Vianna nous offre un délicieux moment de musique dont la maîtrise technique absolue bel et bien présente s'oublie vite pour ne laisser place qu'au plaisir.
© Jean-Pierre Goffin
Une collaboration JazzMania / Jazz'halo