Alexis Valet – Explorers (jpg)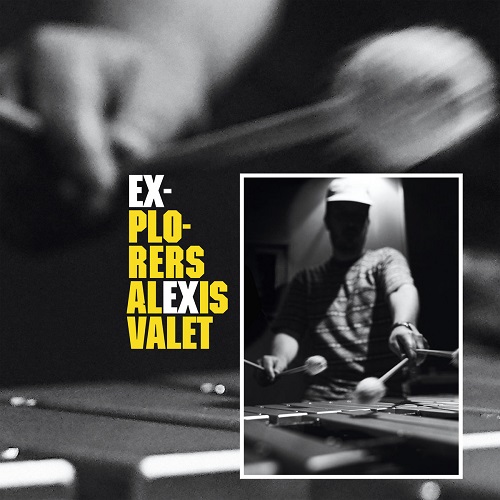 A
Jazz&people
La combinaison vibraphone-basse-batterie est suffisamment rare que pour tendre l'oreille avec attention à ce projet d'Alexis Valet. En cherchant un peu, on peut trouver quelques configurations récentes : le « Countdown » de Simon Moullier avec Luca Allemano et Jongkun Kim, le projet de Franck Tortiller avec Jean-Philippe Viret et Simon Goubert, ou celui des frères Boclé avec le batteur Manhu Roche. Si on considère que seul quatre des onze pièces de l'album d'Alexis Valet sont en trio et que les sept autres voient l'intervention de Bojan Z et Ben van Gelder, les références s'élargissent à des terrains mieux connus comme l'association de Bobby Hutcherson avec McCoy Tyner, avec Joe Henderson ou Jackie McLean.
La petite trentaine, Alexis Valet a déjà sorti un premier album avec Magic Malik et le guitariste Romain Pilon (qu'on connait chez nous pour sa participation au quintet de Jean-Paul Estiévenart « Strange Bird »). Ce tout nouveau projet intitulé « Explorers » est une vraie révélation. Entouré de Luca Fattorini à la contrebasse et Antoine Paganotti à la batterie, Alexis Valet invite deux des musiciens européens les plus en vue qui ne sont pas étrangers à la réussite du projet.
L'ouverture en tempo medium de « Casual Polyglot » dévoile combien le trio est pétri à la fois de tradition et d'empathie, avec un leader qui ne se propulse pas à l'avant-plan et laisse la batterie se nourrir de l'ambiance dans un jeu foisonnant d'idées. Comme nous l'apprennent les notes de pochette, ce trio était à l'origine principalement dédié aux standards et cet esprit se ressent dans les compositions du vibraphoniste au swing contenu, au sens de l'espace constant et à la forme mélodique des compositions. Aussi dans le choix de trois standards : d'abord le swinguant « Dixie's Dilemma » de Warne Marsh porté par le trio en pleine décontraction, le bopisant « Dr.Jackle » de Jackie McLean ( l'occasion est belle de ressortir la version de René Thomas et Jacques Pelzer sur l'album « Meeting »). « Fall », de Wayne Shorter, de l'album « Nefertiti » de Miles Davis,  laisse Bojan Z s'envoler sur un solo au lyrisme craquant.  Première pièce à réunir le quintet au complet, « Explorers » donne son titre à l'album et est un modèle d'interaction entre les trois solistes qui se partagent en parfaite communion une suite de solos tout aussi vibrants les uns que les autres. Et puis comment ne pas évoquer la superbe sonorité, la résonance gracieuse du vibraphone sur « Any Sunday with Her », ballade sublimée par le saxophone de Ben van Gelder ? Ou l'emballement final des solos croisés du saxophone et du vibraphone sur « Hats and Cards » ? La question finale, « What's Next ? » laisse espérer le meilleur encore pour ce trio qui, je l'avoue, m'a emballé dès la première écoute.
© Jean-Pierre Goffin
Une collaboration JazzMania / Jazz'halo