Alexander Hawkins – Carnival Celestial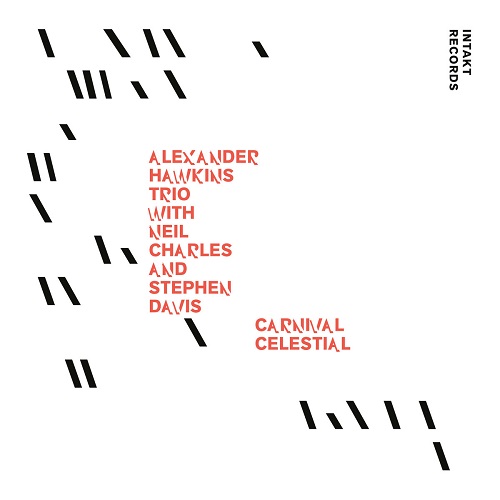 A
Intakt
Alexander Hawkins is vrijwel de meest interessante pianist uit de Britse scene. 'Carnival Celestial' is opnieuw een uitmuntend voorbeeld van zijn doorgedreven zucht naar gedurfd avontuur met aan zijn zijde trouwe kompanen drummer Stephen Davis en contrabassist Neil Charles.
Experiment en effecten staan centraal in de openingstrack. Lijnrecht hier tegenover zweven eenzaam dolende pianonoten wat tot een onrustwekkend gevoel leidt. Een duistere en ontregelende sfeer die trouwens eveneens overheerst in het vervolg. Het beeld van de rondneuzende AI creaties in de film 'Minority Report' (Steven Spielberg) duikt onwillekeurig op.
Een paar keer wijkt het trio af van deze dystopische aanpak zoals in de titeltrack (een aaneenrijgen van kleine spielereien) of in 'Rupture' dat opgebouwd is rond stilte en ruimte die slechts spaarzaam en gedeeltelijk opgevuld worden. Een misleidende boodschap voor het compactere 'Sarabande Celestial' dat volgt.
Achter 'Counterpoint Celestial' ("say no more") en de economisch getinte titel 'Unlimited Growth Increases The Divide' gaat een aarzelende vorm van poëzie en filosofie schuil. Wederom een scherp contrast met de duidelijke boodschap van 'If Nature Were A Bank, They Would Have Saved It Already' dat aanleunt bij de beats van Antoine Pierre zijn soloproject Vaague.
Met 'Carnival Celestial' horen we een pianotrio dat alle hippe connotaties verwerpt en een eigen zoekend parcours aflegt. Vandaar geen covers van overbekende popnummers. Ondertussen werkte het trio weliswaar samen in andere constellaties als Alexander Hawkins Mirror Canon ('Break A Vase') en Alexander Hawkins/Elaine Mitchener Quartet ('Uproot'). Absoluut op te volgen.

© Georges Tonla Briquet






Musici:
Alexander Hawkins: piano, synthesiser, sampler, percussie
Neil Charles: contrabas, percussie
Stephen Davis: drums, percussie

https://www.alexanderhawkinsmusic.com/
BANDCAMP