Alex Koo / Mark Turner / Ralph Alessi - Appleblueseagreen (CL)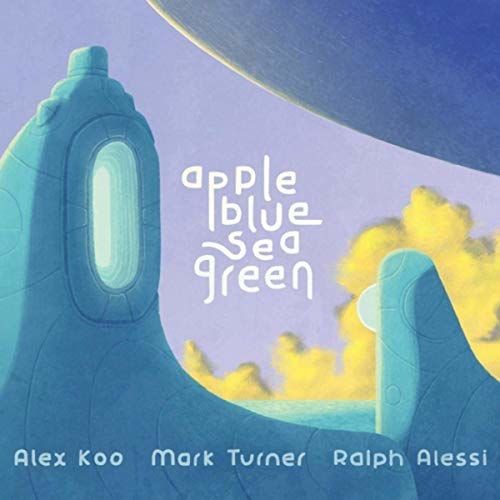 A
Clever Tree Records / Stilletto
Lauréat de nombreux Prix en Belgique, aux Pays-Bas et Etats-Unis, Alex Koo a débuté ses études de piano au Conservatoire de Courtrai, puis d'Amsterdam avec Kris Goessens, le pianiste du quintet de Sal La Rocca pour l'album Latinea.
Installé un moment à New York, il a croisé de nombreux musiciens américains et enregistré deux albums pour le label Clever Tree Records: en 2014, Dance of hope, gravé en quintet et dédié à Kris Goessens puis Galactic Liturgy en duo avec le batteur Attila Gyarfas. Depuis lors, rentré en Belgique, il a rejoint le LG Jazz Collective de Guillaume Vierset (album Strange Deal), en remplacement d'Igor Gehenot.
Et voici que sort Appleblueseagreen (traduction du néerlandais appelblauwzeegroen, bleu comme la mer et vert comme une pomme, une sorte de camaïeu de couleurs), un album enregistré en avril 2017, à New York, avec deux figures marquantes de la scène américaine: le saxophoniste ténor Mark Turner et le trompettiste Ralph Alessi.
Mark Turner s'est fait notamment connaître grâce à Yam Yam, en compagnie du pianiste Brad Mehldau et du guitariste Kurt Rosenwinkel mais il a aussi enregistré avec Lee Konitz (Parallels), Tom Harrell (The trip), Joshua Redman (Beyond) ou Enrico Rava (New York Days pour ECM).
Ralph Alessi, qui a étudié avec Charlie Haden, a enregistré avec Fred Hersch (Only many), Ravi Coltrane (Wiry strong), Don Byron (This against that) ou Jason Moran (Baida pour ECM).
L'album fait alterner 5 compositions jouées en solo et 7 pièces interprétées en trio.



L'album s'ouvre sur Enud, seule pièce jouée aux claviers électriques. Les autres compositions jouées en solo sont de manière évidente inspirées directement de la musique classique ou contemporaine: Dune avec effets de cordes frappées comme dans le cas d'un piano préparé, Etude n° 1 (Mirror, mirror on the wall), Etude n° 2 (The gaze), Etude n° 3.
Sur les pièces jouées en trio, Ralph Alessi et Mark Turner bénéficient de larges espaces d'improvisation: ils brodent sur la trame tissée par le piano, qu'il s'agisse de Funeral March introduit par le piano, Ghost Parade, Bodily Fluids au tempo rapide souligné par de petites touches de batterie jouée par Alex Koo, The lone wanderer au tempo apaisé, Apples are blue but the sea is green ou ce Freedom pilot qui porte bien son nom.
Un album qui témoigne du passage du  pianiste belge dans la Big Apple (blue or green as you want).
© Claude Loxhay