Alex Koo - Kimono Garden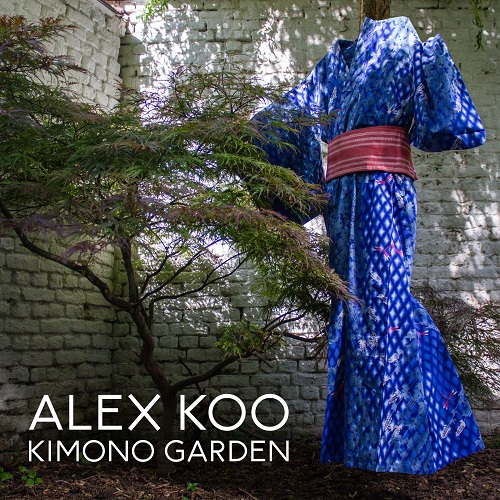 A
Clever Tree Records (Digital release)
Het gaat hard voor de Belgisch-Japanse pianist Alex Koo (°1990) die wereldwijd werd opgemerkt via de samenwerking met Mark Turner en Ralph Alessi in het album 'Appleblueseagreen'. Maar ook in trio met Dré Pallemaerts en Lennart Heyndels en extra met trompettist Jean-Paul Estiévenart verovert hij de podia. En in het najaar pakt hij in Bozar uit met een soort klassieke etudes.
Met 'Kimono Garden' gooit hij het op een heel andere boeg en exploreert de wereld van elektronica, indiepop, loops en beat music. Zijn concept rijpte ergens binnen de lockdown en uit zich in gevoelens van afstand, gemis, nostalgie.
Zijn partner, zangeres Lorena del Mar (Madrid °1983) die zelf recent van haar soloproject de single 'It Was An Accident' (Clever Tree Records) uitbracht, draagt vocaal bij in 'I Know, You Know, We Know'. Een weemoedig liefdesduet, Koo zelf vocaal naast Del Mar die op haar beurt invalt met haar bedwelmende stem. Meteen de meest toegankelijke song met overduidelijke pophitallures.
In die lijn, eveneens vocaal met Koo en Del Mar, bekoort 'Kimono Garden' (Japans getinte bezwerende aria).
Maar zet je heel schrap voor de rollercoaster aan elektronica en collage van beats, synths en vocals met tjerpende vogels in the air ('Space Bird'), metal sound ('Couch Warrior', Fire') tot effectrijke soundscapes en beat music ('Lullaby For Baby Eraserhead').
De slottrack 'Intro To Nothing' (elektronisch minimalisme) deint uit in een eindeloze lus.
Alex Koo onderstreept zijn roots en persoonlijkheid in 'Kimono Garden' beleefd vanuit een uitzonderlijke periode van beslotenheid, waarin hij zichzelf herontdekt en heruitvindt. Verrassend uitdagend, bij voorkeur mondjesmaat (met of zonder mondmasker) ongedwongen van genieten.
© Bernard Lefèvre




Musici:
Alex Koo (alle instrumenten, composities, teksten en zang)
Lorena del Mar (zang op 'Kimono Garden' en 'I Know, You Know, We Know)

http://www.alexkoomusic.com/