Alex Koo - Etudes for Piano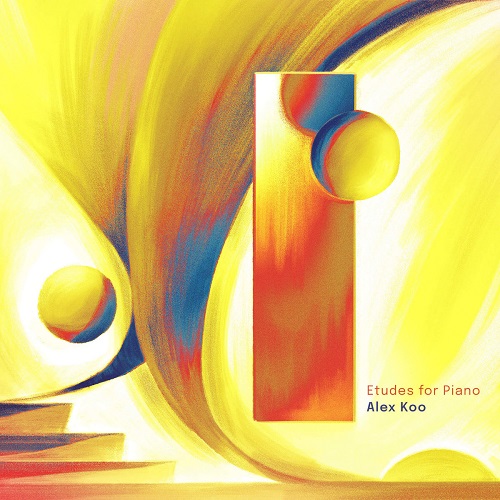 A
W.E.R.F. Records
De Belgisch-Japanse pianist Alex Koo speelde vorig jaar in mei in avant-première zijn Etudes for Piano in Bozar en liet een adembenemende virtuoze indruk na.
Hij heeft een volmaakt muzikaal gehoor en weet klassiek geïnspireerde muziek met jazz te verweven over verrassende en zelfs tegendraadse wendingen wat live helemaal een unieke totaalbelevenis wordt. Die reikt verder dan de perfecte beheersing van linker- en rechterhand, want hij gooit immers ook ellebogenwerk en handpalmen in de strijd om zijn pianospel met extra kracht en passie om te toveren tot een klankspektakel. De band en de communicatie met het publiek vindt hij bij zijn soloperformance heel belangrijk. Het verhaal achter elk stuk vertrouwt hij die toehoorders graag toe, stress is hem vreemd op het podium.
Het album opent meteen met een statement rond zijn wijze van improviseren en het gebruik van handen en armen: 'All Arms on Deck'. Even herademen en vaag komt Messiaen in een flits voorbij in het dartelende 'Coconut'. Het verstilde 'Luna Umi', opgedragen aan zijn dochter, is een juweel van een tune, diep gevoelig de toetsen strelend.
En dan breekt nerveus en contrastrijk en heel 'free' 'Sonar' door, vingervlug en toch beheerst, om al even sterk in te leiden tot 'Variations On The Easiest Song In The World', waarin opnieuw die eigenzinnige inslag en benadering – net een kat- en muisspel - in een heftig verhaal. Met 'Five in Fis' en het intimistische 'Satisfied' bouwt hij een rustpauze in. Om dan af te ronden met het uitdijende DdREAM waarin invloeden van minimalisme (Steve Reich). 
Alex Koo koos voor deze solo-opnames de Blue Keys studio van Jef Neve en de daar aanwezige Fazioli piano onder technische leiding van Dieter Claeys. "Zo heb ik een solo-piano-cd die anders klinkt dan de standaard jazz solopiano-opname" stelt Alex Koo.

© Bernard Lefèvre




Releaseconcerten - Etudes for Piano 2023
19/4 deSingel – Antwerpen – album release – 20:30
29/4 Jazzahead! -  Bremen (Duitsland)– 19:30
21/05 Piano City Milano – Milaan (Italië) - 18:00
15/07 Jazz Gent – Gent – 15:45