Aki Takase - Auge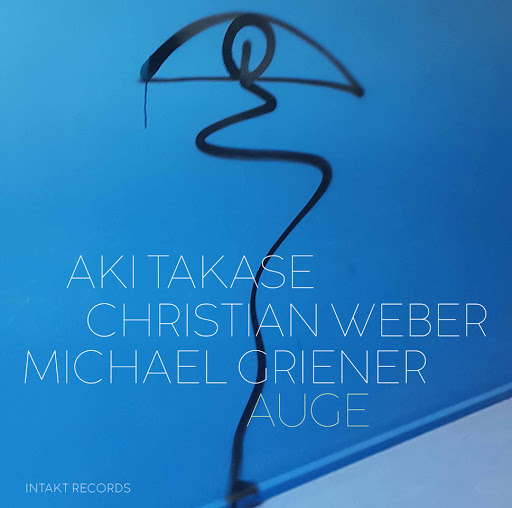 A
Intakt
On ne compte plus les albums enregistrés par la pianiste d'origine japonaise: des duos avec David Murray, Rudi Mahall, Louis Sclavis, Alexander Von Schlippenbach, Han Bennink, un hommage à Ellington  (My Ellington) et un duo avec Maria João qu'on a eu l'occasion de découvrir à l'époque glorieuse de Jazz au Château d'Oupeye.
Elle propose ici un album en trio: "I really love the piano trio. But not with old ideas, where the pianist is king, and the bassist and the drummer are just sidemen. We are equal and I am not the boss in this band.."
A la contrebasse, Christian Weber qui a déjà enregistré avec Ellery Eskelin, Oliver Lake, Co Streiff et Omri Ziegele et Han Bennink. A la batterie, Michael Griener qui lui aussi a enregistré avec Ellery Eskelin,(The Pearls, Sensations of tone), et Rudi Mahall .
Quatorze compositions originales, certaines de la pianiste, d'autres écrites en  commun. Des compositions qui illustrent une musique méditative, avec des notes comme en suspens (Last winter, No tears, Our of sight, Under felt, And if not why not, Who is coming to bell the cat), d'autres tempétueuses, avec un déluge de notes (Drops of light, The pillow book, And I if, not why not), des plages très free (Motion in the ocean, The end justifies means).
La rythmique est mise à l'honneur: intro de contrebasse de deux minutes sur The pillow book, dialogue très mélodique entre contrebasse  et  piano sur  Calcagno, Intro majestueuse entre batterie et contrebasse sur While in Rome. Et puis, naturellement des plages très "free" (Motion in  the ocean, The end justified the means).
Un trio interactif à souhait.
© Claude Loxhay