Airelle Besson - TRY!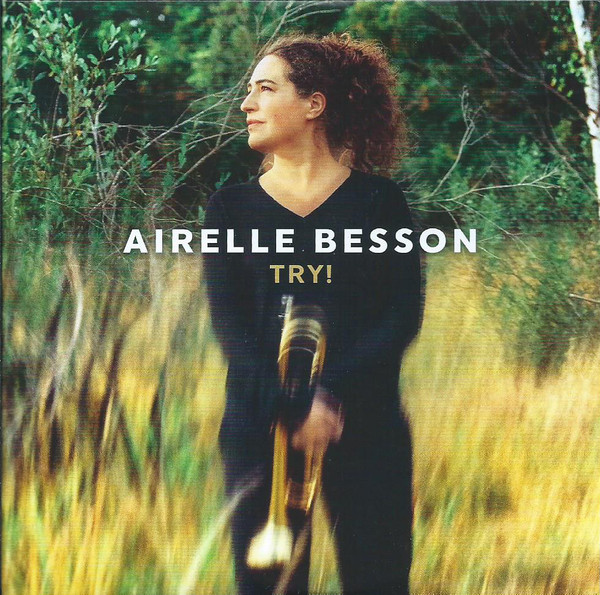 A
Papillon Jaune
Airelle Besson a étudié la trompette à Paris d'abord avec Roger Guérin (qui a enregistré avec Martial Solal et fait partie du Kenny Clarke-Francy Boland Big Band) puis au Conservatoire de Paris, avec François Jeanneau et Daniel Humair. Elle a enregistré Rocking Chair avec Sylvain Rifflet, Prélude en duo avec Nelson Veras, Aires avec Edouard Ferlet (p) et Stéphane Kerecki (cb), Filigrane avec Alexandra Grimal (sax), Ferlet et Fabrice Moreau (dm). A Liège, au Pelzer, on a pu l'entendre en compagnie de Serge Lazarevitch (g), Eric Barret (ts), Nic Thys (cb) et Joêl Allouche (dm), tandis qu'à Marciac, elle a été invitée à participer à la carte blanche offerte au sextet d'Henri Texier, avec Manu Katché.
En 2015 , elle a enregistré Radio One, déjà avec la vocaliste suédoise Isabel Sörling, Benjamin Moussay aux piano et claviers ainsi que Fabrice Moreau à la batterie (album Révélation aux Victoires du Jazz).
Isabel Sörling est née en 1987, elle a enregistré Alcazar Memories et Deep Rivers, avec Paul Lay (p), I told the little bird avec Jozef Dumoulin et Mareld, entre folk, pop et percussions gnawas.
Dans sa jeunesse, Benjamin Moussay a écouté aussi bien Monk que Hancock, Debussy comme Messiaen. Il a poursuivi ses études au Conservatoire de Paris avec Hervé Sellin. Il a enregistré avec la chanteuse Claudia Solal, a fait partie de l'Atlas Trio en compagnie de Louis Sclavis et Gilles Coronado, enregistré Promontoire en solo et Dear John avec le saxophoniste italien Francesco Bearzatti;
Fabrice Moreau est un batteur autodidacte. Après avoir accompagné des chanteurs, tels Alain Souchon, Arthur H ou Albin de la Simone, il s'est tourné vers le jazz, croisant M. Portal, F. Boltro, E. Legnini ou Bojan Z. Il fait partie d'un trio avec Edouard Ferlet et Jean-Philippe Viret qui a enregistré Le temps qu'il faut, Pour et L'Ineffable.
Au répertoire de TRY!, une série de compositions originales d'Airelle.
Tout en douceur, l'album s'ouvre sur une suite intelligemment construite en trois mouvements: The Sound of your voice. Le premier mouvement s'ouvre sur un passionnant solo de trompette à la sonorité tout en douceur, qui est vite rejointe par le piano de Moussay et la voix ondoyante, modulée par l'électronique, d'Isabel Sörling, une voix qui vient se lover dans le chant de la trompette dans un bel élan mélodique.
Changement d'atmosphère avec le deuxième mouvement qui s'articule sur un rythme plus rapide imprimé par le Fender Rhodes.
Le troisième mouvement est, lui, centré sur le chant en anglais de la vocaliste suédoise.
Les dix compositions suivantes font alterner piano (Wild animals, Lulea's sunset) et Fender Rhodes (TRY, Patitoune, Après la neige), sur tempo saccadé (Angel's dance, Patitoune) ou ambiance plus feutrée (Fly away), toujours en parallèle avec la parfaite osmose entre trompette et voix.
Un univers très personnel, entre jazz et ambiance pop.
© Claude Loxhay