AF New 5 – Different Kinds Of Blue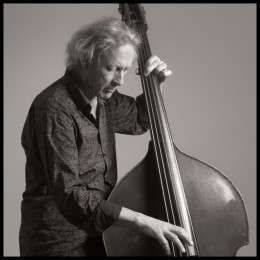 A
RedBoxTrib
Na een lange stilte is Alexandre Furnelle terug van een beetje weggeweest. Omringd door een vriendenclubje van generatiegenoten rijst hij als een feniks uit zijn as.
De voorbije jaren waren niet meteen de meest aangename voor contrabassist Alexandre Furnelle. Dankzij de steun van een aantal vrienden overbrugde hij een zwarte periode en kreeg hij zin om weer te musiceren. Hij dook in zijn eigen repertoire, ging hiermee aan de slag en voegde er zelfs een nieuwe compositie aan toe. De groepsnaam verwijst daarbij naar zijn teruggevonden gevoel voor ironie.
Voor alle duidelijkheid, de cd-titel is geen verdoken knipoog naar Miles zijn meesterwerk maar gewoon het onderschrift dat fotograaf Pierre Deleu aan zijn beeldopname gaf die de hoes siert. 'Different Kinds Of Blue' is evenmin een radicale breuk met het verleden van Furnelle. Integendeel, het is eerder een verder borduren op dat waar hij goed in is. Hier geen heftige dynamiek maar een poëtisch aaneenschakelen van melodie en harmonie. Met Jan de Haas, Daniel Stokart en Peter Hertmans koos hij de ideale cast voor dergelijk werk. Fuchs past zich perfect aan met haar elastische vocalen. Zij leverde de teksten en improviseert een aantal keer op gepaste wijze.
Misschien hoog gegrepen om te beginnen en te eindigen met een nummer van Keith Jarrett, respectievelijk 'Blossom' en 'Country'. Maar Furnelle en C° doen ongestoord hun ding. Hoogtepunten zijn 'Sounds Of Jupiter' met een intrigerende ondertoon à la 'Blade Runner 2049' dat vervolgens haast geruisloos overgaat in het pastorale 'Chopin Prélude n°20'. Verrassend is het meer moderne 'Au Milieu De Nulle Part' met een licht New Yorks accent. Verscheidene malen zijn het de gitaarintermezzo's van Hertmans die voor de nodige spanning zorgen. Nu eens verschroeiend à la Scofield, dan eens in pure Pat Metheny-stijl maar vooral telkens zichzelf.
'Different Kinds Of Blue' is een cd zonder pretentie maar wel het bewijs dat een oudere generatie ook nog iets te vertellen heeft zonder nodeloos hip te willen klinken. Welcome back, Alexandre.
Tekst © Georges Tonla Briquet - foto Alex Furnelle © Paul De Cloedt
Musici:
Kristina Fuchs: vocals
Daniel Stokaert: sax
Peter Hertmans: gitaar
Alexandre Furnelle: contrabas
Jan de Haas: drums