Adrien Volant Trio: feat. Godwin Louis - First Flow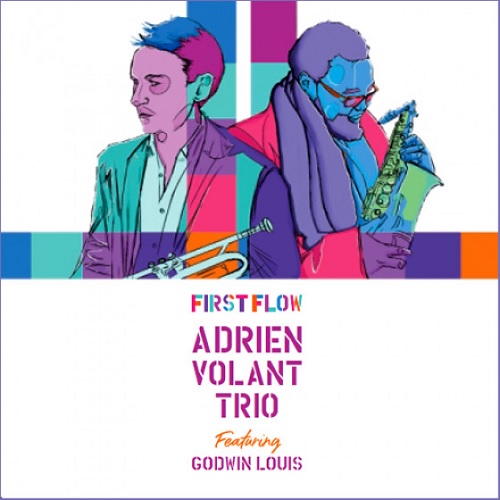 A
Fresh Sound New Talent
Originaire de la région montoise, le trompettiste Adrien Volant a d'abord poursuivi ses études au Conservatoire de Mons puis au Lemmens Instituut et au Conservatoire de Bruxelles sous la férule de Michel Paré et Carlo Nardozza.
Il a aussi suivi des cours avec Bert Joris et Laurent Blondiau mais aussi avec l'Américain Ralph Alessi. Il a fait partie du quartet du guitariste Paolo Loveri et fondé son propre groupe, en 2010, avec Guillaume Vierset, Félix Zurstrassen et Antoine Pierre.
Ces derniers temps, c'est principalement en trio qu'on a pu l'entendre, d'abord avec Daniele Cappucci (cb) et Armando Luongo (dm) et, ici, avec Alex Gilson, le contrebassiste de Vincent Thekal et du pianiste Amaury Faye et, à la batterie, Wim Eggermont qui est, lui aussi, passé par le Lemmens Instituut où il a eu cours avec Dre Pallemaerts. On a pu entendre Wim Eggermont au sein de Summer Residence, en compagnie de Charles Loos, d'Almadav Project avec Alexandre Cavalière ainsi qu'en compagnie de Piet Verbist (Suite Reunion).
Sur 6 des 7 plages (seul Stersito est joué en trio), Adrien Volant accueille le saxophoniste américain Godwin Louis qu'il a rencontré, en 2013, au Smalls Jazz Club de New York. Né à Harlem, Godwin Louis a étudié au Berklee College et au Thelonious Monk Institute. Aux Etats-unis, il a  enregistré avec les pianistes Emmet Cohen (avec Jimmy Cobb à la batterie) et Victor Gould (avec Eric Mc Pherson aux drums). Dernièrement, il a enregistré Eretz au sein du quintet de Jeremy Dumont. Alors que cette formation s'inscrivait dans une esthétique bop issue de la plus pure tradition, ici, on découvre un Godwin Louis beaucoup plus incisif et virevoltant dans une esthétique plus moderne, plus contemporaine, à l'mage du label espagnol qui produit l'album, Fresh Sound New Talent qui a aussi distribué les disques du Lucky Dog, avec Yoann Loustalot et Fred Borey.



Au répertoire, 4 compositions d'Adrien Volant (A walk in the dark, Stersito, WTF, Just a blues), une de Godwin Louis (Present), un clin d'œil à l'ami Loveri (Little Girl) et un emprunt à Sam Rivers (Cyclic episode). L'album repose sur une belle interaction entre les musiciens, ce qui permet de mettre en évidence les potentialités de chacun. Ainsi des souffleurs: thème exposé à l'unisson trompette-alto, avant un solo parkérien de l'Américain (Just a blues); intro tout en retenue de l'alto qui précède l'arrivée de la trompette avec l'alto en contrechant (Present); échange mouvementé entre trompette et alto, après une intro de batterie sur WTF; alto voltigeur (Cyclic episode) ou soprano volubile (Little girl); trompette tranchante (A walk in the dark) ou trompette bouchée, avec un petit air latino (Stersito). La rythmique est, elle aussi, mise en évidence: beau solo de contrebasse (Little girl, Stersito, WTF) ou de batterie (A walkin the dark, WTF), toujours en interaction avec les souffleurs.
Un bel album qui mérite une large distribution. A quand les concerts?
© Claude Loxhay
En partenariat avec



PS: Adrien Volant prévoit des concerts en février 2020: à suivre