Adrien Chicot - Playing in the Dark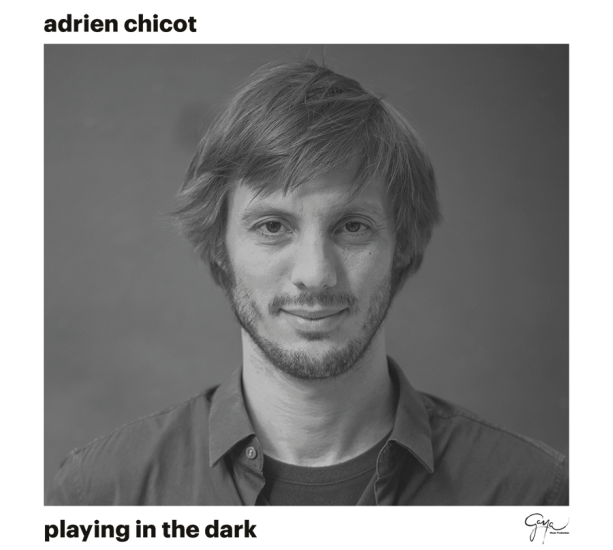 A
Gaya Music / Socadisc
Après avoir abordé le piano en parfait autodidacte, Adrien Chicot s'est inscrit à l'IACP, dont les directeurs sont les frères Belmondo, Stéphane le trompettiste et Lionel le saxophoniste, et il s'est très vite imposé sur la scène parisienne.
Il a notamment enregistré Williwaw puis Cosmic Dance avec le quintet du trompettiste Julien Alour; A feast of friends avec le saxophoniste Samy Thiébaut puis Rebirth avec le trompettiste Avishai Cohen en invité ou Evidence avec le sextet du saxophoniste Jean-Philippe Scali mais aussi All in, un premier album personnel en trio.

Pour Playing in the dark, il retrouve la même rythmique attentive et omniprésente.



A la contrebasse, Sylvain Romano qui a enregistré Wonderland de Stéphane Belmondo, avec Eric Legnini au piano, a participé au sextet des frères Belmondo avec Youssef Lateef comme à celui du saxophone ténor François Théberge avec Lee Konitz.

A la batterie, Jean-Pierre Arnaud. Issu du Conservatoire de Marseille, il a lui aussi joué et enregistré avec les frères Belmondo, mais également avec Barney Wilen (ts), Patrice Caratini (cb), Eric Le Lann (tp) et Sylvain Beuf (ts): de fameuses références.

Pour ce deuxième album personnel, Adrien Chicot a écrit huit compositions originales et reprend Lush Life de Billy Strayhorn, en solo, de manière très personnelle.

L'album s'ouvre sur Late, avec ses motifs répétitifs sur lesquels débouche un solo survolté. Fourth floor débute comme une ballade puis un swing nerveux prend rapidement le dessus, propulsé par la rythmique véloce et énergique. Under the tree est une ballade qui permet au pianiste de démontrer tout son lyrisme mélodique. Avec Blue Wall et Key for two, le groove est de retour, avec un beau solo de Romano sur Blue Wall.  Le tempo devient plus lent avec Playing in the dark mais s'enflamme à nouveau avec Backpack. Après le solo de Lush Life, Sunset with the birds débute par des chants d'oiseaux, puis la musique du trio s'installe, petit à petit, sur un air sautillant.

Dans ses liner notes, le critique Vincent Bessières dit qu'Adrien Chicot s'inscrit dans la lignée de ces "grands pianistes qui ont façonné la tradition, de Duke Ellington à Mc Coy Tyner, de Bud Powell à Herbie Hancock". On pourrait tout aussi bien dire qu'il s'inscrit dans la grande tradition du piano-swing français, de Franck Amsallem à Baptiste Trotignon, en passant par Manuel Rocheman ou Olivier Hutman.

Un vrai trio soudé et complice.

Claude Loxhay