Accent - In This Together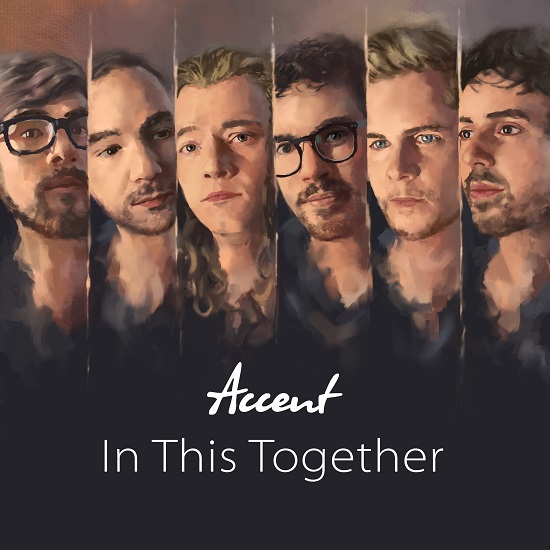 A
accentvocal.com
Als Rezensent muss ich eingestehen, dass Vokalensemble nicht zu meinen bevorzugten Formationen gehören. Das ist auch unabhängig von dem besonderen Lob, dass die Musiker von Accent einheimsen: "These guys are exceptional musicians… a signature sound that is sure to delight audiences for years to come." (Cedric Dent, TAKE 6).
Das Ensemble besteht aus Jean-Baptiste ("JB") Craipeau (France, Tenor 1), Simon Åkesson (Sweden, Tenor 2), Danny Fong (Canada, Tenor 3), Andrew Kesler (Canada, Tenor 4), James Rose (United Kingdom, Baritone) und Evan Sanders (USA, bass). Sie haben sich eine Nische im Kontext harmonischen Jazzgesangs gesucht und diese auch gefunden. Ihre Karriere begann im Jahr 2011, als sie zunächst einmal Aufnahmen online erstellten.

Typisch für derartige Gruppe, man denke an Flying Pickets, ist das Covern von Pop und Rock Songs. Doch ist dies nicht das, was Accent anstrebt. Sie wollen Jazz in den Mittelpunkt des Programms stellen. Dieses Bestreben spiegelt auch die Songliste wieder: Man findet darin eben gleich zu Beginn mit "Aux Aurores" (Jean-Baptiste Craipeau) und " Just Wondering" (James Rose) zwei Eigenkompositionen der Bandmitglieder. Danach folgen "Love Is Just That Way" (Mervyn Warren and Mark Kibble) sowie "Twilight" (Kristin Korb and Magnus Hjorth / lyrics by Kristin Korb), dem dann wieder eine Eigenkomposition namens "Who You Are" (Simon Åkesson / lyrics by Evan Sanders) folgt. Beschlossen wird das Album mit "Only One Love" (Ian Prince / lyrics by Siedah Garrett). Letzterer hat übrigens vielfach mit Michael Jackson zusammengearbeitet.

Wer erwartet, dass er "vokale Verschnitte" von Jazzorchestrierungen zu hören bekommt, dem sei gleich gesagt, dass er darauf vergeblich wartet. Das Ensemble ist voll und ganz auf das Lyrische ausgerichtet. Chorhaftes ist zu vernehmen, nicht nur in "Just Wondering". Bisweilen beschleicht den aufmerksamen Hörer der Eindruck, dass vielstimmiger Klang dem Gesamtwerk beigemischt ist, um diejenigen anzusprechen, die Big Band Sound mit Chorgesang schätzen. Hier und da gibt es Anwandlungen an Scat Vocal zu hören wie in "Love Is Just That Way". Dabei ist auffallend, dass es auf dem Album keine Ohrwürmer zu hören gibt. Das liegt eben auch an dem Umstand, dass Accent auf Standardinterpretationen ebenso verzichtet wie auf Popsongs, also kein "Love for Sale" oder "My Funny Valentine" oder Songs von Michael Jackson und Prince.

Sehr fein arrangiert ist "Who you are", aber auch dieser Song bleibt im Muster. Warum aber ist wie in diesem Song wie auch in anderen augenscheinlich auf ein Schlagwerk nicht verzichtet worden? Dies ist bei einer A-capella-Gruppe nicht nachvollziehbar. Sollte nicht jeder der Sänger in der Lage sein, auch mit der Stimme "instrumentale Illusionen" zu erzeugen, vornehmlich der Bassist und die Tenöre?
Ein wenig scheint der zuletzt genannte Song an Hits von Freddy Mercury und Queen angelehnt zu sein. So muss man die Frage stellen, warum nicht "We are the Champions" oder ein anderer Hit auf dem Album zu hören ist? Bei Accent gilt: Man muss derartigen Vortrag und das entsprechende Arrangement mögen.
Text: © ferdinand dupuis-panther / Der Text ist nicht public commons!
Informationen
http://www.accentvocal.com
EPK: http://bit.ly/accentalbum2
Soundcloud: http://bit.ly/accent-listen