TS030

A misty fusion: Ukulele forms vol.2
Stephen Godsall
purchase on BANDCAMP
releases October 5, 2022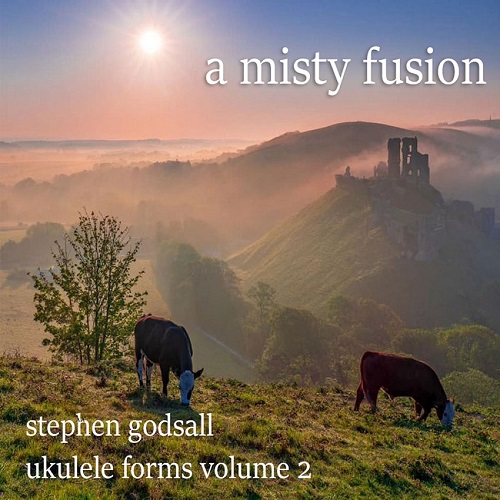 STEPHEN GODSALL - A MISTY FUSION: UKULELE FORMS VOL.2
1) Kingdom of the horse
2) The twilight of the home organ        
3) Electrified (feat. Jimi Hendrix)        
4) A misty fusion        
5) Forest Fugue

All tracks composed by Stephen Godsall   
"My second EP exploring different approaches to improvised ukulele music has two acoustic tracks, two electric tracks and a crazy combination of acoustic ukulele and home organ."
Stephen Godsall


The Tracks :

"Kingdom of the horse" has a Celtic flavour and is a trio between acoustic ukulele, banjo and nylon strung guitar, as is "Forest Fugue".
For "Twilight of the home organ" I imagined a duet of home organ and ukulele, producing a more intimate take on the Hammond/guitar combo of Jimmy Smith and Kenny Burrell. It's a duel between faulty electronics and an acoustic ukulele showing its versatility.
"Electrified" celebrates the fact that Jimi Hendrix first learned to play on a one string ukulele and imagines what might have happened if he'd electrified it; his speaking voice (from broadcast interviews) gives it a talking blues feel. I began with a free improvisation on electric ukulele, then added bass, drums and finally voice samples.
"Misty fusion" is inspired by Herbie Hancock and Miles Davis, a slice of fusion in 7/4 time; everything is played on ukulele except for the drums. The ukulele works with a guitar synth module to cover electric piano, trumpet, synth bass and organ voices.


Credits :
Stephen Godsall - all compositions, ukuleles, banjo, nylon strung guitar, bass, drums, electronic organs.
Andrew Godsall - drums on track 3
Jimi Hendrix - voice on track 3