TS028
With Criminal Intent
The Felonious Monks

Mike Hall and Debbie Rogers fuse Renaissance music with contemporary jazz, mixing modern and replica sixteenth-century instruments. The Felonious Monks explores the added timbres that such instruments bring to a jazz environment.

purchase on BANDCAMP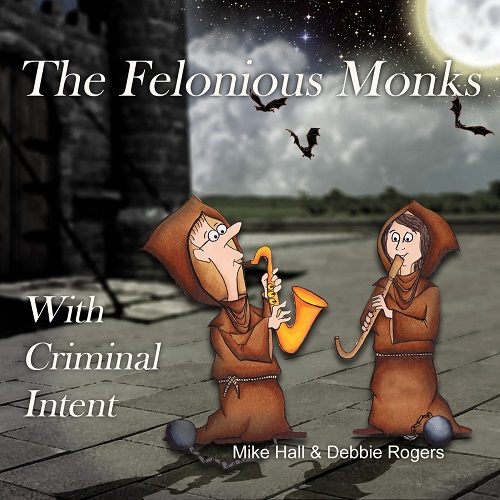 THE FELONIOUS MONKS - WITH CRIMINAL INTENT

1) Ballo Francese
2) Time Trip
3) Brother Charles
4) Bats in the Belfry
5) Three-part Intention
6) Putta Nero Ballo Furlano
7) Of the Night
8) Robin's Lament
9) P D Calypso


The Musicians:
Steve Waterman - flugelhorn
Russell Gilmour - cornetto and 2nd valved trumpet
Simon Lodge - trombone, voice
Debbie Rogers - alto sax, voice
Helena Summerfield - horn
Mike Hall - tenor sax and various other horns
Jim Fieldhouse - horn
Carl Raven - horn
George King - piano
Paul Hartley - guitar
Steve Berry - double bass, voice
Eryl Roberts - drums

Produced by Rob Buckland
Recorded 10th - 11th September 2013 at RNCM Studio Theatre, Manchester by Rob Buckland

Do crumhorns belong in jazz? The Felonious Monks are a 12 piece band combining jazz and early music, juxtaposing sackbut, recorder, crumhorn and raushfyffe against sax, trumpet, bass and drums. With compositions and arrangements by Mike Hall and Debbie Rogers they succeed in fusing early music and bebop in a way which has been described as "uplifting", "fresh" and "captivating"

releases May 25, 2022

The Felonious Monks is an award winning 12 piece ensemble which embraces jazz and early music! Their premiere took place in August 2013 as part of the Manchester Jazz Festival (with funds from ACE and PRS for Music Foundation) for which they were commissioned to write 50 minutes of music. This has now been recorded with generous support from a grant by the RNCM research fund.






THE REVIEWS:

"The blending of the timbres of medieval music and bebop worked well and there was some impressive soloing from Steve Waterman on trumpet and the leader Mike Hall on saxophone."
© Tony Dudley-Evans (The Jazz Breakfast)


"This concept could easily not have worked, but Hall and Rogers pulled it off with aplomb, clearly having given a great deal of thought to the involved arrangements, as well as putting a lot of time into rehearsal.
The evening was a true privilege to experience The Felonious Monks, St. Ann's Church. Saturday 3rd July 2013

Six o'clock in St Ann's Church was time for some stepping around in time as part of this year's world premiere Manchester Jazz Festival commission. Our time travel guides were 'The Felonious Monks' led by Mike Hall on tenor sax plus various other horns, and Debbie Rogers on alto sax, vocals plus various other horns.  The Felonious Monks explored the fusion of early Renaissance music with contemporary jazz, using a mixture of modern and replica C16th instruments. Compositional devices of the period were employed to structure the compositions, introducing vintage timbres to the existing jazz palette. This concept could easily not have worked, but Hall and Rogers pulled it off with aplomb, clearly having given a great deal of thought to the involved arrangements, as well as putting a lot of time into rehearsal. Many musician's comfort zones were stretched to include playing crumhorns, shawms, cornamuses, cornetts, sackbuts, and gemshorns to name a few.

The first 16th century sounds we heard came trumpeting out from the church balcony, these players then joining the main band at the front of the stage. Second track 'Ballo Francese' bluntly juxtaposed short sections of early music interspersed with short sections of full on bebop. It shouldn't have worked, but did so gloriously. 'Robyn's Lament' started with some vulnerable period singing from Rogers, Simon Lodge (otherwise on trombone) and double bass player Steve Berry, the latter reaching impressive falsetto heights. I've never heard this style of period singing in person before and really enjoyed it. Probably my favourite was the blues based 'Of The Night'. The track shifted into a classic Coltrane style vamp, the modal chords fitting the sounds of the period instruments really well. This perhaps shouldn't be so surprising given the crossover of the modal approach between these distant musical relatives. George King on piano vamped out some tasty McCoy Tyner style voicings, Steve Waterman then giving one of a number of blistering solos, this one on the flugel horn.

Berry delivered a touching solo double bass intro to the melancholic horns and vocals of 'Three Part Intention'. The set closer, 'Time Trip' sounded very 1960s US detective movie to me, taking the tones of the evening in yet another unexpected direction.  Players of horns old and new: Helena Summerfield, Jim Fieldhouse, Carl Raven, Russell Gilmour, along with Paul Hartley on guitar and Eryl Roberts on drums, all added to the delivery of these quite tricky but wonderfully unusual arrangements. The evening was a true privilege to experience."
© The Ring Modulator


"What do you get when you fuse jazz with "early music"? It's a challenge which has been taken up surprisingly rarely, considering the role of improvisation in renaissance music. Perhaps the best known example is Jan Garbarek's work with the Hilliard Ensemble. Another of my own favourites is the 2020 album from Quartet Ajaton which combines viola da gamba with Moog synthesiser on pieces by Elizabethan composers including John Dowland.
This new release from The Felonious Monks takes a very different approach,  juxtaposing crumhorn, shawm, cornett and recorder ensembles against the sound of a modern jazz group. It features compositions by Mike Hall and Debbie Rogers; Mike is perhaps best known as a jazz educator and for his work leading the UK Royal Northern College of Music big band. Debbie was a long term member of early music group The Kincorth Waits. The depth of their experience shows  in these stunning arrangements for a 12 piece band, creating sonorities you've probably never heard before and allowing every instrument to shine. The quality and ambition of the recording reminded me of Django Bates's work with Stormchaser.
Originally commissioned for the 2013 Manchester Jazz Festival and recorded shortly afterwards, this is the first general release for "With criminal intent" on the Jazz'Halo label and Bandcamp. Producer Rob Buckland has portrayed the spirit of the music and captured an ideal acoustic space; it was first performed in a church setting. The album title refers partly to the feelings Hall and Rogers had when writing the music; they feared that the project would outrage purists from both early music and jazz worlds. It's also a resonant title for music which has surprising echoes of TV detective shows and B movie exotica.
Three of the nine tracks are built around arrangements of 16th century music; "Ballo Francese" and "Putta Nero Ballo Furlano" were written by Venetian composer Mainerio. Mike Hall has transformed them with reharmonisation, syncopation and pungent instrumental colours, recalling how Stravinsky reinvented the music of Pergolesi in "Pulcinella". "Robin's lament" is based on a song by William Cornish, first presented by Renaissance guitar and beautiful four part vocals by band members. Debbie Rogers then develops the theme with luminous instrumental colours, featuring cornett, cornamuse and an expressive sackbut solo from Simon Lodge.
Other tracks are all new compositions which sometimes contrast early music ensembles with modern instruments in "call and response" sections, other times combine the soundworlds with inventive orchestrations. There's a four part crumhorn group which sounds surprisingly delicate alongside the sax section; the period instruments were loaned from the University of Manchester and are played with a lot of skill - always carefully balanced, in tune and expressive. Mike Hall's "Time trip" is a cross between contemporary classical influences and an American detective TV show theme which is lit up by a recorder chorale. There are thoughtful solos from pianist George King and trumpet/flugelhorn maestro Steve Waterman, who solos to great effect on 5 of the tracks.
"Brother Charles" by Debbie Rogers contrasts a modal theme played on shawm, rauschpfeife, cornett and sackbut with a chromatic improvised section featuring exciting post-bop sax solos by Carl Raven and Mike Hall. "Bats in the Belfry" begins with a cunning syncopated riff on piano, reminiscent of "Blue Rondo a La Turk" and develops into a fierce sax counterpoint over a pungent combination of bass clarinet and baritone sax. This combination is used again to great effect on "Of the night".  Mike Hall describes this piece as a homage to Duke Ellington; it has plenty of call/response between reed and brass sections and thrilling bent chords which capture the Ellington "cloud" complete with sly piano interjections then an extra ensemble colour from shawm and rauschpfeife. It's easy to imagine this is exactly what Ellington and Strayhorn might have done with these sounds.
On the final track "PD Calypso" we get a chance to hear how Renaissance instruments can work in an Afro-Cuban context, combined with Helena Summerfield's flute and another smoking sax solo from Mike Hall. This album succeeds in opening up new sonic territory with a fine band who are totally committed to the musical ideas. There is plenty of playful humour and sonic colour, held together by multi-layered compositions and rich harmonic twists.
At this point I should declare a potential bias - Mike Hall and Steve Waterman appear on my 2021 album "We could fix everything" but I heard these recordings before beginning work with them and it's great to see the album widely available at last. Who knows, if enough people buy copies it may even be possible to fund a tour!"
© Stephen Godsall