TS025
Here And How! Volume 2
Cameron Brown and the Hear and Now

"This is a terrific quartet, a rich mix of prodigious gifts and decades of playing on jazz' frontlines. Hopefully Brown will step into this role more often."
Florence Wetzel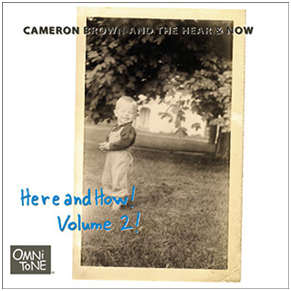 CAMERON BROWN AND THE HEAR AND NOW – HERE AND HOW! Volume 2                         

1) "Soft Seas (Back Home)" (Dannie Richmond/Sheila Jordan) 10'43"
2) "Baby Suite" 10'31"
3) "You Do Something To Me" (Cole Porter) 6'36"
4) "Confirmation (Dreamboat)" (Charlie Parker/Jordan) 8'51"
5) Medley:
    "Mourning Song"(Jordan) 3'55"
    "Lullaby for George, Don, and Dannie" 8'01"
6) "Double Arc Jake" (Don Pullen) 12'01"

All compositions by Cameron Brown, Twenty-eighth Street Music, except where noted

Cover Designer: Gregory Downer
Album Designer: Frau Kranift (aka Frank Tafuri)

Jazz'halo wishes to thank Frank Tafuri for a great co-operation!

Sheila Jordan: vocals
Dave Ballou: trumpet, flügelhorn
Cameron Brown: double bass
Leon Parker: drums

Recorded live during the Jazz'halo Music Days on 8 November 1997 in Gouvy, Belgium (#5),  9 November 1997 in Brussels, Belgium (#2), and 10 November 1997 in Brugge, Belgium (#1, 3, 4, 6)
Recording & Mastering Engineer: David Baker
Mixing & Mastering Engineer: John C Fishell
Produced by Cameron Brown and Jos Demol
Executive producer: Frank Tafuri

This recording joint production of OmniTone Inc and Jazz'halo.


THE LINER NOTES
Volume 2 of his first recording as a leader after nearly four decades of performing!

Known for his work with Don Cherry, Beaver Harris, Donald Byrd, Archie Shepp, Ed Blackwell, the George Adams-Don Pullen Quartet and, more recently, with vocalist Sheila Jordan and in the Grammy Award-winning ensembles of Joe Lovano, Cameron Brown is heard here —and how! —for the first time as a leader.

Recorded live by renowned engineer David Baker in a concert tour of Belgium, Cam', legendary vocalist Sheila Jordan, trumpet wizard Dave Ballou, and drummer Leon Parker, Bird's alive in this house — in spirit and through his bop anthem "Confirmation" (replete with Sheila's hip lyrics, masterful scatting, and inimitably down-to-earth, Sheila-being-Sheila lead-ins), and so are Sheila's native American roots in "Mourning Song," Cam's late pioneering collaborators in "Lullaby for George, Don, and Dannie," "Soft Seas," and "Double Arc Jake," and even the Great American Songbook in Cole Porter's "You Do Something to Me."

A special treat of both volumes is the chance to hear Cameron Brown as composer and lyricist.  Aptly, it may in the words of "Lullaby for George, Don, and Dannie," which Cam wrote in musical mentors and collaborators George Adams, Don Pullen, and Dannie Richmond — to whom this volume is dedicated — that proves an apt description of the modest man-behind-the-music: "Brave and true they struggled, firm and pure and shining.  Music is the way they transcended."

SOME REVIEWS:
"Bassist Cameron Brown has had a long and illustrious career as a sideman. He has appeared on around 100 recordings, providing an anchor for luminaries such as Archie Shepp, Roswell Rudd and Beaver Harris, as well as the celebrated Don Pullen/George Adams Quartet. In 2003 Brown stepped out as a leader with Here and How!, culled from a 1997 Belgian tour with vocalist Sheila Jordan, trumpeter Dave Ballou, drummer Leon Parker and legendary tenor saxophonist Dewey Redman guesting on three tracks. But one CD was not enough to present all the excellent material so now there's Here and How! Volume 2!, which consists of the same group minus Redman.

The CD starts with the vibrant "Soft Seas," an engaging piece with a fresh, open tone and a nice, easy groove. Jordan scores on the lyrics and her effervescent scatting, Brown's bass is loose and funky and Ballou's trumpet wonderfully crisp. Although Belgium is certainly a long way from the Caribbean, the group channels the feeling of the islands, creating a joyful, buoyant vibe. The quartet shines on Charlie Parker's "Confirmation," which includes lyrics by Jordan. It's always a pleasure to hear her gloriously malleable voice and on this song she soars and bops over Brown's soulful swing. The CD ends with "Double Arc Jake," a delightful and effortless mix of genres, including calypso and Native American rhythms. The other songs explore a range of moods, including Brown's resonant "Baby Suite," Cole Porter's "You Do Something to Me" and "Medley," a heartfelt tribute to now-deceased musical comrades that combines compositions by Brown and Jordan.

This is a terrific quartet, a rich mix of prodigious gifts and decades of playing on jazz' frontlines. Hopefully Brown will step into this role more often."
Florence Wetzel in http://www.allaboutjazz.com (This article first appeared in All About Jazz: New York)