TS021/022
Concerto Grosso
Joëlle Léandre

"Technique : 9 (sublime prise de son réalisée par Jean-Marc Foussat. Dans son genre, un chef-d'œuvre aussi) - Artistique : 10. JOKER"
Philippe Elhem

Sorry, this CD is no longer available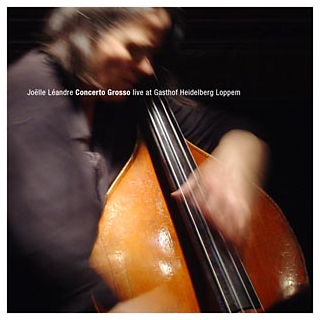 JOÊLLE LEANDRE – CONCERTO GROSSO


Disc One
1) Dans Le Sol 6' 24"
2) For Tony 3' 50"
3) Chant Du Camembert … Fourré! 5' 32"
4) Relaps 5' 07"
5) Spirale 7' 07"
6) Le Sommeil d'Hercule 9' 05"
7) Le Viol Du Bourdon 6' 03"
Disc Two
1) Tara's Place 6' 47"
2) Hey, Oldies 3' 50"
3) Love 9' 55"
4) … Col Legno, Stretto 3' 22"
5) Row Land's Length 9' 18"
6) Parlotte 4' 01"
All compositions by Joëlle Léandre
Joëlle Léandre: double bass
Photography: Marleen Van Driessche
Special thanks to Tony Hostens


Recorded live during the Locus Loppem-event at Gasthof Heidelberg Loppem (B) on January 29, 2005 (Disc Two) and on January 29, 2005 (Disc One) by Jean-Marc Foussat
Remix and mastering by Jean-Marc Foussat on March 4 & 5, 2005
Produced by Joëlle Léandre
Executive producers: Roland & Maarten Patteeuw for Locus Loppem and Jos Demol for Jazz'halo
Recording engineer: A-Man
This recording joint production of Kunsthalle Lophem and Jazz'halo


SOME REVIEWS:
"Een substantiëler (dan de cd "Steve Lacy & Joëlle Léandre – One More Time", Leo Records 422) document is de fraaie editie van het 'Concerto Grosso' van Léandre, opgenomen tijdens Locus Loppem in januari. De dame stond toen helemaal alleen met haar contrabas en strijkstok voor het aandachtige publiek in de huiskamer van Gasthof Heidelberg. Ruim tachtig minuten en twee cd's lang veegt Léandre de vloer aan met de beperkingen van het begrip 'solo'. In haar handen groeit de contrabas uit tot een orkest, en in haar hoofd zitten kennelijk verschillende muzikanten die in dat orkest hun partijen spelen. Jawel, concerto grosso."
Rob Leurentop in De TIJD, 23/04/2005 (B)

"Pity the poor bull fiddle. It's taken over from the tuba as the anchor of most jazz groups, yet when its turn comes to solo it's often seen as time to chat or go to the bathroom. It more than has the range of the saxophone or guitar, but the low tones demand greater concentration to follow. Still, two of its finest players have dedicated themselves to solo performance. Frenchwoman Joëlle Léandre has devoted much of her career to solo performance and Concerto Grosso is the latest in a line of unaccompanied releases. Like Derek Bailey (with whom she's recorded) or Cecil Taylor, Léandre has developed a language on her instrument that is dense and easily recognizable as her own. Her long bowing and percussive approach, coupled with her expressive vocalizing, are distinctive and deeply evocative. The Gasthof Loppem recording - released by the Belgian label Jazz Halo - captures two January 2005 sets across two discs (totaling 87 minutes). As with Bailey or Taylor, it's difficult to take her playing apart or to rank her performances against each other. She tends - here and in general – toward shorter improvisations; the 14 pieces here never break the ten-minute mark. The recording is close and personal and the performance beautiful. She's an artist who can't be known without being heard solo and Concerto Grosso is an excellent example."
Kurt Gottschalk in ALLABOUTJAZZ-NEW YORK | December 2005
http://www.allaboutjazz.com/php/article.php?id=20023

"Concerto Grosso: Joelle Léandre, contrabbasso e voce. Registrato nel corso del "Locus Loppem" presso il centro d'arte Gasthof Heidelberg, a Loppem (Belgio), il 30 (CD 1) e il 29 gennaio 2005 (CD 2), questo lavoro è senza mezzi termini l'essenza della ricerca della Léandre degli ultimi anni. Vi si trovano compendiati tutti i filoni di ricerca che da anni la Léandre persegue, sia per quanto riguarda il suo strumento, sia per quanto riguarda l'indagine sulla voce. Quattordici tracce, indipendenti, ma che nel loro insieme costituiscono il classico "concerto grosso" che richiama, piuttosto esplicitamente, la forma tipica della musica barocca.
Le quasi due ore di musica proposta sono tutta sostanza, sostanza densa, difficile, mai immediata, che penetra dritta al cuore, tale e quale è stata pensata, vissuta, suonata. Dal punto di vista musicale, c'è tutto quanto assimilato negli ultimi anni - dagli usi di di mani e archetto, agli interventi con la voce, all'approccio totale e totalizzante con il contrabbasso -, ma c'è tutto anche dal punto vista emotivo, emozionale e sentimentale - nel continuo porsi in ricerca sul e del sé, nel parlare d'amore, nell'osservare le sfumature più lievi e tenue della vita, in un'ironia che ha dell'irriverente, a volte, un pò ribelle in fondo ."
Valutazione: 5 stelle
Francesca Odilia Bellino in ALLABOUTJAZZ-Italia | 05-03-2006
http://italia.allaboutjazz.com/php/article.php?id=211

"Concerto grosso, the great concerto, is the baroque music term for a solo instrument playing against an orchestra. In French bassist Joëlle Léandre's interpretation, there is no orchestra – just her self and the doghouse. And it's a bit of a gamble issuing a double CD devoted to solo bass! But Léandre is not just anyone. She has managed to navigate her way around improvisational music in an open-minded way, with Irene Schweizer, for example, as well as with more recent compositions by the likes of John Cage. Her strength is that she is at one with her instrument; she has completely mastered it. This virtuoso does not blow her own trumpet! She can play pizzicato and arco at the same time, creating polytonal sequences and harmonics that take the music into new dimensions. Melodies grow out of syncopated grooves as she slaps the strings. The soundbox gets the same treatment, as she flays the strings and adds vocalisations. She plays provocatively with phonetics in her Parlotte. It is fabulous music, temperamental, even irascible at times. Ninety minutes later, you realise that you haven't been bored."
Allan Sommer in JAZZSPECIAL (DK) | 12/2005

"Parisian Joëlle Léandre is the prime example of a schooled musician who utilizes her expertise in another genre to move into the first ranks of improvisation. Always insistent that she loves ands appreciates jazz, but can't and doesn't play it, the French double bassist came to improv in the late 1970s, after establishing herself as one of the paramount interpreters of contemporary classical compositions by the likes of John Cage and Giacinto Scelsi. Since her embrace of free music, however, the Aix-en-Provence native has worked and recorded in a variety of contexts with groups ranging from duos to ensembles, and held her own—and then some—with such distinctive stylists as the late American soprano saxophonist Steve Lacy and British guitarist Derek Bailey.
A set of three new releases showcases the bull fiddler in trio, duo, and solo sessions. Concerto Grosso (Jazz'halo) is a very recent—January 2005—two-disc tour-de-force, featuring only Léandre, her bass, and her bow.
Even a cursory listen to Concerto Grosso proves that the bassist is easily able to carry a performance on her own and enrapture an audience. With her breakneck pizzicato runs as flexible as her sonorous bow work, Léandre is comfortable manually manipulating every part of the double bass, not just the strings. As selected expressions are extended with unexpected finger finesse, she sometimes appears to be two complementary double bassists, and by adding occasional quasi-scat vocalizations she can transform herself into the Léandre trio.
"Le Sommeil d'Hercule"—loose translation: "the sleepiness of Hercules"—for instance starts with counter tones that, despite her non-jazz background, still resonate with Mingus-like inferences. Encompassing ricocheted pizzicato accents, hearty guitar-like strums, buzzing string vibrations, and echoes, she then moves to darker and deeper tonal explorations. However, as she digs further into these sonic textures, she ensures that the output doesn't neglect the andante and legato qualities of the bass. Modulating to other quadrants, timbres surface, first high-pitched, then droney in mid-range, finally intermingled as a polyphonic showcase. Shuffle-bowing and wood-reflecting accents dissipate into bottom-of-the-bridge drones, with a single strum serving as the tune's coda.
"For Tony", on the other hand, is a multi-tempo display of such extensive spiccato that at points, it seems as if Léandre is cutting through the bass wood into the vibrations themselves. Double-timed staccato expressions in different pitches fly by so swiftly that at points you're not sure whether you're hearing a bluegrass fiddler or some descendent of Nicolò Paganini. Historically, however, it's doubtful that the 19th century "father of the modern violin" ever harmonized vocally while he soloed, or appeared to be extracting harmonies from inside the instrument for a finale, both of which are part of Léandre's talents.
Her characteristic vocalizing gets even more of a showcase on "Parlotte", as she begins chanting in between her sharp slides and plucks. Although Léandre is probably using the unconnected verbal syllables for the onomatopoeia-like attachment they have to the tones she's producing from her axe, recognizable words such as "fou" and "chic" are audible. Again emphasizing the cured wood attributes of her instrument, the track's exit strategy is designed with multiphonics.
Earth-throbbing bass lines, flamenco finger picking, and staccato pitchsliding are other techniques on show, with glissandi often used to express the roughness and hardness of the strings' texture as well as their music-making attributes. With cascading double-, triple-, and quadruple-stopping plus bowing that emphasizes the upper partials of the notes rather than their fundamentals, her experimentation continues even in a concert situation.
One summation of these techniques arises in the bizarrely titled "Love". Emphasizing, one would think, the heartbreak and pain that the emotion engenders, this nearly ten-minute piece is sul ponticello from its beginning, with the bassist's approach more high-pitched and robotic than usual. As the jarring, discordant tones pierce the air like the proverbial nails dragged across a blackboard, she seems to be reveling in dissonance. Battering on the waist, ribs, and belly of the bass, the tune's climax is reached with such staccato pitchsliding that it sounds as if Léandre, grunting with exertion, is almost literally sawing the instrument apart."
Ken Waxman for www.onefinalnote.com and www.jazzword.com (21 November 2005)

"De Franse bassiste Joëlle Léandre heeft een indrukwekkende staat van dienst in de 'vrije' muziek. Ze trad op met een aantal Franse ensembles zoals 2E2M, Itinéraire en l'Ensemble Intercontemporain, werkte veel samen met de Engelse saxofonist Lol Coxhill en is geen onbekende in de New Yorkse jazzscène. Daarnaast treedt ze ook alleen op. In januari 2005 gaf ze twee concerten in het kader van Locus Loppem. De dubbel-cd 'Concerto Grosso' is een prachtige registratie van die twee optredens. Léandre weet tijdens de ruim tachtig minuten die beide concerten in totaal beslaan een waaier aan emoties over te brengen. Ze speelt nu eens rustig en afwachtend, dan vrolijk – tokkelend op de snaren –, dan weer melodieus maar donker en vervolgens furieus en schijnbaar van plan haar instrument door te zagen. Maar wat overheerst is een enorme ingetogenheid, die niet in de laatste plaats wordt gecreëerd door het feit dat Léandre juist op de van nature 'stille' bas soleert. Het van oorsprong begeleidende – of in de jazz communicatieve – instrument wordt hier uit zijn dagelijkse pak gehaald en blijkt wonderwel te passen in de wereld van de solo-instrumenten, al moet de luisteraar aanvaarden dat de contrabas – althans in handen van Léandre – een autist is. De toehoorder moet zich overgeven aan de intensiteit van één noot en de pregnantie van de repetitie. Want dat zijn de wapens van de bassiste. De invloed die de Amerikaanse avant-garde componist John Cage op haar heeft uitgeoefend is dan ook goed merkbaar. Léandre deelt zijn minimalistische aanpak en ze werkt liever met suggesties dan met expliciete statements. Haar verre van lyrische muziek lijkt zelfs een abstractie van een melodie te zijn. Dit komt vooral naar voren als ze 'meezingt', ritmisch meehijgt of even een elders afwezig ritme slaat op haar instrument terwijl ze ondertussen aanhoudend een snaar laat trillen. Léandre speelt een partij in een voor het overige onhoorbaar, maar steeds nadrukkelijker voelbaar, muziekstuk. Het belangrijkste in de muziek van Joëlle Léandre is wellicht dat wat er niet is. Het zijn uiteindelijk de leemtes, de ruimten tussen de noten, het ritme onder de breekbare klanken en de vrolijke melodie op de duistere uithalen, die op de voorgrond treden. Maar dat duurt meestal maar even. Léandre waakt over simpliciteit en voegt steeds nieuwe lagen aan haar composities toe. De stukken die aldus op een organische manier ontstaan zijn voor de luisteraar harde noten om te kraken, maar eenmaal gekraakt hebben ze een groot palet aan smaken te bieden."
Matthijs de Ridder in http://www.kwadratuur.be (05/08/2005) ****

"Dit dubbelalbum van de Franse bassiste Joëlle Léandre is live opgenomen in Gasthof Heidelberg in Loppem op 29 januari 2005, ter gelegenheid van 'Locus Loppem', een festival van beeldende kunst in de eerste helft van 2005. Joëlle Léandre speelt solo en de twee sets zijn hier op twee cd's gebrand. Een live-concert is nog iets anders dan het resultaat ervan op cd. Je mist de sfeer en het visuele aspect. Vandaar dat we na enkele stukken reeds bezweken zijn aan een overdosis contrabas en er de brui hebben aan gegeven. Liefhebbers van Europese avant-garde en contrabasfreaks zullen hier wellicht anders over denken."
Luc De Baets in JAZZMOZAÏEK, december 2005 * *

"Si Joëlle Léandre se définit comme une 'chambriste', adepte des petites formes et de l'écriture intuitive, son parcours en solo a lui aussi toujours été vécu comme une conversation, dans l'espace intime qui lie l'instrumentiste à ce corps à cordes, la contrebasse. Sa discographie en a déjà témoigné, mais 'Concerto Grosso' offre une vision fulgurante de ce cheminement … dans son âpreté, sa hargne, ses tourments aussi, intrinsèques et luminieux. Quatorze pièces enregistrées en concert, d'une rare concision dramatique, avec un lyrisme empreint à la fois de fougue et de pudeur. Développant des motifs mélodiques ou rythmiques, qu'elle entrelace ou heurte en de multiples éclats ou ruptures, elle tisse chacune de ses pièces sans en perdre le dessein, jusque dans les éclats vocaux qui se font jour ou les murmures invitant au silence. Joëlle Léandre saisie toute l'ampleur dynamique de la contrebasse pour en livrer la profondeur du chant, avec une rage amoureuse à dompter l'instrument, sans cesser pour autant d'en explorer la matière sonore. L'attaque est souveraine, que ce soit à mains nues ou à l'archet, pour offrir une plénitude du timbre, dévoiler la luxuriance des textures (écoute et capture décisives de l'ingénieur du son Jean-Marc Foussat). Après presque trente ans sur les routes, à défricher inlassablement de nouveaux territoires, Joëlle Léandre signe avec 'Concerto Grosso' un manifeste de désir musical et de résistance épanouie."
Thierry Lepin dans JAZZMAN, décembre 2005

"Un double cédé de contrebasse solo ! Rassurez-vous, il ne faut pas s'en effrayer. La musique de Joëlle Léandre s'étale en quatorze pièces pour un total de 87 minutes. Chaque morceau de sa composition développe une idée et une atmosphère autour de deux ou trois notes (Dans le Sol), d'une cadence ou d'une technique instrumentale particulière, avec beaucoup de passion et de vie. Trois pièces dépassent les neuf minutes. Il y a un engagement physique et un brin d'humour, et comme toujours une «parlotte», comme celle de l'avant-dernière plage du second cédé. A l'écoute de «Parlotte», on se dit que Joëlle Léandre est aussi une véritable comédienne, ce qui donne une autre dimension à ses performances solos. C'est d'ailleurs lors de deux concerts consécutifs au Gasthof Heidelberg, situé à Loppem (Flandre Occidentale), les 29 et 30 janvier 2005, que furent enregistrés ces deux remarquables suites. La prise de son réalisée par Jean–Marc Foussat est excellente. Elle met bien en valeur la richesse du coup d'archet, et tous les sons produits par le maniement de la contrebasse, ainsi que le chant de Léandre qui pointe de temps à autre, comme pour encourager ses propres efforts. «Concerto Grosso» défend, par l'exemple, l'idée d'un artisanat musical acoustique et l'expression du geste musical dans ce qu'il a de pur et généreux, comme le savoir faire amoureux d'un ébéniste ou d'un luthier. La variété des pièces et leur agencement les unes par rapport aux autres facilite l'écoute, surtout celle des moins avertis. Ma préférence va aux pièces à l'archet. L'itinéraire de notre contrebassiste, à travers ses improvisations «composées», a le goût de la musique populaire authentique. Le tempérament de la «dame» transparaît dans ses emportements, jusqu'à en oublier la préparation minutieuse à chaque étape. «Concerto Grosso» n'est pas le premier coup d'essai de Joëlle Léandre: «Urban Bass», «No Comment», «Live At Otis». Néanmoins, ici, il s'agit sans aucun doute du portrait le plus complet de la musicienne. Un album attachant, traversé de vraies émotions, à recommander, et pour lequel on peut féliciter l'association entre Locus Loppem et Jos Demol, infatigable défenseur des musiques improvisées et ancien rédacteur en chef du regretté «Jazz'Halo». En effet, combien de producteurs belges se risquent sur ces terres là? Pour ceux que la contrebasse solitaire intéresse, je signale aussi l'existence de deux autres opus majeurs : «Journal Violone 9» de Barre Phillips (Emouvance) et «Listen» de Paul Rogers (Emanem), deux contrebassistes qui résident en France: musiques graves et légères à la fois."
Jean-Michel Van Schouwburg dans JAZZAROUND Nr 14/2006

"Le dernier rejeton de cette (brève) sélection léandrine est un superbe double CD en solo, 'Concerto Grosso', enregistré en janvier 2005 en public une nouvelle fois en Belgique, qui laisse découvrir des improvisations généreuses et 'habitées' en pizz et à l'archet, truffées de nobles scories et de débordements salutaires."
Gérard Rouy dans JAZZMAGAZINE Nr 561, juillet-août 2005

"Est-ce de la musique intéressante ? Sans doute. Pour quel public ? Où peuvent se cacher les courageux auditeurs, susceptibles d'endurer sans agacement, près de cinquante minutes d'agression auditive. Cette audace concentrée mène à la stérilité, voire au conformisme. A croire épater on finit par lasser. Vouloir poser des étiquettes ou opérer une dichotomie des styles s'avère souvent stérile. Joëlle Léandre ne s'exprime guère dans les domaines du jazz ou de la musique dite classique. Tentative expérimentale ? C'est vite dit. Peut-être a-t-elle endossé une armure pour entamer ce combat avec sa contrebasse, tenant ici le rôle de l'ours. Les cris qu'elle pousse en jouant ne sont guère de joie mais de rage ou de douleur. Où est le plaisir ? Cette libération d'énergie conduit en ligne directe à un ennui pyramidal. Dans un mouvement de ce Concerto Grosso, enregistré live au Gasthof Heidelberg à Loppem, un mouvement, 'Parlotte', laisse place à la voix. On ne peut appeler chant cette suite de borborygmes. Quelques mots parviennent à être perçus : 'la crasse de chiffon l'acclimatation allo allo il a cassé la cruche la figure est sale on s'en fout d'ailleurs on s'en fout on s'en fout'. On ne peut que demeurer confondu devant une telle puérilité. Nous voici singulièrement éloigné de Racine ou de Saint-John Perse. Peut-être aurais-je dû écrire, à l'instar d'un chroniqueur de l'excellent 'Jazz Magazine', que ce Concerto s'avère 'un régal' par des improvisations 'truffées de nobles scories et de débordements, salutaires'. Voilà comment on embobine le lecteur, par peur viscérale de passer pour un vieux con."
Marc Danval dans LE SOIR MAGAZINE (B), 3 août 2005

"Et voici de nouveau la grande dame seule face à son public. L'endroit et le moment choisis cette fois pour que s'exprime la musique qui l'habite est une ville de Belgique, lors de deux soirées du Gasthof Heidelberg Loppem, janvier 2005. Et là encore, devant ce public si semblable, dans sa différence, à ceux de France, d'Afrique, des Etats-Unis ou du Japon, le concert s'est mué en une magistrale classe pour amateurs passionnés, tant il est vrai que l'art de Joëlle Léandre s'assimile chaque jour un peu plus à une perpétuelle master piece. Pièce de maître, donc ! Maîtrise exceptionnelle du temps imparti à chaque improvisation. Quelques minutes suffisent pour que l'essentiel soit dit et pourtant, à l'image de son duo avec l'altiste India Cooke, la notion de miniature ne vient jamais à l'esprit tant l'intensité discursive est profonde et rigoureusement signifiante. Maîtrise de l'espace, également. Les yeux fermés pour mieux visualiser la scène, on imagine l'archet traçant ses lignes droites et l'amplitude du mouvement, cernant le cœur même du propos, le corps tendu, piétinant, la respiration vitale insufflant le rythme à la pièce instantanément composée. Maîtrise encore du set complet. Joëlle Léandre pense la fin de chaque note mais aussi de chaque phrase, de chaque morceau interprété, de l'ensemble du concert lui-même dont la courbe parfaite vient se poser en douceur à la fin des trois quarts d'heure prévus, tout étant consommé, architecturé dans l'instant, comblé. De l'archet au pizzicato, du souffle saccadé aux rythmes frappés sur le corps de l'instrument, du chant soprano au babil de l'enfant découvrant le langage, l'œuvre qui vit le jour en ces deux soirs consécutifs et si dissemblables semble un panoramique intégral du concept inventé par l'artiste. Maîtrise, enfin, de la rage. Cette colère comme moteur qui, depuis plus de trente ans, caractérise son travail est devenue, au fil du temps, une source énergique, savamment canalisée depuis sa pensée propre jusqu'aux domaines les plus profonds de celui qui l' écoute. Aucune scorie, désormais, ne vient dévier cette trajectoire amoureuse issue d'une conscience extralucide et transformée, par l'alchimie de la musique, en une véritable leçon de sagesse. Joëlle Léandre, par ce nouvel enregistrement, démontre une fois de plus que le duo qu'elle forme avec sa contrebasse demeure un des rares cadeaux que la vie puisse encore nous offrir. J'apprends, à l'instant où j'écris ces lignes, le décès de Derek Bailey, grand ami de la musicienne, intime duettiste ici et là, complice jusqu'au dernier moment, comme l'étaient encore, Peter Kowald et Steve Lacy. Sincères condoléances, Joëlle ! Que cette triste nouvelle t'aide encore à nous aider puisque tel est ton rôle et que nous avons tellement besoin de ta force et de ta rage ! "
Joël Pagier dans Improjazz n° 123, mars 2004 (FR)

"One of the most extraordinary double bassists of the last thirty years was recorded by Jean-Marc Foussat on January 29 and 30, 2005 at Gasthof Heidelberg Loppem in Belgium, and the resulting double album is simply magnificent. Over the years, Joëlle Léandre has developed a unique style fusing edgy instability with an astonishing adeptness at determining the focal point of a phrase and building a whole instantaneous discourse thereon. Technical virtuosity is stripped of useless gimmickry, and our ears are revitalized by Léandre's peculiar blend of instrumental activism and ferocious irony. On "Parlotte" the call-and-response game between her uttered articulations and the multitude of thumps, plucks and bowed notes that she brings forth from that "great, big, upright, impossible object" (to quote Ms Léandre's Invisible Jukebox in The Wire a while back) is both dialogue and monologue, and fantastic music to boot. Not to mention the physical effects of the bass on the nervous system: Léandre's imperious growl is an experience to be savoured with mucho gusto, a surround sound low-frequency fecundation of the skull. But if I had to choose a single track, I'd say "Spirale", on which Léandre revolves around a barely determined tonal centre like a nuclear powered hurdy-gurdy, playing in and between the harmonics, adding accents, subtracting notes, and letting us gaze at a continuum that leaves us buzzing and reeling."
Massimo Ricci in www.paristransatlantic.com, September 2006

"De dubbel-cd van Joëlle Leandre is een mooi voorbeeld van het exploreren van klankkleuren. Leandre is als gezegd een van de vaste waarden op het label. Zij bracht er eerder al cd's uit met de pianisten Giorgio Occhipinti en Ryoji Hojito. Deze Franse bassiste heeft haar sporen zowel in de klassieke muziek (John Cage) als in de jazz- en improvisatiescene verdiend. Zij speelde met onder meer Derek Bailey, Fred Frith, Steve Lacy, Evan Parker en John Zorn. Op "Concerto Grosso" haalt zij de meest onwaarschijnlijke geluiden uit haar contrabas. Waarbij zij met haar bijzondere techniek onder meer een ongehoord scala aan boventonen te voorschijn tovert. Stevige kost, zonder meer, maar ook ontegenzeggelijk intrigerend. Dat elke compositie anders is, klinkt voor de hand liggend, maar is bepaald niet vanzelfsprekend"
Misha Andriessen op jazzenzo.nl, 01/2007
"Recorded live at Gasthof Heidelberg on the evenings of 29 and 30 January 2005, 'Concerto Grosso' is the latest in a long line of solo double bass recitals from Joëlle Léandre, whose work straddles improvisation and interpretation with equal facility. Her recordings of compositions by Giacinto Scelsi and John Cage have been consistently strong, and as a free improviser she's recorded with many of the greats including Derek Bailey, Peter Kowald, Steve Lacy, Anthony Braxton and Irène Schweizer. Though Léandre loves jazz, her playing isn't particularly jazzy (which made her a perfect choice to fill the double bass chair for Braxton's Ensemble (Victoriaville) 1988), and the musicians she works best with are genre-straddlers such as Urs Leimgruber (reeds), Carlos Zingaro (violin, electronics) and Fritz Hauser (percussion). But, more often than not, it's when she plays solo that she makes her most telling music. The highly exuberant 'Chant Du Camembert … Fourré' demonstrates her facility with the bow, which she uses much more frequently than most double bassists and not just for lyrical passages or pedal-point drones. The remarkably intense 'Spirale' is a tour de force of bow technique, and it shows how clearly she thinks ideas through and how rich those ideas are. Though she's always finding new things to say and new ways in which to say them, one of the things that marks Léandre out from her peers is how well she structures her improvisations. She uses her voice (a formidable instrument in itself) less often on this set than on other of her solo recordings, but there's a lovely stuttery/urgent narration on 'Parlotte' which builds up a considerable head of steam while the bass pusues an independent but strangely complementary course of action. Léandre is a fluid, inventive and versatile player with a huge musical personality, as 'Concerto Grosso' illustrates."
Brian Marley in The Wire (UK)

"Un album clé de l'histoire de la contrebasse en tant qu'instrument solo, à ranger aux côtés de "Was da ist" du regretté Peter Kowald (FMP, 1995) et du "Journal Violone 9" de Barre Phillips (Emouvance, 2000), les deux "must" absolus du genre que vient désormais égaler cet album enregistré en public, dans l'Est de la Belgique, au Loppem Festival.
"Concerto Grosso" et ses deux CD, contiennent rien de moins que la somme musicale d'une vie passée à pincer, frotter triturer, martyriser les quatre cordes d'un instrument dont Joëlle Léandre a su repousser plus que quiconque les limites.
Bien sûr, ce n'est pas la première fois que la contrebassiste française, l'amie de John Cage, l'interprète de Giacinto Scelsi dont elle créa les pièces composées à son attention, se produit ou enregistre dans cette formule sans filet.
Mais ici, toutes les conditions ont été réunies afin qu'elle accouche d'un authentique chef-d'œuvre, véritable condensé du génie protéiforme de l'improvisatrice servie par la technique, unique, inimitable de l'interprète.
Car assister à un concert de Joëlle Léandre, et tout particulièrement à un concert en solo, est une expérience difficilement oubliable : la manière dont elle caresse ou se bât, aime et rejette à la fois cet instrument avec lequel elle fait corps, la façon dont elle le fait hurler, pleurer mais aussi chanter -tout en chantant/ déclamant souvent elle-même des suites de mots, des bouts de phrases spontanés et parfaitement hilarants-, est unique et particulièrement exaltant pour l'auditeur.
C'est tout cela et plus encore que contiennent ces deux CD, reflets de deux soirées, proposées ici dans leur intégralité et dont nous fûmes, pour l'une, un spectateur fasciné."
Technique : 9 (sublime prise de son réalisée par Jean-Marc Foussat. Dans son genre, un chef-d'œuvre aussi) - Artistique : 10. JOKER.
Philippe Elhem in Crescendo

"The record is one of her best. And, as it is, it's certainly one of the best double bass record that I've ever heard. Not the equal of WAS DA IST (but who can ever equal this one?) but certainly in the same league. 14 pieces (the longest is 9'55 long, the shortest 3'22), seven on each record, beautifully recorded (with a close mike) for a sound "bigger than life".
Even David, with his crapy low-fi stereo, could enjoy all the "nuances" of the invigorating playing of Mrs LEANDRE. Guaranty."
This post has been edited by P.L.M: Jul 26 2005, 11:59 AM