TS020
Here and How!
Cameron Brown and the Hear and Now

"Cameron Brown, Leon Parker on drums (who end the session full of humour), Dave Ballou and Sheila give us a very attractive CD. One advice: start with the last track, Don Pullen's "Double Arc Jake"."
Sim Simons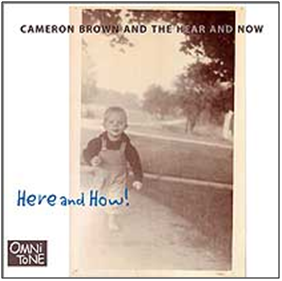 CAMERON BROWN AND HEAR AND NOW – HERE AND HOW!


1) "Art Deco" (Don Cherry) 10' 53"
2) "For All We Know" (J Fred Coots, Sam Lewis) 8' 50"
3) "Rylie's Bounce" 12' 22"
4) "Remembrance" (Don Cherry) 6' 59"
5) Medley:
"What Reason Could I Give'"(Ornette Coleman)
"For Dad and Dannie" 10' 27"
6) "Double Arc Jake" (Don Pullen) 14' 14"

All compositions by Cameron Brown, Twenty-eighth Street Music, except where noted
Cover Designer: Gregory Downer
Album Designer: Frau Kranift (aka Frank Tafuri)
Jazz'halo wishes to thank Frank Tafuri for a great co-operation!

Sheila Jordan: vocals
Dave Ballou: trumpet, flügelhorn
Cameron Brown: double bass
Leon Parker: drums
Special guest:
Dewey Redman: tenor saxophone

Recorded live during the Jazz'halo Music Days on 8 November 1997 in Gouvy, Belgium (#2, 5, 6) and 9 November 1997 in Brussels, Belgium (#1, 3, 4)
Recording & Mastering Engineer: David Baker
Mixing & Mastering Engineer: John C Fishell
Produced by Cameron Brown and Jos Demol
Executive producer: Frank Tafuri
This recording joint production of OmniTone Inc and Jazz'halo.

His first album as a leader after nearly four decades of performing!
Known for his work with Don Cherry, Beaver Harris, Donald Byrd, Archie Shepp, Ed Blackwell, the George Adams-Don Pullen Quartet and, more recently, with vocalist Sheila Jordan and in the Grammy Award-winning ensembles of Joe Lovano, Cameron Brown is heard here —and how! —for the first time as a leader.
Recorded live by renowned engineer David Baker in a concert tour of Belgium, during the Jazz'halo Music Days, Cam', legendary vocalist Sheila Jordan, trumpet wizard Dave Ballou, and drummer Leon Parker —with tenor master Dewey Redman as guest on two tracks —work it out on a two Don Cherry tunes ("Art Deco" and "Rememberance"), a Don Pullen original ("Double Arc Jake"), the standard "For All We Know," and two Cameron Brown originals. Here and How! will appeal to adventurous jazz fans (especially for the repertoire and players) as well as vocal jazz (and Sheila Jordan) fans.
For the liner notes of Frank Tafuri please check out www.omnitone.com/hereandhow/15205-liner.htm

 
SOME REVIEWS:
"After forty years of playing with the likes of Don Cherry, Archie Shepp, Donald Byrd, and Ed Blackwell, Cameron Brown finally steps out for his debut as a leader. Recorded live, the band includes Leon Parker on drums and Dave Ballou on trumpet and flugelhorn, plus a couple of cameos by tenor titan Dewey Redman and a moving van full of vocalese, courtesy Sheila Jordan.
Like Brown, Jordan crossed paths wiith Cherry on record several times, so their pairing on Cherry's 'Art Deco' smacks of affection. Starting out as a slow strolling duet, Brown and Jordan flirting, Parker discreetly tapping cymbal, Ballou answers Jordan's coy delivery, then takes over. His muted solo flows through Brown's pulsing bass. With Parker and Ballou out, he bounces around the melody, demonstrating the harmonic sense that keeps him employed. Jordan returns to improvise lyrics before wordlessly improvising melody with Brown following suit.
The standard 'For All We Know' opens with a sweet, slow intro by Redman and Ballou, and Jordan goes from girlish to world-weary. In another intimate duet with Brown, Parker whispers with brushes. Redman takes over from Jordan and sounds even sadder. Like Pharoah Sanders, Dewey Redman may be better known for his out playing, but he can trouble your heart with a ballad. Ballou makes his case on flugelhorn, then Redman and Jordan walk out consoling each other. Brown, Ballou, and Jordan play unison to put jump into Brown's spirited 'Rylie's Bounce.' The composer goes first and dazzles with ideas and big hands. Jordan sings a brief intro, then launches a strenuous run. Ballou takes his time with the rhythm section keeping the pressure on him.
Jordan turns medicine woman for the intro to Cherry's 'Remembrance,' from Complete Communion. After doubling with Ballou, Jordan effectively works her earthy middle range wordlessly. Redman returns for 'Medley:What Reason Could I Give/For Dad and Dannie.' The veteran tenor player cradles the somber tune with the rhythm section laying low. Ballou keeps it sweet on flugelhorn. Don Pullen's highly changeable 'Double Arc Jake' proves no problem for Brown's probing lines. Ballou flies around him with Parker slapping the tom. Jordan repeats the title until it becomes texture. Parker takes the spotlight, before Ballou and Jordan double the tricky theme. Brown's maiden voyage certainly raises the hope of many return trips."
Rex Butters (Review Courtesy allaboutjazz.com) 04 June 2004

"Musicians' musician: con questo gioco di parole musicisti e critici americani amano definire quei musicisti altamente stimati dagli addetti ai lavori, ma poco o punto noti al pubblico. Il contrabbassista Cameron Brown rientra senz'altro tra questi, in virtù del solido contributo fornito al jazz moderno negli ultimi quarant'anni.
Suo primo disco (strano a dirsi) come titolare, Here and How! lo vede alla guida del quartetto Hear & Now in una tournée effettuata in Belgio nel novembre 1997. La scelta del repertorio e dei collaboratori rivela chiaramente la sua estrazione e gli permette di ripercorrere buona parte del suo passato artistico.
È significativo il fatto che accanto a lui figurino due dei musicisti a cui si sente più legato: la cantante Sheila Jordan e, ospite in alcuni brani, il sassofonista Dewey Redman. In scaletta compaiono poi "Art Deco" e "Remembrance", composizioni di Don Cherry, altro suo mentore, nonché "Double Arc Jake" di Don Pullen, nel cui quartetto - condiretto con il sassofonista George Adams - Brown aveva a lungo militato.
Brown si dimostra un abile organizzatore sonoro ed un regista molto discreto. Con lo strumento scava ampi solchi nel tessuto ritmico-armonico, costruendo un terreno solido ed accogliente per i colleghi. L'uso efficace ed espressivo dello staccato, il coerente costrutto melodico, il potente swing e l'incisivo walking sono i principali tratti distintivi del suo stile. A sostegno di questa affermazione, basterebbe ascoltare come interagisce con la voce sul proprio "Rylie's Bounce", tema boppistico nel quale Sheila Jordan si diverte a sfruttare il bisillabo "be bop" per modulazioni e digressioni scat.
La vocalist chicagoana si rivela determinante nell'economia dell'incisione. A dispetto della limitata estensione, l'ampia gamma espressiva e la musicalità squisita le permettono di inserirsi in qualsiasi contesto, fino ad affrontare i passaggi più ardui. In tal modo, può swingare, oscillare e galleggiare con perfetto controllo dell'emissione in una "Art Deco" trasformata in tutto e per tutto in uno standard. Oppure, scegliere una tonalità angolata e marginale per ridisegnare da par suo la melodia di "For All We Know". E ancora, trasformare la propria voce in uno strumento ritmico nell'introduzione di "Double Arc Jake".
Presente in due soli brani (la già citata "For All We Know", la medley tra la colemaniana "What Reason Could I Give'" e l'originale "For Dad and Dannie"), Redman recupera le proprie radici. Tutto il retaggio della tradizione, blues compreso, emergono in interventi concisi, fatti di frasi laconiche ma dense di significato, in cui ogni nota viene meditata e collocata al posto giusto. Una vera lezione di sintesi, in bilico tra tradizione e modernità, caratteristica che del resto contraddistingue con intelligenza l'intero lavoro. "
Valutazione: * * * ½
Enzo Boddi (Review Courtesy allaboutjazz.com)

"This month is significant alone in that two veteran jazz bassists, Percy Heath and Cameron Brown, have simultaneously released their long overdue debuts as leaders. From Brown's first appearance with George Russell (featuring Don Cherry) in 1965, we can now 40 years later enjoy the fruits of the bassist's first led session. The surviving member of the George Adams/ Don Pullen quartet, one of the great groups in jazz that existed for nearly ten years, Brown has been associated with some legendary voices, one of them being tenor saxophonist Dewey Redman. In his group, the leader invited his old boss Redman, trumpeter/ flugelhorn player Dave Ballou, drummer Leon Parker, and the ever- youthful Sheila Jordan whose instrumental displays as a singer are ideally captured here. (The well received CD release concert last month at Cornelia Street Café featured a similar lineup, with drummer Billy Hart and trombonist Mark Patterson replacing Parker and Redman.)
Recorded by the well-respected engineer David Baker, the live feel is exquisitely captured with studio-like sound quality. Kudos also to Brown and Omnitone for maintaining the level of creativity without a fade to accommodate radio airplay and short attention spans. The two shortest tunes are just under nine minutes, while the others venture well beyond ten minutes starting with Cherry's "Art Deco" (lyrics which were written by the vocalist at the composer's request). One of the most versatile of vocalists, Jordan has always had an affinity for bass players and she plays as central an element to Brown's group concept as any other. The singer's authentic child-like energy is appropriately suited and genuinely performed on the leader's original lyrics to "Rylie's Bounce", an effervescent bop-inspired original. Don Cherry's "Remembrance" (aka "My Folks"), from the Complete Communion suite, spotlights her heritage-inspired Native American chanting vocals. She warmly opens a tear-jerking rendition of the jazz standard "For All We Know" that features a memorable sombre Redman solo.
Brown has appropriately described his unique approach as bandleader as "The less-is-more-idea." Hopefully we'll be hearing his group more than less."
This review by Laurence Donohue-Greene originally appeared in AllAboutJazz-New York.

"Talk about overdue: For 40 years, Cameron Brown has worked with a ridiculously long list of heavyweights, but he has only now released an album under his own name. In an age of recorded-music saturation, that's astounding. Very much to his credit, the bassist has created an ensemble, the Hear and Now, whose sound doesn't smack of a resume, even when they are performing tunes by Don Cherry and Don Pullen, who engaged Brown at crucial points of his artistic development. Instead, the bassist has assembled a cross-generational ensemble-vocalist Sheila Jordan, trumpeter Dave Ballou and drummer Leon Parker; tenor saxophonist Dewey Redman guests on three of the album's six tracks-whose ear for song precludes gratuitous fireworks. Though Brown has chops few bassists can match, his real forte is providing the hub for the music's movement. On Here and How!, Brown's cohorts revolve around his deep groove and agile flourishes, maintaining a low blue flame throughout a well-constructed program.
To say bebop is at the heart of the music is an understatement, though it is somewhat misleading if one primarily identifies with bebop's breakneck tempi and demanding virtuosity. Brown's bead on bebop on these Belgian concert performances is largely synonymous with Sheila Jordan's: the wisdom that comes with age trumps the audacity of youth, and subsequently the groove sways far more often than it scorches, and each solo breathes. In one of her infectiously ebullient lyrics, Jordan assures her cohorts that they will be singing too by tour's end; throughout the album, it's obvious that the message took, particularly with Ballou, whose performances complement his profile as one of the more erudite trumpeters to emerge in the wake of Dave Douglas. To this end, Parker's ability to create rhythmic excitement without ordinance is crucial, especially for Redman's sure-footed, smouldering solos.
For listeners who value a vibe more than chops, Hear and How! will prompt a satisfied "Wow.""
Bill Shoemaker in Jazz Times, 01 May 2004

"As much as Sheila Jordan may want to be just a member of the band, whenever she's on the stand she becomes the focus of attention. From her first emergence singing "You Are My Sunshine" with George Russell through her re-emergence in the 1970s in bands led by Roswell Rudd and Steve Kuhn, Jordan has been called to integrate her voice into the musical texture in a more intimate way than your usual canary. And as a leader her preferred venue has been the bass-voice duo, an inherently democratic format. She is in a way an accidental diva.
Though she's listed as a band member on Cameron Brown's Here and How!, this could pass easily as a Sheila Jordan album. I mean that with no disrespect for the other members of The Hear and Now band, nor to guest Dewey Redman. It's just impossible for Jordan's vocals that mix an emotion-laden delivery with a hipster attitude not to become the focal point. The bandleader's job becomes to provide the right musical framework, which is exactly what Brown does here. At the heart of the band is his lyrical bass. Though in his solo on "Art Deco" Jordan promises Brown that he'll be "singing" after working with her, he's truly been one of the most singing bassists on the scene for several decades now. His time is sure and fluid, and he has the knack of finding melodies hidden in a tune's chord progression. Brown always seems to be holding a conversation with the soloist. His tour de force here as a soloist is his rendering of Ornette Coleman's "What Reason Could I Give" used to introduce his own "For Dad and Dannie".
The repertoire covers the range of the progressive edge of jazz, including two pieces by Don Cherry and the Coleman ballad. The set opens with two pieces that give Jordan a chance to shine—Cherry's "Art Deco" fitted with lyrics by the singer (though not the first recording of this as stated in the liner notes; it appears on her Jazz Child session) and "For All We Know", a ballad that seems to be popping up on a number of recordings recently. Brown's "Rylie's Bounce" provides the perfect kind of vehicle to integrate Jordan into the band. She sings the head in unison with Brown and then during her solo gets to riff on the subject of Rylie, Brown's son, dancing to jazz. This provides Jordan with the opportunity to celebrate bebop, a music to which she professes devotion. Here and elsewhere when trumpeter Dave Ballou steps up to the mic there's no letdown. He commands the bebop lingo, but also knows when to make a harmonic detour. And he never stops cooking. Of course, not swinging would be hard, pret' near impossible I'd say, with Leo Parker stroking the cymbals and slapping out snare accents behind you. Redman also croons along with the band on "For All We Know" and "For Dad and Dannie".
The closing "Double Arc Jake", a Don Pullen composition, demonstrates the intensity of the interaction the band has already achieved, even if I did get tired of hearing Jordan reiterate the title—certainly something that went over better live. Parker's solo though holds up live or recorded, and deserves the ovation the audience gives it. The whole session deserves applause. Here's hoping this ensemble proves something more than a one-off wonder."
David Dupont, 22 April 2004

"Recordings from the Jazz'halo Music Days from 1997. The first from Cameron Brown under his own name during the same tour that gave us the highly esteemed duo album with Sheila Jordan "I've Grown …" from Brugge. Sheila wrote texts for a.o. Don Cherry tracks "Art Deco" and "Remembrance" and also sings them, fluently scatting in the last one ending in unisono with the underrated trumpet player Dave Ballou, who starts there for his solo. The portion from Dewey Redman in "For All We Know" and "For Dad And Dannie" only gives us more remorse that he failed to continue the tour. Cameron Brown, Leon Parker on drums (who end the session full of humour), Dave Ballou and Sheila give us a very attractive CD. One advice: start with the last track, Don Pullen's "Double Arc Jake"."
Sim Simons in Jazzmozaïek (B) * * * *