Steve Tibbetts : Hellbound Train ‐ An Anthology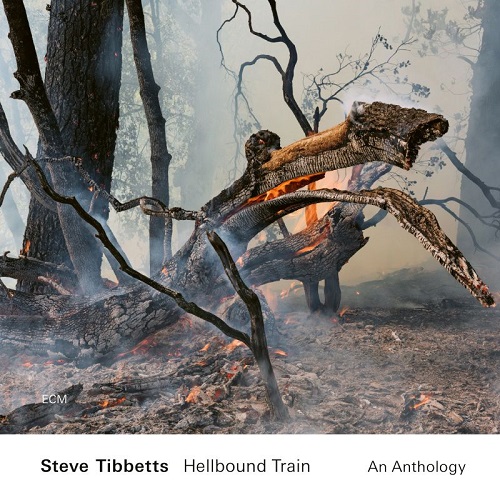 S
ECM / Outhere
Niemand (zelfs hijzelf niet...) heeft tot nu toe een passend etiket kunnen plakken op de muziek van deze uitzonderlijke gitarist.
Anderzijds is zijn universum zo persoonlijk dat je het vanaf de eerste noten kunt herkennen. Een stuk van Steve Tibbetts kan in een paar minuten tijd verschillende kanten opgaan, maar altijd met een duidelijke melodische achtergrond, een herkenbare ritmische ondersteuning (de trouwe Marc Anderson op conga's, gongs, tablas, handpan, ...), tribale arrangementen. Ja, maar wat dan nog? Jazz, rock, world, noise, minimal/ambient of avant-garde? Of zelfs nu-jazz zoals ik voorstelde toen we elkaar ontmoetten? Te ontdekken in ieder geval voor degenen die dat nog niet hebben gedaan...
In dit opzicht is "Hellbound Train" een buitenkans. Achtentwintig tracks verdeeld over twee cd's (een elektrisch hoofdstuk, het andere akoestisch), die Steve Tibbetts heeft opgegraven uit een ECM-discografie die zeker veertig jaar trouw omspant, maar die slechts negen albums bevat als je begint bij "Yr".
Zoals gewoonlijk stelde de gitarist uit Minnesota zijn bloemlezing niet samen zoals anderen dat zouden hebben gedaan... Met een geduld dat alleen hem toekomt, testte hij alle mogelijke formules met alle tracks waarover hij beschikte: intro/outro, bewerkte geluiden, criteria die ons ontgaan...
Uiteindelijk en door een palet van post-it briefjes te verslijten, presenteert Steve Tibbetts ons wat volgens hem zijn werk samenhoudt, waarbij hij alle tracks die buiten hun oorspronkelijke context niet konden bestaan (de albums "Yr", "Chö" en "Selwa" in het bijzonder) weggooit.
En tenslotte maken we bij de afsluiter 'Hellbound Train', een traktatie voor degenen die al bekend zijn met de muziek van Steve Tibbetts, een duik in een onbekend universum voor alle anderen. Het is nu aan deze geweldige muzikant om het vervolg te schrijven...
Tekst © Yves Tassin (vrije vertaling: Jos Demol)
Een samenwerking JazzMania / Jazz'halo