Slang & Purbayan Chatterjee - Pace Of Mind (Claude Loxhay)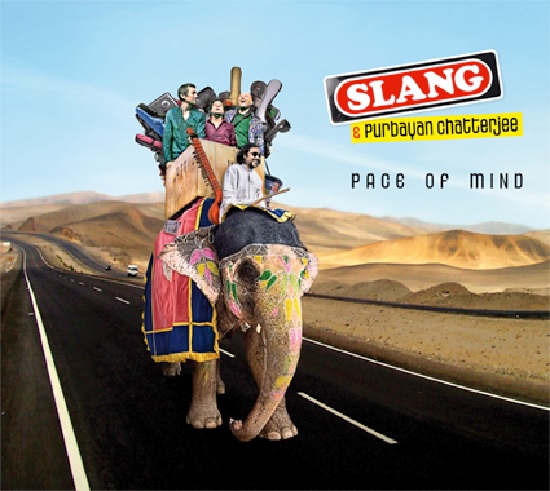 S
Zig-Zag
Après "Los Locos" (2000), "Save the Chilis" (2001), "It's on the way" (2005) et "Karmasutra" (2009), voici le cinquième album de Slang, ce trio à la croisée de trois univers: jazz et musique traditionnelle de l'Orient pour Manu Hermia (son trio, son quintet, "Le Murmure de l'Orient"), le rock pour le bassiste François Garny (Arno, Jack Bruce, U.S.E Band), les musiques du monde pour le percussionniste Michel Seba (Bihogo de Chris Joris, Foofango de Pierre Vaiana, Panta Rhei).
Pour ce cinquième album, le trio accueille le musicien indien Purbayan Chatterjee, qui a appris le sitar avec son père Parthapratim et a déjà enregistré une demi-douzaine d'albums personnels, avec différents musiciens de son pays. Manu avait déjà rencontré Purbayan lors de l'enregistrement de son deuxième "Murmure de l'Orient" en 2012, sur A taste of eternity, magnifique duo entre flûte bansuri et sitar de quelque dix minutes. La rencontre du sitariste avec Slang s'est, elle, réalisée en parallèle avec Europalia Inde, fin 2013 - début 2014 et s'est concrétisée par une importante tournée.
Enregistré à Liège, en mai 2014, dans les studios de Homerecords et mixé par Christine Verschoren, la magicienne des sons de Rêve d'Eléphant Orchestra, l'album comprend cinq compositions originales: deux du sitariste ("Run", "Pace of mind"), deux de Slang ("The Apu Trilogy" et "Karmasutra", thème repris au précédent album) et enfin une composition collective ("Oye"). S'il a enregistré ses albums avec des instruments traditionnels,
Purbayan Chatterjee joue d'un sitar électrique, avec un jack qu'il peut brancher sur un ampli ou sur des pédales d'effets de guitare, ce qui explique le titre d'un article de presse de son pays: "from tradition to fusion". Cette possibilité est nettement sensible sur "Run" qui ouvre l'album avec des sonorités de guitare électrique proches de Santana. Sur ce premier morceau, comme sur la plupart des suivants, on retrouve Manu au saxophone soprano avec des sonorités très orientales, galvanisé par la basse de François Garny et la batterie de Michel Seba.
La deuxième plage, "Karmasutra", est introduite, de manière très lyrique, à la flûte bansuri soutenue par la basse électrique, avant que n'intervienne le sitar avec des sonorités beaucoup plus mordorées comme dans la tradition, pour lancer le thème mélodique joué au soprano.
C'est aussi au soprano qu'on retrouve Manu sur "Oye", "Pace of mind" et sur "The Apu Trilogy", sur fond de guitare basse jouée à l'archet, de sitar et de l'udu de Michel Seba.
Un voyage aux paysages chamarrés, entre zénitude et flamboyances électriques: sans doute le meilleur album de Slang.

Claude Loxhay