Rumble - Vlek in Neerpelt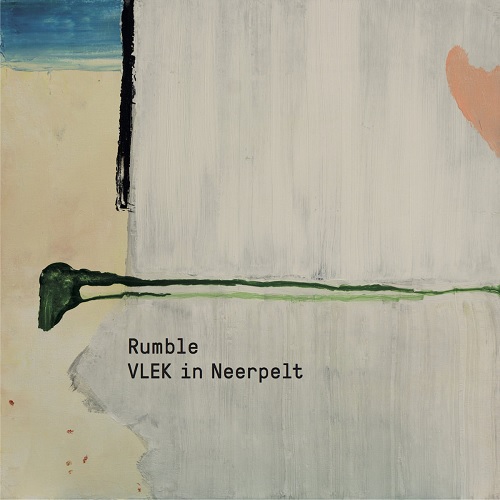 R
El Negocito
Après Live at Dommelhof du quintet de Peter Hertmans et Live at Jazz Case du groupe Reeds and Deeds, voici un troisième album enregistré au dynamique Dommelhof: Rumble, VLEK in Neerpelt.
VLEK est un septet créé en 2009 par le guitarsite et plasticien Jacq Palinckx: "a collective of musicians with roots in improsised music, jazz and alternative rock" (J.Palinckx). Après trois années de tournées, le groupe a produit deux premiers albums, : Speck puis Smoking en 2015.
Le concert de Neerpelt est daté de 2016 et propose un nouveau programme qui fait aussi l'objet d'un autre album live: Music on the far side of the moon enregistré au Paradox, le club de Tilburg.
Né en 1959, Jacq Palinckx a fait partie de l'ensemble du contrebassiste Maarten Altena, a croisé Fred Van Hove, Evan Parker et John Zorn. Il a composé de la musique pour le théâtre et conçu des sculptures sonores.
Aux côtés de la guitare électrique aux nombreux effets, on retrouve le piano et synthé de Bart van Dongen. Né lui aussi en 1959, il est très attiré par la musique improvisée. Il a notamment enregistré First Move.
Au trombone, un musicien à la solide expérience, Hans Sparla, membre du Contraband du tromboniste Willem Van Mannen (Live at the Bimhuis), de Bik Bent Braam du pianiste Michiel Braam (Zwart Wit Bimhuis Live), de la formation du contrebassiste Eric Van Der Western (Me, myself and I, Looking at the music of Charlie Mingus, avec Erwin Vann et Laurent Blondiau) et du quintet de Paul Van Kemenade (Missacity).
A la trompette et au bugle, Jeroen Doomernik qui fait partie du groupe I Compani (albums Plays Nino Rota et Fellini).
A la clarinette alto et aux saxophones alto mais aussi soprano, Edward Capel qui a enregistré l'album solo Now only the horns.
A la contrebasse, Bert Palinckx, qui a formé avec Jacq le groupe Palinckx (album The psychedelic years).
Enfin, à la batterie, Pascal Vermeer qui a notamment enregistré en trio avec le saxophoniste Dick De Graaf et l'organiste Arno Krijger (membre du trio de Toine Thys) l'album Celebrating the music of Oliver Nelson.
Au  répertoire, 6 compositions originales: une de Jacq Palinckx (Glop), une de Bert (Alghero), deux de Bart Van Dongen (Mr Emmerson takes a walk in the sun, Intermezzol), une d'Edward Capel (RumbaRumble) et une de Jeroen Doomernik (Music on the far side of the moon, une sorte de clin d'œil à Dark side of the moon des Pink Floyd). Ce partage des compositions reflète bien l'esprit collectif du groupe.
Comme l'annonce le livret, le septet, avec une priorité accordée à l'improvisation, navigue entre jazz et rock alternatif. Ce qui explique une forte présence des sonorités électriques, avec guitare aux multiples effets et synthé (Alghero), une certaine attirance pour une musique aux accents burlesques (GLOP), même si certains tempos sont plus lents (Mr Emmerson, avec contrebasse jouée à l'archet).
Le côté jazz est assuré avant tout par le trombone de Hans Sparla (GLOP, Intermezzol avec recours à des sourdines). La trompette de Doomernik est rutilante et Capel passe, à propos, du soprano (GLOP), au saxophone alto (Alghero, Music on the far side of the moon) ou à la clarinette alto (Intermezzol).
Une formation hors des sentiers battus, comme aiment à en proposer les Néerlandais.
© Claude Loxhay