Roberto Tarenzi/James Cammack/Jorge Rossy - Love and other simple matters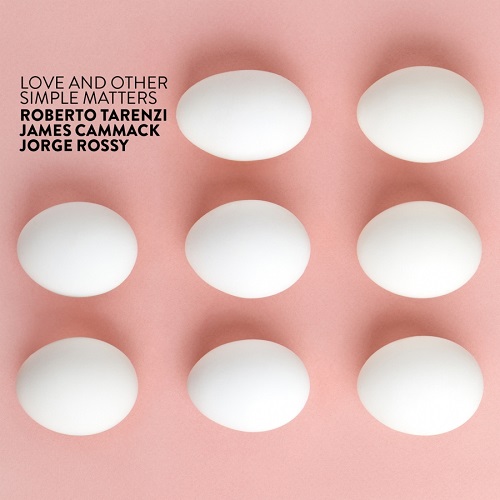 R
Millesuoni/ Jando Music
Les piano-trios sont légion, alors pourquoi s'arrêter à celui-ci plutôt qu'à un autre?
D'abord, parce que tout le monde ne se fait pas louanger par Dave Liebman: "Roberto has a wonderful and warm personality. I immediately recognize a real talent. He is one of my all times great to play..." Ensuite parce qu'il s'agit d'un réel piano-trio avec deux complices très talentueux et présents.
Roberto Tarenzi a étudié le piano avec Enrico Pieranunzi et Franco D'Andrea. A 18 ans, il a intégré le Big Band d'Enrico Intra. Il a ensuite enregistré avec Franco Ambrosetti (album Locomotion) et avec Rosario Giuliani (Images). A son nom, il a notamment enregistré les albums Dreams of Nite et Negative Space avec David Liebman en invité.
En 2003, il rencontre James Cummack, le contrebassiste d'Ahmad Jamal (10 albums à leur actif). Ensemble, ils forment un trio avec Jorge Rossy, le batteur espagnol qui a accompagné Brad Mehldau à ses débuts, notamment avec le saxophoniste espagnol Perico Sambeat (album New York Barcelona Crossing). A son nom, Rossy a, entre autres, enregistré Stay there, album sur lequel il joue du vibraphone avec le guitariste Peter Bernstein.



Au répertoire de ce Love and other simple matters, six compositions originales du pianiste et des emprunts à Bill Evans (Five), Jackie Mc Lean (Vincent), Antonio Carlos Jobim (Inutil paesagem) et le légendaire Autumn Leaves de Kosma.
Que ce soit sur tempo vif (Blues X, Back to Ghana, Golden Face ou Ab I.D.K. qui évoque la fougue de Mc Coy Tyner) ou sur les thèmes lyriques (Inutil paesagem, Liquid Velvet, Love and... avec une contrebasse très présente), Tarenzi affiche la même maîtrise et la même forte personnalité.
Ainsi sa version d'Autumn Leaves est-elle très originale parce qu'il en modifie le rythme et réalise un beau chase entre piano et batterie. Sur ...other simple matters, il accélère le rythme avec assurance.
On a affaire avec un vrai trio à la Bill Evans, avec une interaction constante entre les trois musiciens, solistes à leur tour, comme James Cammack sur Five ou Inuti paesagem ou Jorge Rossy sur Autumn Leaves.
Une vraie découverte.

© Claude Loxhay

MUSICIENS:
Roberto Tarenzi, piano
James Cammack, contrebasse
Jorge Rossy, batterie