Roberto Ottaviano - Eternal Love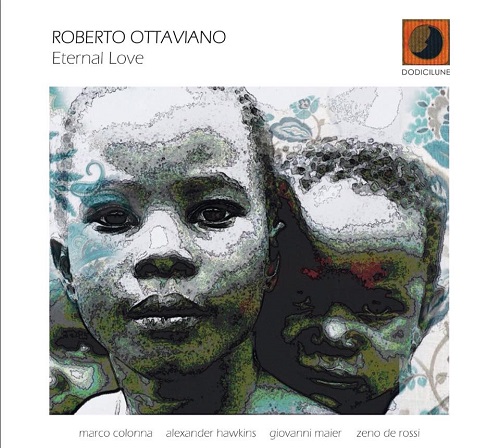 R
Dodicilune Dischi
Roberto Ottaviano est une des figures marquantes du jazz italien (pour les collectionneurs, se reporter au numéro spécial "Italie" de Jazz in Time, été 1994). Il est aussi un des meilleurs saxophonistes soprano en Europe.
Formé au Conservatoire de Bari, il décide d'opter pour le soprano après avoir écouté Steve Lacy pour qui il voue une grande admiration. Pour preuve son double album de 2014, Forgotten Matches: The World of Steve Lacy, premier CD en quartet avec le tromboniste américain Glenn Ferris, le second avec le pianiste Alexander Hawkins.
Dès les années '80, il est sur le devant de la scène avec Paolo Damiani (violoncelle) et il forme un double trio avec Daniele Cavallanti, le saxophone ténor du groupe Nexus.
Très admiratif de la Great Black Music, il enregistre Mingus: Portrait in six colours, avec Sandro Cerino à la clarinette basse, Black Spirits are here again avec Mal Waldron ou The Leaf avec Ray Anderson. Parmi ses derniers albums, Astrolabio avec Gianluigi Trovesi, Glenn Ferris et Michel Godard.
Afin de célébrer quelques-uns des grands noms de l'histoire du jazz, Roberto Ottaviano a réuni une fine équipe.
Pour faire écho à son soprano volubile et incisif, il a fait appel au clarinettiste Marco Colonna qui a souvent joué avec des flûtistes comme Eugenio Colombo ou Stefano Leonardi.
Au piano, on retrouve Alexander Hawkins qui a côtoyé la fine fleur du free: Evan Parker, John Surman, Han Bennink, Joe McPhee ou le Canadien François Houle.
A la contrebasse, un des maîtres de l'instrument, Giovanni Maier qui a enregistré Me, myself and Monk en solo, Our Standards avec Daniele Cavallanti et a fait longtemps partie de l'Electric Five d'Enrico Rava.
A la batterie, le remuant Zeno De Rossi qui a notamment côtoyé Chris Speed.



Eternal Love est dédié à de grands noms de la Great Black Music et de l'histoire du jazz: Abdullah Ibrahim (le très dansant African Marktplace), John Coltrane (Your Lady), Don Cherry (Until the rain comes) ou Dewey Redman (Mushi Mushi) mais aussi Charlie Haden (Chairman Mao) ou Elton Dean (Oasis), des titres auxquels s'ajoutent deux compositions du leader (Eternal Love et Questionnable 2) ainsi que le traditionnel africain Uhuru ("liberté" en swahili, mélodie très émouvante que Tutu Puoane a repris pour l'album We have a dream).
Tout au long de ce répertoire, le soprano volubile et incisif d'Ottaviano dialogue avec les clarinettes de Colonna: clarinette (par exemple, sur Chairman Mao) ou clarinette basse à la beauté ténébreuse (notamment sur Uhuru, African Marketplace, Until the rain comes).
Alexander Hawkins est omniprésent, dans un style qui rappelle Dave Burrell. Sur Uhuru, il double le piano de quelques touches d'orgue Hammond et passe au Fender Rhodes pour Questionnable 2.
Avec Zebo De Rossi, au jeu constamment inventif (par exemple, ces petites percussions sur Uhuru), Giovanni Maier assure une assise rythmique solide au quintet, que ce soit en pizzicato (intro de Chairman Mao, solo sur Until the rain comes) ou à l'archet (Oasis, Eternal Love).
Dans ses arrangements, Ottaviano a su se réserver de beaux espaces de solo (African Marketplace ou Chairman Mao) toujours en correspondances avec les clarinettes de Colonna.
Un hommage vibrant à la Great Black Music. Un des plus beaux albums de cette fin d'année.
© Claude Loxhay