Roberto Magris - Suite! (bl)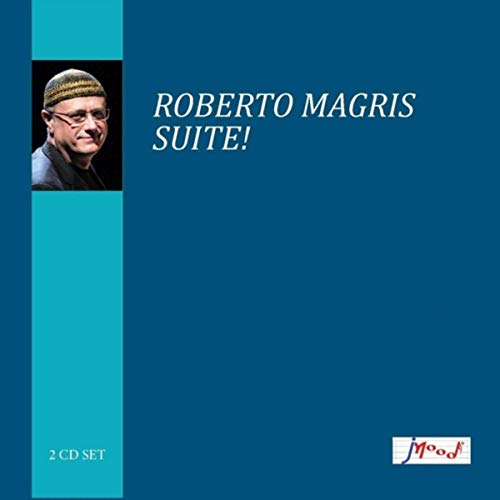 R
JMood Records – 2cd
Pianist/componist Roberto Magris (60) geboren in Trieste, Italië, heeft een indrukkend palmares van opnames waarvan de focus sinds 2016 vooral in de VS ligt waar hij artistiek leider en opnamedirecteur is van JMood Records (Kansas City).
Hij werkte samen met heel wat vermaarde muzikanten: Art Davis, Herb Geller, Ira Sullivan, Idris Muhammad, Tony Lakatos, Franco Ambrosetti, Kai Winding, Sal Nistico, Logan Richardson om enkele te noemen.
Met zijn Europlane Orchestra nodigde hij nog Philip Catherine uit voor de track 'The History Teller' (Current Views – Soul Note 2009).
Met 'Suite!' sluit Roberto Magris perfect aan als verhalenverteller en kruidt de muziek met poëzie (teksten van PJ Aubree Collins en Roberto Magris zelf). Het album opent met King Crimsons 'In The Wake of Poseidon' met tekst van Aubree Collins, dochter van de producer, die zelf aan het woord komt in een extra track (Audio Notebook) en toelichting geeft over het label en het album 'Suite!'.
Ander eigen werk van Magris met poëtische bindteksten onderlijnt de boodschap die hij wil uitdragen als een statement voor de wereld: 'A Message For The World To Come', 'Circles of Existence', 'Perfect Peace', 'The Island of Nowhere'.
De orkestrale aanpak zit in Magris' bloed als ervaren bandleider en pianist en bevestigt zijn hard- en coolbop en evenzeer latin stijl in 'Suite!' met in die trant vertrouwde solisten: trompettist Eric Jacobson en tenorsaxofonist Mark Colby.
Eric Jacobson (Milwaulkee) is bekend van We Six en de Latin jazzband De La Buena, terwijl Mark Colby (Brooklyn, New York °1949) in Chicago landde en zich liet opmerken met een Stan Getz hommage 'Speaking of Stan' (2006) en met zijn kwartet in 2016 'Al or Nothing at All' uitbracht. In dat kwartet bassist Erich Hochberg, vaste pion in de Chicago jazzscene en onder meer bassist op Kurt Elling's debuutalbum 'Close Your Eyes' (1995) maar ook sideman van een hele resem illustere jazzhelden. Drummer Greg Artry (Pamona, California, °1984), uit Chicago, is dan weer een getalenteerd, allround muzikant die ook cello studeerde en met o.a. Slide Hampton, Bobby Watson, Charles McPhearson, Claudio Roditi, Donald Harrison Jr., Syl Johnson, Steve Turre, Victor Goines en Sonny Fortune in de VS optrad.
Roberto Magris weet zich zo te omringen met klasbakken en dat geeft vuurwerk in zijn zelf geschreven, fijn gearrangeerde en uitgesponnen thema's. Naast de van poëzie doordrongen spirituele thema's tekent Magris ook voor luchtiger eigen werk in 'Sunset Breeze', 'Suite!', '(You're My Everything) Yes I Am', 'Chicago Nights' en standards 'Too Young To Go Steady' (McHugh), en een gezongen versie van het door Santana bekende 'One With The Sun'(Martini).
Naast de aangehaalde Chicago opnames met kwintet en stem vult Roberto Magris solo aan op de tweede cd met '(End of A) Summertime' (Gerschwin), 'Never Let Me Go' (Livingston/Evans), 'Love Creation' (Magris) en 'Imagine' (Lennon). Die overheersend cool bop jazz versies werden in studio vastgelegd in Miami, Florida in december 2018. Een schitterende Magris die hier puur pianosolo improviseert.
Deze dubbelaar biedt moderne mainstream jazz met latin accenten en een warme uitstraling die de rasechte jazzliefhebber zal aanspreken.
© Bernard Lefèvre




Bezetting:
Roberto Magris (piano, Fender Rhodes)
Eric Jacobson (trompet)
Mark Colby (tenorsax)
Eric Hochberg (bas)
Greg Artry (drums)
PJ Aubree Collins (stem)