Roberto Magris - Match Point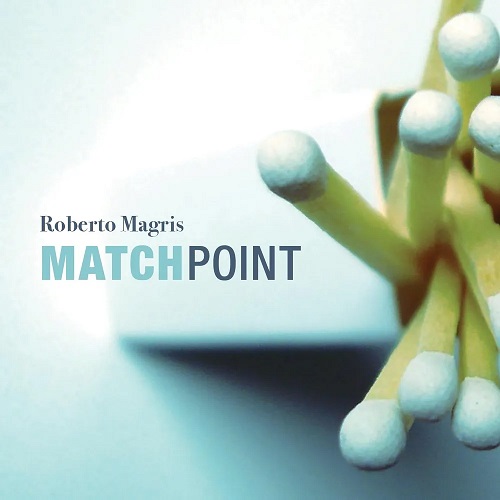 R
JMood Records
'Match Point' is het derde album dat de Italiaanse pianist Roberto Magris met zijn kwartet opnam in Miami nu drie jaar geleden. De introductie van de Cubaanse vibrafonist-percussionist Alfredo Chacon en Costa Rican drummer Rodolfo Zuniga droeg bij tot een nieuwe latin georiënteerde sound. Dion Kerr uit Florida vult aan op contrabas.
Roberto Magris schreef de helft van de nummers, de overige koos hij passende covers van Richard Kermode ('Yours The Light'), McCoy Tyner ('Search For Peace'), Monk ('Reflections') en Randy Weston ('Caban Bamboo Highlife').
'Yours Is The Light' haalt herinneringen op aan gitarist Kermode (Santana 1972-73) met de typische latin rock met fraaie interactie van Magris op piano en Chacon op vibrafoon.
Magris laat zich naast latin ook sterk beïnvloeden door de blues ('The Insider', 'The Magic Blues') en kiest uitgesproken voor de Braziliaanse sfeer in 'Caban Bamboo Highlife' (Randy Weston). Daarbij mogen Chacon en Zuniga naast een swingende Magris helemaal los gaan.
'Reflections' (Monk) brengt Magris solo op integere introspectieve wijze met kwinkslagen naar Monk.
Het titelnummer 'Match Point' swingt in de beste traditie en is een volwaardige afsluiter van een album dat in een pre-pandemie periode (2018) werd opgenomen waarbij er nog geen 'somber' wolkje te bekennen was in het zonnige Miami. Ronduit genieten met whisky puur.

© Bernard Lefèvre




Musici:
Roberto Magris (piano)
Alfredo Chacon (vibrafoon, percussie)
Dion Kerr (bas)
Rodolfo Zuniga (drums)