Roberto Magris & Eric Hochberg - Shuffling Ivories (bl)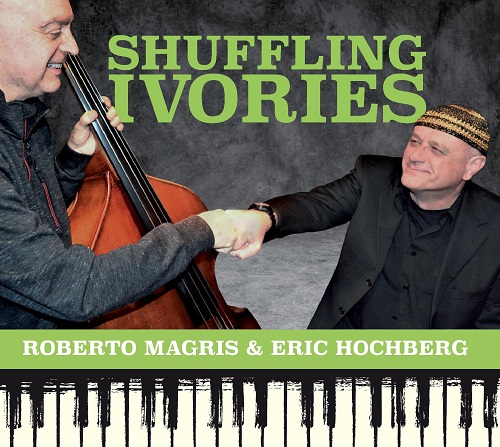 R
JMood Records
Na het dubbelalbum 'Suite' (lees de recensie HIER) waarin Magris Eric Hochberg betrok, voelde hij de klik tussen hen beide en hij nodigde de in Chicago gevestigde contrabassist uit voor deze duoplaat 'Shuffling Ivories'.
Magris zocht in dit project inspiratie bij pianist Eubie Blake (1887-1983) met diens 'Memories of You', The Chevy Chase'. Hij draagt zijn eigen 'Shuffling Ivories' met een knipoog op aan Blake's 'Shuffle Along', een broadway musical van 1921 met tekst van Noble Sissle.
De andere originele Magris composities vormen een eerbetoon aan het ontstaan van de Afro-Amerikaanse jazz, het turbulente 'Clef Club Jump' en 'Italy' waar hijzelf vandaan komt en waarin hij de Italiaans-Amerikaanse jazzmuzikanten een warm hart toedraagt: Lennie Tristano, George Wallington, Vido Musso, Conte en Pete Candoli, Sal Mosca, Carl Fontana en Tony Bennett.
Roberto Magris laat niet na om zijn bewondering uit te spreken voor pianovirtuozen als Oscar Peterson en Bud Powell, Bobby Timmons en Les McCann tot McCoy Tyner, Monk en als componist Andrew Hill. Hill's 'Laverne' (geschreven voor zijn eerste vrouw Laverne Gillette) spreidt Magris uit over twee tracks met een eigenzinnige interpretatie.
Magris grasduint met Hochberg nog dieper in de 100-jarige jazzgeschiedenis. In de 1926 standard 'I've Found A New Baby' (Palmer/Williams) spelen Magris en Hochberg kat-en-muis in een instant interactie.
Het swingende 'The Time Of This World Is At Hand' (Gault) vloeit soulful over in het spirituele bas gestreken 'Quiet Dawn' (Massey) van Archie Shepps album 'Attica Blues'.
Dr. Trudy Pitts' 'Anysha' diepte Magris op uit Rhasaan Roland Kirks 1976 album 'Other Folks' Music'. Hochbergs bassolo, ook schitterend op 'Italy', harmonieert met de aanstekelijke drive van Magris.
Magris/Hochberg slagen er als hecht duo in authentieke jazz veelzijdig en stijlvol te benaderen en bezielend naar hun hand(en) te zetten.
© Bernard Lefèvre




Musici:
Roberto Magris (piano)
Eric Hochberg (contrabas)