Roberto Fonseca – Yesun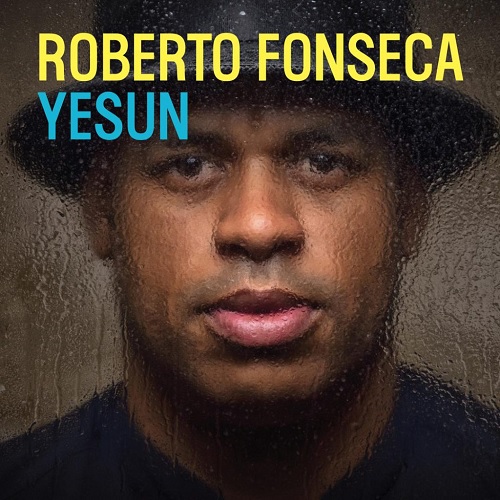 R
Wagram
De Cubaanse pianist en pur sang entertainer Roberto Fonseca laat op zijn nieuwste cd heel diep in zijn kaarten kijken. "This is who I am", staat in het groot te lezen wanneer je de hoes openklapt.
Wie hierdoor denkt aan diepzinnige ontboezemingen of een revolutionaire koerswijziging, is eraan voor de moeite. Fonseca is nog steeds de muzikant en bovenal ook de componist die zijn Cubaanse roots trouw blijft. Hij grasduinde hierin naar hartenlust en voegde er hedendaagse invloeden aan toe met 'Yesun' als resultaat. Steunpilaren zijn contrabassist Yandy Martínez Rodríguez en drummer Raúl Herrera terwijl percussionist Inor Sotolongo her en der voor extra couleur locale zorgt.
Op haast zalvende wijze leidt hij gestaag zijn verhaal in samen met het vrouwelijke vocaal kwartet Gema 4. Zij duiken nadien tevens op in het onweerstaanbare 'Mambo Pa La Nina', een van de hoogtepunten. Het is meteen een van de kenmerken op deze 'Yesun', de talrijke gasten die Fonseca uitnodigde. Onder hen trompettist Ibrahim Maalouf. Minder flamboyant dan je zou verwachten, wel perfect passend in het geheel. Ook de bijdrage van vrouwelijke rapper Danay Suarez volgt de gestroomlijnde opbouw van de cd, zij het dat hier het ritme toch opgevoerd wordt richting reggaeton en dat met een psychedelisch progtintje. Dit nummer wordt live een gehaaide "crowdpleaser" samen met het vurige 'Aggua' (niet toevallig gekozen als single).
Fonseca heeft nog een aantal verrassingen in petto. De ballad 'Por Ti' met klassiek tintje is er zo een van formaat. De affiniteiten met jazz komen het sterkst naar voor in 'Stone Of Hope' en vooral 'Vivo'. In dit laatste nummer is het Joe Lovano die voor het nodige animo zorgt. Opvallend hier zijn de parallellen met de aanpak van bassist Avishai Cohen door de achtergrondzang. Fonseca leeft zich verder een aantal keer uit op Hammond en Wurlitzer ('OO'!). Als akoestisch pianist staat hij helemaal in de kijker via 'Ocha'. Afsluiter 'Clave' is dan weer een onverbloemde ode aan zijn groot voorbeeld Herbie Hancock.
'Yesun' is een kaleidoskopische cd die meerdere luisterbeurten vergt om te doorgronden. Fonseca bewijst waarom hij mettertijd niet alleen uitgroeide tot grote publiekslieveling maar tevens enorm geapprecieerd wordt bij medemuzikanten.
© Georges Tonla Briquet

Live
23.11.2019, 20.00, Botanique (Brussel)