Rich Pellegrin – Solitude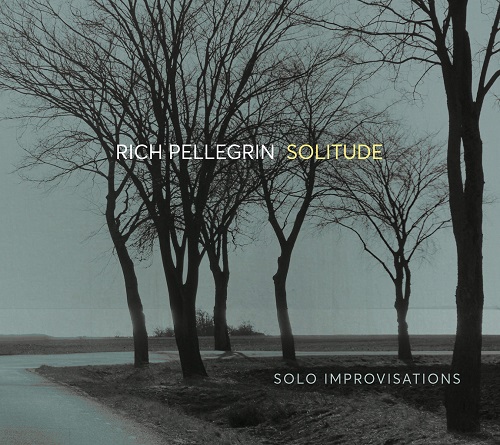 R
ORIGIN/OA2 RECORDS
This album of solo improvisations achieved two things at first listen; it grabbed my attention for 40 minutes when I'd only intended to listen for 10, then it sent me to the piano to try out some of the same ideas. Further listening has confirmed that the music is something special.
Rich Pellegrin is a pianist, composer, writer and professor of music at the University of Florida. His previous recordings include albums with his Seattle based quartet, playing his own material. He has published writings on Thelonious Monk, John Coltrane, Brad Mehldau, Robert Glasper and Bill Evans. There is a film of a live solo concert on his website which shows that he can play fast and furious improvisations - this album is not like that.
The cover is moody monochrome photos of misty trees, raising expectations of a reverberant ECM type sound. Instead the piano recording is pleasingly intimate, highlighting the characterful sound of the Everett Concert Grand.
There are 25 short improvisations here, ranging from 48 seconds to 6 minutes 27 seconds in length. Pellegrin plays with impressive economy and discipline; textures are always clear with a combination of contrapuntal lines and chiming chords. Harmonies tend to be diatonic but with a wealth of imaginative modulations, sometimes reminding me of Ravel's piano music. The brevity of the pieces helps ensure that Pellegrin's imagination never flags - and he can make a lot happen in 48 seconds.
He has met one of the toughest challenges in modern music; how to create something new, simple and direct without it sounding bland or cliched. Improvisation can do that but it takes a huge amount of preparation and skill to avoid playing the obvious.
Rather than trying to describe these magical and elusive pieces I'd recommend you follow this link to hear Improvisation XI:



If you'd like to find out more the website is www.richpellegrin.com
This is music I'll be returning to both for deep listening and for inspiration.
The album is available for purchase at pretty much any online store but the best way to support musicians is to buy straight from the label: https://originarts.com/oa2/recordings/recording.php?TitleID=22189

© Stephen Godsall